Let's play: 20 questions for Zulfiqar Mirza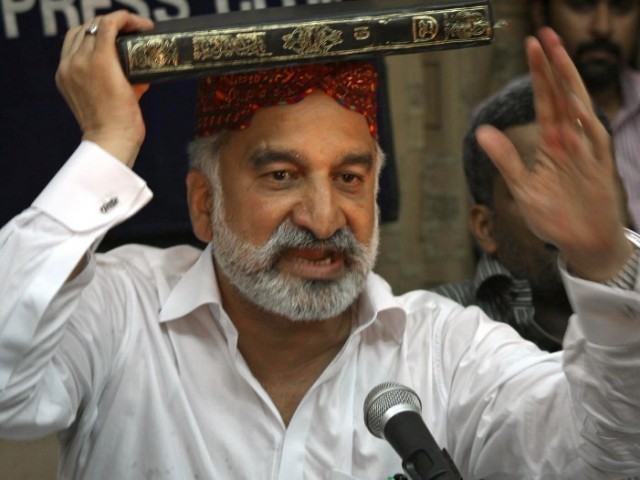 Sindh's former home minister Zulfiqar Mirza has announced his resignation from the government in yet another media circus.
During TV interviews he made personal attacks against journalists and politicians, making references to their facial features and appearance. However, his emotional outburst left lots of questions on the policy of the government unanswered.
A few questions I would like to ask Mr Mirza are:

1) If you claim to be so truthful, why have you never made these revelations before?
2) According to you, Rehman Malik does everything on the discretion of President Asif Ali Zardari. Why then is Rehman Malik accused of conspiring against the People's Party and not President Zardari?
3) Is the president of Pakistan Asif Ali Zardari a fool to not understand the shrewdness of Rehman Malik?
4) Mirza Sahab, why did you never raise your voice in 2001 (or afterwards) when you got to know that MQM chief Altaf Hussain wrote a letter against the ISI?
5) What exactly made you speak up after the discovery of the torture cells and ammunition from Lyari?
6) You acknowledge that Rehman Malik is a "good politician and a good human being" but maintain that he is also a compulsive liar. What does this mean?
7) You placed the Holy Quran on your head and said that MQM has a false mandate in Karachi and Hyderabad. How many petitions have you filed in court about this?
8) Why are superior courts, Pakistani forces and Pakistani law enforcement agencies not taking any action on the MQM's alleged crimes? Is the MQM really that powerful?
9) CPLC recovered most of the kidnapped people from Lyari. Is this the reason why the CPLC chief, Ahmed Chinoy, has suddenly turned into a villain?
10) You seem to be very worried about the people of Sindh. Why are you obsessed with Karachi only? Has karo-kari, dacoity and corruption ended in interior Sindh?
11) How many hospitals and schools have you built in your own constituency?
12) You say that you will fight against the criminal elements of Karachi in your private capacity. Is this legal?
13) Keeping in mind that a civilian cannot take the law into his own hands, how would you decide who is a criminal and who is not?
14) You claim that you haven't recruited any MQM worker in the Sindh Police, and that recruitment in the police department was done on merit only. If this is so, then why does corruption and incompetency still prevail in the Sindh Police?
15) Why are the ISI chief and Army Generals not taking action on your "substantiated evidence"?
16) When are you going to the Supreme Court to submit this evidence?
17)  How exactly have President Asif Zardari and the late Benazir Bhutto helped you in acquiring such a huge amount of money, villas, cars, sugar mills and thousands of acres of lands?
18) You alleged that during a meeting in London, the MQM chief Altaf Hussain had told you that America and other world powers had decided to 'break' Pakistan, and that Altaf Hussain had supported their idea. Since when has Altaf Hussain started sharing such secrets with you?
19) If America wants to break Pakistan up, according to you, then why did you go to the enemy country for a 40-day vacation?
20)  Sir, do you still stand by your slogan "Pakistan na Khappay" (We don't want Pakistan)?