The struggling champions: After Zidane and Ronaldo, time is running out for Real Madrid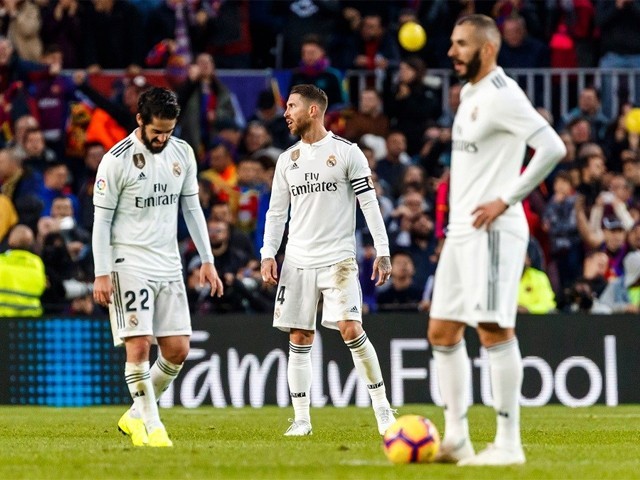 Over the years, Real Madrid have established themselves as a club which is synonymous with success. But sustained success comes at a cost in terms of regular big money signings.
Bearing in mind the dynamics of modern day football, it is increasingly evident that in order to survive and thrive amongst the footballing giants, all the top clubs tend to chalk out a transfer policy which lays special emphasis on at least one big name signing supplemented by a bunch of talented young players every season.
"We need to strengthen our present and our future. This is a great squad that will be strengthened by some brilliant players," Florentino Perez, president of Real Madrid club, said in a news conference last year in July.

"We're in one of the richest periods of our history. We've won unique titles. We're sound institutionally, have strong financial power and have the support of millions of fans," he added.
While the above statement indicated that the Los Blancos are aiming to recruit someone from the top end of the footballing elite, their transfer policy since then has been anything but that.
If the past two transfer windows (winter and summer 2018) are taken into account, Real Madrid's most expensive signing was an 18-year-old Brazilian Vinicius Junior from Flamengo for around £41 million.
Interestingly, the club's last signing in excess of £50 million was Columbia's James Rodriguez from Monaco back in 2014.
In general, when you look at the transfer window activity during the same span of time, it is pretty clear that most of the top clubs unveiled at least one star signing.
Arch rivals FC Barcelona signed Phillipe Coutinho while city rivals Atletico Madrid re-signed Diego Costa. Premier League giants Manchester City went for Riyad Mahrez while Jurgen Klopp's Liverpool brought in the likes of Allison Becker and Virgil van Dijk. Serie A's Juventus added another jewel to their crown by signing Cristiano Ronaldo.
At a time when both their local and international rivals have been splashing out big sums in order to lure top footballing stars, Real Madrid have followed a more stringent budget line.
While this is an issue which did not gather much spotlight due to their massive success on the field in the past three years, this season things went pear-shaped right from the outset.
This season so far has been a particularly alarming one with Zinedine Zidane's replacement Julen Lopetegui already losing his job due to the team's abysmal results.
Despite making it to the Round of 16 of the UEFA Champions League, Real Madrid suffered their biggest ever home defeat (3-0) in Europe as they were thrashed by CSKA Moscow.
Although losing Ronaldo would have caused any side in the football world to suffer, especially in the immediate aftermath, Real Madrid made this an even greater ordeal for themselves by not replacing him with someone of a similar calibre. Even though it's hard to find someone to replace him, but that does not mean that you don't even try finding one.
The Spanish giants have quite a stable financial structure, something which does not hinder them from pursuing top class footballers. But if they were not keen on spending too much in the transfer market, it raises questions about the reasoning behind selling the Portuguese and takes it to the point where it looks quite simply baffling.
Interestingly, Real Madrid President Perez's long reign has seen a shift to both extremes of the transfer policy.
The early 2000s were mostly about his fondness towards the Galacticos, whereby he signed at least one big player every year, which saw the likes of Ricardo Izecson dos Santos Leite (Kaka), Luis Figo, David Beckham, Ronaldo and many more joining the club. But a few years after that policy was adopted, it became quite clear that it was a flawed idea in terms of on-the-field results it garnered.
The past five years or so, the club has seemingly shifted to the other extreme with loads of budding youngsters being brought into the setup. While these players offer a good support cast, it neglects the idea of experience, which holds great value especially in pressure situations – of course not everyone can slot in a penalty with the calmness of Ronaldo in the 97th minute of a Champions League knockout match.
What the club needs to realise is that a balance must be kept between those two policies rather than a radical shift from one to the other.
When you are faced with the added problem of Karim Benzema's fast-declining goals and a largely unfit Gareth Bale, the current transfer policy is a cause for serious concern.
In the past, former manager Zidane's man management skills and Ronaldo's ridiculous goal-scoring numbers masked a lot of Real Madrid's issues, but the club needs to find a way to cope without them now that they are no longer around.
Real Madrid still have a chance to set things right in the ongoing winter transfer window and rescue their season, but time is quickly running out.