Corruption or negligence: The (not so) curious case of Murad Ali Shah's resignation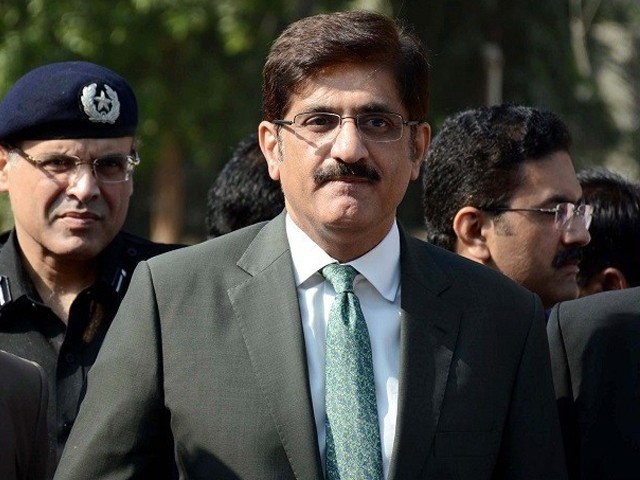 Globally, it is common for politicians and public officials to step down from office if an allegation is made against them and an investigation is ongoing. After all, being in the public eye entails that one allegation is enough to cause lasting damage to one's reputation and career. Thus, once a concern is raised, it is in the official's best interest to step down instead of remaining at a post paid for through the public exchequer. 
For instance, some leaders across the globe voluntarily stepped down after their names were included in the Panama Papers scandal. Unfortunately in Pakistan, those who were similarly accused – such as former prime minister Nawaz Sharif and Pakistan Tehreek-e-Insaf (PTI) leader Jahangir Tareen – chose to stick with their respective stances instead of gracefully stepping down. Both are now barred from getting involved in any sort of political activity, but had these two owned up to their crimes in the first place, they may have been subject to punishment not as harsh as what they face now.
Michael Bates, a minister in the UK, recently offered his resignation after arriving only a few minutes late for a cabinet meeting. Although for us this constitutes as 'extreme', the level of integrity set up by politicians in the developed world is a key element of prosperity for these countries. It is in fact concerning that no such example exists in our country, where instead of owning up to their mistakes, politicians and leaders in turn place the blame on the accusing party.
Sindh Chief Minister Syed Murad Ali Shah is now facing a similar situation. He has proven to be a facilitator in a money laundering case through a joint investigation carried out on the instructions of the Supreme Court. In its report, the joint investigation team (JIT) also questioned the CM's integrity when he served as Sindh's finance minister from 2013 to 2016.
Shah's father, Syed Abdullah Shah, was also involved in corruption during his tenure as chief minister of Sindh, and fled the country in 1997 after being implicated in cases pertaining to corruption. Abdullah Shah was allowed to return to Pakistan on humanitarian grounds only a few weeks before his death, while his name remained embroiled in corruption cases till the day he died.
Shah was additionally accused of non-cooperation by the government agencies investigating the ongoing money laundering case. In its findings, the JIT report stated that Shah facilitated the Zardari Group and Omni Group in money laundering, first as the finance minister and then as the chief minister of Sindh.
Globally, it is the modus operandi of money launderers that they acquire stakes in a bank to avoid scrutiny from regulatory bodies. According to the report, the Omni group acquired loans worth approximately Rs53.4 billion from National Bank, Sindh Bank and Summit Bank, which were then rescheduled over 30 times. Moreover, the value of the collateral was overstated and in some cases the same assets were used repeatedly to fool the concerned officials. It is pertinent to note that the loan sanctioned by Sindh Bank was more than its total equity.
Shah was the finance minister when these dubious loans were approved, notwithstanding that the officials of the provincial finance department expressed displeasure at the approval of these loans.
The JIT highlighted that subsidies given by Shah in his tenure as provincial finance minister were sanctioned with malicious intent and were not utilised for the purpose they were sanctioned for. The team also raised questions on his non-cooperation, for according to them, he created a hindrance in the investigation by being unwilling to provide details.
The current money laundering case represents the failure of many provincial agencies and financial institutions, but mostly the failure of the chief minister of Sindh. Is this simply negligence on the part of the provincial chief or is he actually involved in corruption and malpractice? Perhaps only time will tell.
In its hearing earlier this week, the Supreme Court asked for the removal of Shah's name from the ongoing investigation and the exit control list (ECL) for the time being, with instructions that if needed, the National Accountability Bureau (NAB) can include his name again in the inquiry.
There's no smoke without a fire. While pointing towards his involvement in the corruption case, investigation agencies fear Shah may be able to influence the case in his favour, as he remains the most powerful man in the province. In light of this, the only possible way forward should be for him to resign as the investigation continues, so that this may happen in a free, fair and transparent manner. If the investigation against him continues while he holds office as the chief minister, there will obviously remain a conflict of interest.
Sindh is a province full of resources, both human and natural. Unfortunately, the people of Sindh continue to face exploitation in the name of Bhutto since the past 40 years. Those in positions of power in Sindh perhaps think that keeping the people deprived is the best way to rule their hearts and minds, and thus far they are succeeding. I hope that the people of Sindh break the shackles for once and let go of 'Bhuttoism' while selecting their representatives.
As far as Shah is concerned, his resignation will neither prove his guilt nor absolve him of these allegations. It will, however, further transparency in governance, which is something the Sindh government can surely benefit from.