Rebuilding an emperor's dream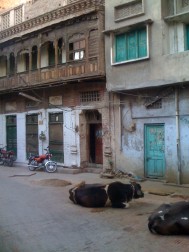 I do not feel very proud as I tell you about Akbari gate, it is more of a junkyard than a cultural heritage site. When you walk through this gate it feels like you have descended to some level of hell. The air is filled with dust and the odour of animal waste has permeated to even the edibles sold here. Surprisingly, people manage to live here. They conduct business very proudly, contributing to the increasingly vast garbage heaps in the area. There are no traces of monuments and our old heritage; all that is left is a materialistic mess of the greed of humanity.
There is little sign of the gate named after Mughal emperor Jalaludin Muhammad Akbar, who rebuilt Lahore and the citadel. When this gate was originally built by Emperor Akbar he also founded a market, which was named Akbari Mandi. It was the biggest retail market in Lahore, where food grains of all kinds were available. The unfortunate story of this gate is that it is one of those that were demolished by the British during the Raj.
I am sorry to say that Akbari Gate is a part of the Walled City that our respected Chief Minister often talks about. Politically speaking, funds go towards a range of improvements on the cultural and structural fabric of the ancient Walled City, which along with the fort and mosque, is to be one of Pakistan's biggest tourist attractions. The Walled City covers an area of around 256 hectares and has a population of around 200,000. The area is dotted with mosques, havelis (enclosed mansions with courtyards) and British colonial buildings, many of which are dilapidated.
Until now, much of the restoration and demolition work in the old city has been piecemeal, unregulated, and often privately funded. Three years ago the Norwegian government gave $1.6 million to Unesco to begin restoration work and to draw up a master plan for the Punjab government to follow. The World Bank has committed to give $10 million towards the conservation and restoration of the infrastructure of the Walled City which despite its historical significance, has been crumbling for decades.
The announcement for new funding from the local government was made by then Chaudhry Pervaiz Elahi, Chief Minister of Punjab, in the end of January. He also announced that, in a separate project, the Punjab government would spend $5 million each on the Lahore Fort and the Shalimar Gardens. This total of $20 million should prove a significant boost towards preserving the cultural heritage of the decaying Walled City.
Apart from architectural restorations, the project will include tidening of roads, installing traffic lights and removing illegal encroachments, improving water supply and sanitation, controlling pollution and the promotion of traditional skills and handicrafts. Implementation is not expected to be carried out for at least a year.
Unfortunately, as a resident of the Old City I fear this will may just prove to be another spoof. I have put the picture infront of you. Now you decide: will something concrete be done now or not?