Unconventional yet inventive, Aquaman puts a struggling DC Universe back on track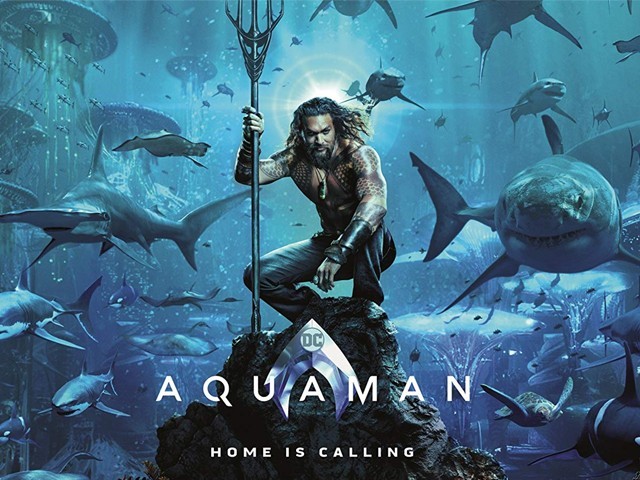 The 'DC Extended Universe', or the 'World of DC' or whatever it is being called these days, hasn't had a good start which is quite obvious judging by the critical reception its movies have been receiving. Although DC movies have done well financially, (except a few misfires like Justice League) they were attacked by critics and fans weren't impressed either. Wonder Woman is the only DC movie to date which ended up being both, a critical and commercial success.
Post the debacle that was Justice League, DC needed a revamp and all hopes were on James Wan's Aquaman starring Jason Momoa. Mamoa debuted as Aquaman through a cameo in Batman V Superman and a role in Justice League as well. Mamoa was praised for his performance as Aquaman but making a $200 million movie based on a character who was never exactly comic book royalty and is usually ridiculed for his superpowers (even Ben Affleck's Bruce Wayne pokes fun at Aquaman for being able to talk to fish in Justice League) was considered a foolish mistake and a desperate move on Warner Brothers' part.
When the plot details surfaced, the movie sounded even more outlandish and corny. The son of a human father and an Atlantean mother goes against his warmongering half-brother to stop the Atlanteans from waging a war against the humans. It sounds completely bonkers, right?
Apparently, what makes Aquaman bonkers is also what makes it an extremely entertaining watch. The movie, plot-wise, has all the idiosyncrasies of a comic book and a fairy tale combined: the loss of a parent, sibling rivalry, a mentor, a kingdom, a throne, a hero's quest to find himself and a world to save, Aquaman has it all. The plot may seem messy and unoriginal, but Wan has created a world where anything is possible. It is basically a Star Wars-Lord of The Rings-Avatar hybrid featuring a superhero who talks to fish and can swim underwater.
What Aquaman lacks in its plot, it makes up for by giving us terrific action scenes that will blow your mind. The one-shot scenes are a treat to watch and show just what a wizard Wan is. Aquaman has surely pushed the boundaries of CGI with its innovative and strange underwater world: a world where an octopus plays the drums and where warrior sharks ride into battle. It is totally unconventional and bizarre which is what makes it one inventive movie spectacle.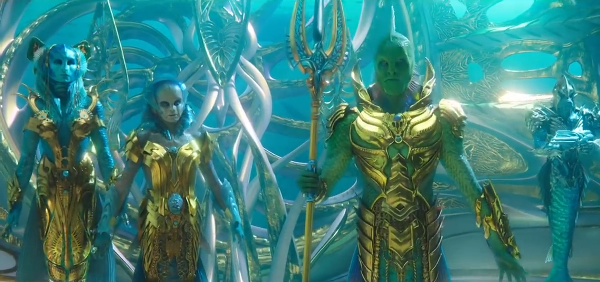 Aquaman is further elevated by its very talented cast, especially Momoa's charismatic performance. The Khal Drogo of GoT is completely in his element playing Arthur Curry aka Aquaman. The decision to portray Curry as a lively and charming guy instead of a more reserved one (like he is in the comics) works well for the movie and Mamoa as well who knocks it out of the park. He also looks pretty cool in the iconic Aquaman suit which is an achievement in itself considering that people usually make fun of Aquaman's suit.
Patrick Wilson, Wan's go-to-actor, plays Curry's half-brother, Orm Marius aka Ocean Master. Wilson gives a commanding performance as the heir to the throne who wishes to put an end to the 'surface people' who have only brought harm to the ocean (he does have a point).
Amber Heard's performance as Mera is commendable although the chemistry between her and Mamoa isn't as strong as it should be.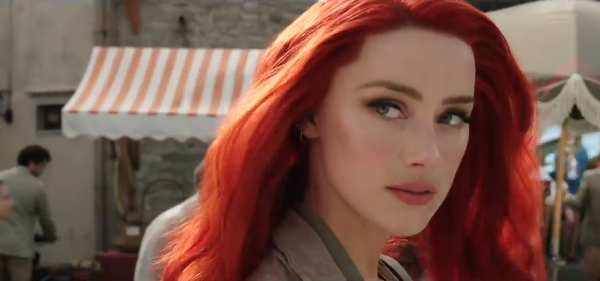 Aquaman is a flawed movie, but that cannot take away its sheer entertainment value. Wan has surely given the World of DC a huge win which is apparent judging by the insane business it is doing in China. Wan has put this struggling franchise back on track and with a number of interesting releases planned over the next few years, things seem to finally be working out for Warner Brothers and its DC franchise.