Tis the season for some easy, exotic and lip-smacking Christmas delicacies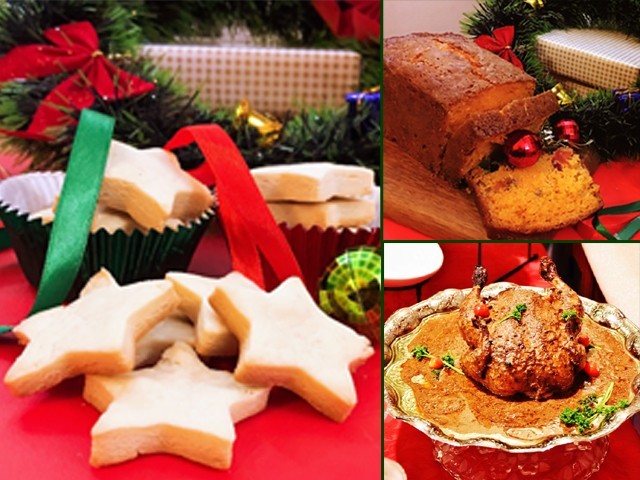 Finally, it's that time of the year again. Christmas, as traditional as it sounds, is reminiscent of many childhood holidays. From stuffing the chicken and turkey to baking fragrant ornaments for the Christmas tree, hanging up stockings and decking up the living room, some of our favourite festive memories have come from this holiday.  
Cooking for Christmas is the way many share the joy of this holiday with their friends and family. You cannot just serve the Christmas bakes on the table; you should wrap them, adorn them with beautiful embellishments and send them to your loved ones as Christmas giveaways too.
Here is a compilation of three exotic Christmas recipes that will help add grandeur to your festive dinners and tea parties. If you have limited time to spend in the kitchen, you can treat your guests to these delectable goodies.
While I share my Christmas love, you make sure to fill your houses with the fragrances of the season with wood-scented potpourri, scented candles or aromatic dough ornaments.
Tis the season to celebrate after all.
Herb Honey and Garlic Roasted Chicken
This chicken is an exotic addition to any festive table. It tastes great on its own but you can also serve it with various sides as well.
Ingredients:
Whole chicken, with skin: 1
Garlic: 3 tbsp, freshly chopped
Mayonnaise: 1 cup
Oil: ½ cup
Balsamic vinegar: 3 tbsp
Dark soy sauce: 1½ tbsp
Honey: ¼ cup
Garlic powder: 1 tsp
Salt: ½ tsp
Black pepper: 1 tbsp, freshly grounded
Dried oregano: 1 tsp
Dried thyme: 1 tsp
Dried basil: ½ tsp
Dried parsley: ½ tsp
To fill in the cavity:
Lemon: 2 halves
Rosemary: a few sprigs
Onion: 2 halves
Method:
1. Preheat the oven at 150 degrees celsius.
2. Add all the ingredients in a mixing bowl and stir together to form the marinade.
3. Place whole chicken in a plastic container breast side up and start massaging the marinade on it. Cover and let it marinate overnight.
4. Next morning, place the well-marinated chicken in a roasting pan along with all the leftover marinade. Insert lemon and onion halves and rosemary sprigs inside the cavity. Tie the bird's legs using butchers twine.
5. Tent the pan with a sheet of aluminium foil. Bake for 30 minutes with the foil on.
6. After 30 minutes, remove the foil and brush the marinade onto the chicken every 10 minutes. Do this twice till the skin gets a golden crisp exterior.
Enjoy!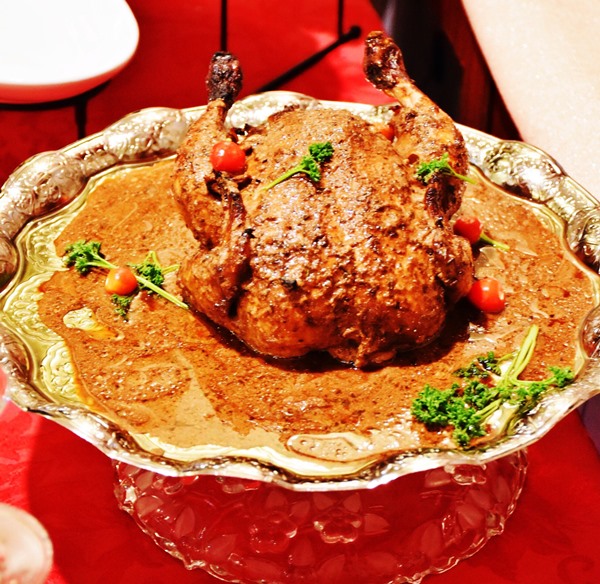 Christmas Shortbread Cookies
These rich, creamy and buttery shortbread cookies not only add beauty to your Christmas table and bake jars but also make for impeccable Christmas giveaways.
Ingredients:
Salted butter: 125 grams, softened at room temperature
Icing sugar: ¼ cup
Butter essence: a few drops
Flour: 1 cup
Rice flour: ¼ cup
Method:
1. Preheat your oven at 180 degrees celsius.
2. Start by taking the salted butter that has been softened at room temperature and add it to a bowl. Add icing sugar to the same bowl and using a rubber spatula, start creaming the two.
3. Add a few drops of butter essence. This is the secret ingredients to all shortbread cookies.
4. Add flour and rice flour to the butter mixture and fold in with your spatula.
5. Roll out the dough making sure that it is quarter-inch thick.
6. Use your favourite cookie cutters and cut out as many cookies as you can.
7. Place them on a grease-proof baking tray and bake for 15 minutes.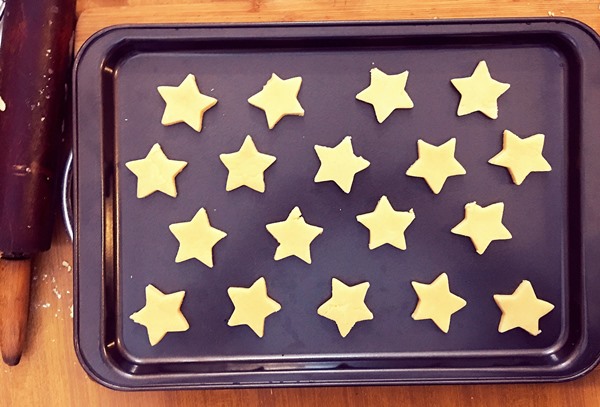 Cool on a wire rack and enjoy!
Orange Fruit Cake
This recipe makes such a moist, juicy and lip-smacking orange cake that your guests will not be able to resist another slice. Therefore, be sure to make a few extra loaves to enjoy throughout the holiday season.
Ingredients:
Oil: 1 cup
Castor sugar: 1½ cups
Eggs: 4
Vanilla essence: 1 tsp
Orange essence: ½ tsp
Flour: 2 cups
Baking powder: 2 tsp
Baking soda: ¼ tsp
Salt: ¼ tsp
Orange zest: 1 tsp
Buttermilk: ½ cup
Fresh orange juice: ½ cup
Orange food colour: a pinch
Mixed dried fruits: ¾ cup (glazed green and red cherries chopped, currants and raisins)
Flour: 3 tbsp, to toss the dried fruits in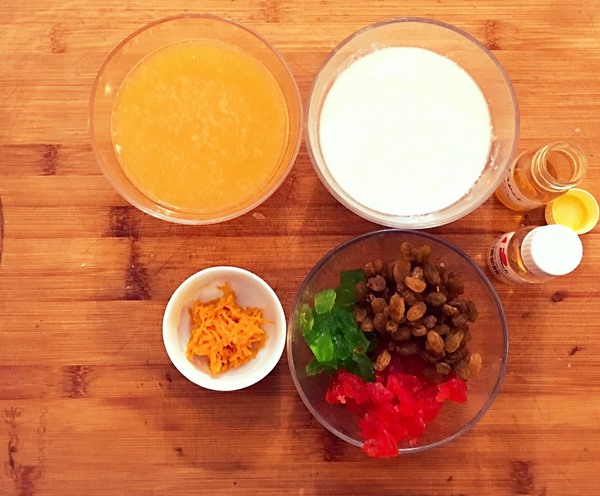 Method:
1. Preheat the oven at 180 degrees celsius.
2. Begin by measuring out the ingredients. Sift together flour, baking powder, baking soda and salt in a bowl.
3. Zest one orange and squeeze out the juice from the same.
4. Prepare buttermilk if you are unable to find the readymade one. Add two tablespoons of white vinegar to milk and let it stand for five minutes. You will see the milk curdle and thicken. Your buttermilk is ready.
5. Next, toss the dried fruits in flour so that they are well-coated.
6. Add oil, sugar, eggs, orange essence and vanilla essence in a large mixing bowl and start beating them at medium speed till they are well mixed.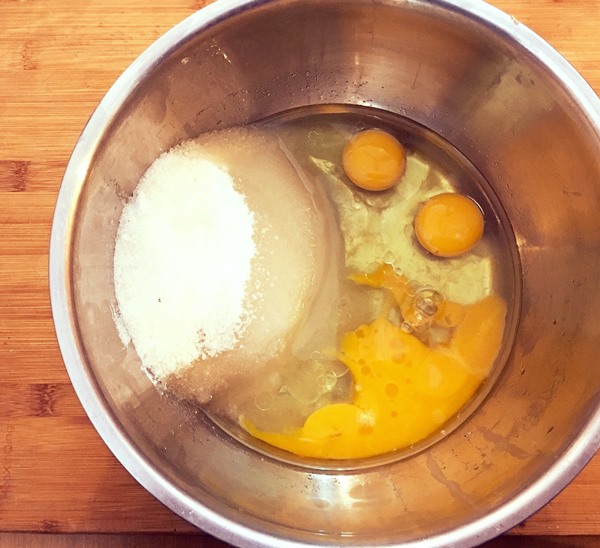 7. Add orange food colour to the mixture.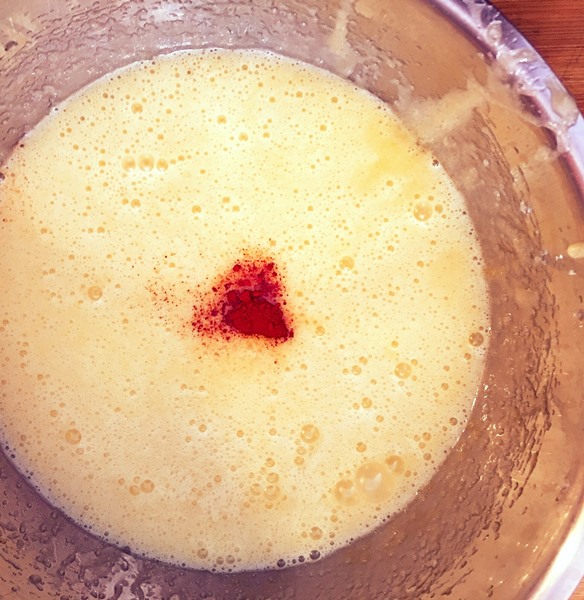 8. And now for the fun part. Add in the flour mixture, the zest, the freshly squeezed orange juice and buttermilk to the egg batter and use an electric beater at low speed till everything is mixed well.
9. Finally, fold in the flour-coated dried fruits into the batter.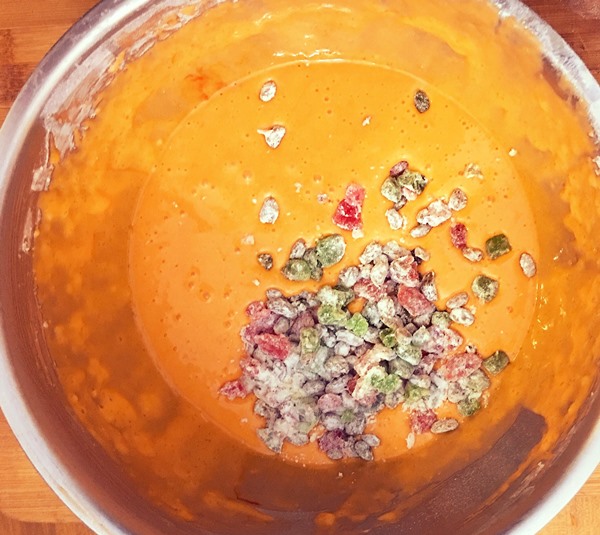 10. Grease a nine-inch loaf tin and line it with parchment paper. Grease the paper as well. Now pour the batter in the pan and bake for 35 minutes or till a skewer inserted in the centre comes out clean.
Serve this delicious cake with tea or as a dessert.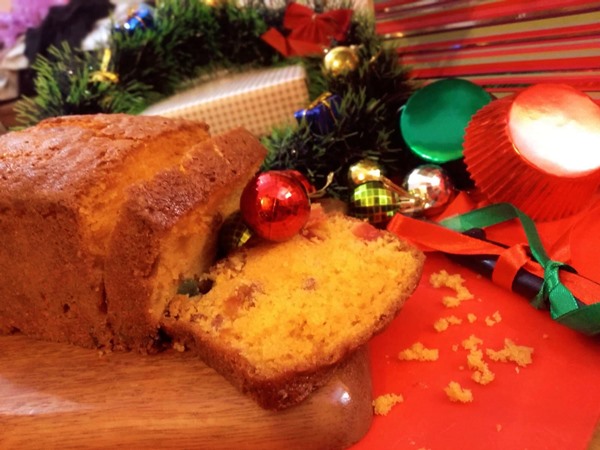 Merry Christmas!
All photos: Nazeeha Khan