7 game changers of 2018 that revolutionised Pakistan's drama industry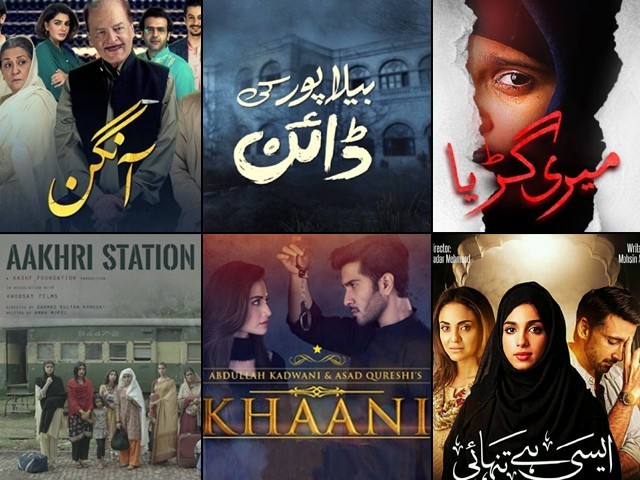 The year 2018 has proven to be a great one for our local drama industry. Surprisingly, we got to watch some of the most heart-wrenching and striking stories on the small screen; stories addressing social issues that are taboo and usually remain hidden behind closed doors, rarely making it to the national spotlight.
Thankfully, our drama industry is now not only focusing on producing entertaining content, but also on highlighting stories that educate the masses.
Though it was a very difficult decision to select a handful of shows from an extensive list of new content, I have nonetheless managed to shortlist a few based on their concept, storyline, direction and the message conveyed to the viewers. 
1. Aangan
Brilliantly directed by Qasim Ali Mureed, following a strong script by Faiza Iftekhar, Aangan was certainly one of the best dramas of 2018. Based on a very ordinary and light-hearted script, Aangan told the story of a Punjabi family living in a joint household setup, bringing back the old days of PTV when the entire family would sit together to view prime time dramas.
With the right mix of suspense, humour and emotions, the show resonated with the masses and filled the void of a substantial family drama missing from our TV screens for quite some time. With a huge cast and yet no leads in particular, Aangan managed to send across some really strong social messages while entertaining every member of the family watching.
2. Meri Guriya
Inspired by a true story, Meri Guriya proved to be a game changer for our drama industry and definitely set the bar very high. Not only did the show bring to light one of the darkest realities of our society – child sexual abuse and murder – it also depicted the psychology of a child molester, particularly focusing on the minutiae of how differently a child rapist behaves in public and in private. The message being sent was that the person behind such horrendous crimes could be someone you know and trust.
Mohsin Abbas Haider aced the role of Dabeer, the child rapist, and made viewers literally cringe and seethe at the mere sight of him. Based on Radain Shah's impactful script and supported by powerful performances by Sania Saeed, Sajid Hassan and Sonya Hussyn, the drama played a major role in informing people of a widespread issue in Pakistan and how we should protect our children from predators lurking around in ordinary faces, particularly after the tragedy that was the rape and murder of little Zainab. Moreover, it also focused on how necessary and important it is for the victim's family to fight, despite the toughest hurdles thrown their way, until justice is served.
3. Khaani
One of the top-rated shows of the year, Anjum Shehzad's directorial venture Khaani is a story of how an ordinary girl stands against a spoilt politician's son who killed her twin brother over a small brawl. Both the lead actors, Sana Javed and Feroze Khan, performed exceptionally well and received immense praise from audiences.
Writer Asma Nabeel penned down a very fine transition of a meek and naive young girl into a fiercely courageous woman who went against all odds to ensure justice for her brother's murder, despite the killer coming from a family of feudal lords. As another plus, the OST crooned by Rahat Fateh Ali Khan is oh-so-mesmerising! If you were living under a rock and somehow missed Khaani, you must watch it on YouTube right now.
4. Aisi Hai Tanhai
This Sonya Hussyn and Sami Khan starrer was a deeply disturbing yet incredibly moving story of cyber bullying and slut-shaming. Helmed by Badar Mehmood, this intense play realistically showed how social media can turn into a curse and ruin a woman's entire life if not used with caution.
This multidimensional and unique storyline was not just an eye-opener for the youth on their misuse of technology, but also depicted the conflict experienced by our society as it tries to follow suit with modernity while remaining encaged in conservative traditions. We really need more educational TV shows like Aisi Hai Tanhai in the future to change sexist mindsets and question the culture of judging and shaming women that still persists amongst us.
5. Suno Chanda 
A very subtle romantic comedy, this Farhan Saeed and Iqra Aziz starrer was a Ramazan special that made waves not just in Pakistan but also abroad. Beautifully scripted by Saima Akram Chaudhry and immaculately directed by Ahson Talish, Suno Chanda proved to be a joyful turn for viewers after watching a string of plays on societal evils.
The play amassed its audience through the love story between cousins Arsal and Jia, poles apart in nature and yet tied together under the bonds of a nikkah by their dying grandfather. Though Suno Chanda is not set on any particularly important issue despite its large fan following, it does stress on the importance of consent in a marriage. Overall, Suno Chanda has proven to be a breath of fresh air for makers and viewers alike, and given the overwhelming response it has received thus far, it is likely to continue airing and entertaining us for the near future.
6. Belapur ki Dayan
Horror is a genre rarely touched in our dramas and films as it involves a great amount of risk, but ace director Saifee Hassan bravely ventured into this largely unchartered territory with Belapur Ki Dayan, raising the bar of horror shows in Pakistan a little too high. With the right mix of horror and mystery, Belapur Ki Dayan was a surprisingly believable piece of frightful transmission, at a time when our industry has seemed ill-equipped to deliver good products in the horror genre.
With a very believable back-story and good performances, Belapur ki Dayan proved to be haunting and soul-stirring. Watch it now in case you haven't, but don't watch alone if you scare easily!
7. Aakhri Station 
The Kashf Foundation and Sarmad Khoosat joined hands to produce the seven-part miniseries Aakhri Station, which proved to be a truly gut-wrenching ride. With a series of women-centric stories, Aakhri Station highlighted subjects relating to domestic violence, acid attacks, forced prostitution, the stigma of mental illness, HIV and AIDS. Seven women belonging to different classes and social backgrounds come together in a train compartment en route to Karachi. Despite being unrelated to each other in age and social strata, the issues they faced as women are relatable and bring them together.
The cast includes Sanam Saeed, Nimra Bucha, Eman Suleman, Anam Gohar and Ammara Butt amongst others. The heart-wrenching stories depicted how these women finally awoke from their stupor and took their first step towards empowerment.
Many shows aired this year that kept us glued to our screens, but the aforementioned ones have the distinction of being game changers in an industry that has a tendency to remain stuck on proven formulas instead of taking risks and thinking outside the box. While bidding adieu to 2018, let's take a moment to thank the masterminds behind these gripping shows – directors, producers, writers, artists, editors, and all other technical team members – who put in their hearts and souls to deliver such amazing stories for our entertainment.
Looking at the overwhelming evolution and unstoppable growth of our local drama industry this year, we can only look forward to another year of impactful and enjoyable content to brighten our 2019 as well.