"She's doing injustice to both by bringing her baby to work" – uh, ok! 1950 called, they want you back!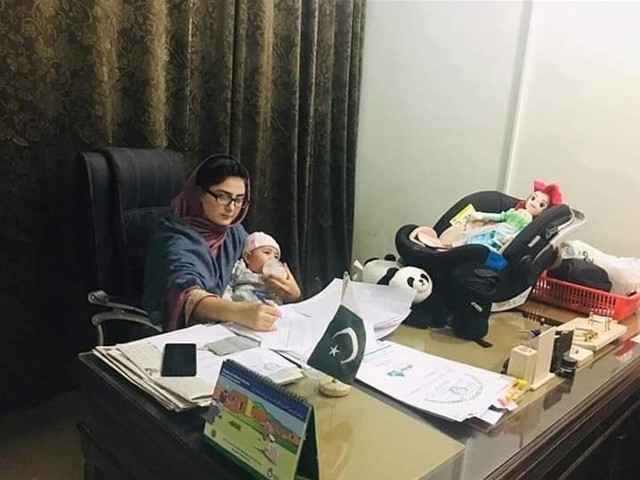 I don't remember the last time I had time to jot down my thoughts on a piece of paper. The difficulties of being a full-time working mother played a huge role in my 'hibernation' from writing.
Recently, I was scrolling through my newsfeed to keep up with the world that exists beyond my hectic routine when a lovely photo caught my attention: it was of a lady bringing her toddler to work and the caption of the news article read: Khyber Pakhtunkhwa (K-P) woman official sets example by carrying infant while on duty.
As a woman, a mother and a career-oriented person, I felt so much pride. The photo perfectly described what a modern and strong Pakistani woman looks like: someone who is giving her best at work and yet is not neglecting her duties and responsibilities as a mother. However, this positivity was marred by the disappointing yet predictable comments made by our own countrymen.
Instead of encouraging her and acknowledging that working women aren't automatically 'bad' mothers, they continued to indulge in nitpicking. Some disapproved of the woman exposing her baby to pollution and an unhealthy environment while others claimed that bringing her child to work will interfere with the job she is paid to do.
There were also those who seemed to be coming from a place of professional jealousy when they questioned why should she be allowed to take her baby to work when doctors aren't allowed to do the same. Then came the disgusting comments accusing the woman of just trying to seek attention and jokingly called for other professionals to take their kids to battlefields and laboratories.
motherhood is a full dedicated job so is state commissioner, she is doing injustice to both. pic.twitter.com/EPSdfz0Zzn

— Usman (@iUsmanaliii) November 30, 2018
This insensitive attitude of Pakistani men is neither new nor surprising. They have always blamed and insulted women who have broken the glass ceiling and tried to set new positive trends. Many Pakistani women who are revered internationally are constantly humiliated and disrespected at home by the same people. Our dear men try to compete with the rest of the world when it come to science, technology, health and educational facilities. They look up to the western lifestyle yet completely ignore how working mothers are facilitated and accommodated abroad.
Just a couple of months ago, the prime minister of New Zealand was seen taking her baby to the United Nations General Assembly. She was happy to be there for her baby as well as perform her duties as the PM. Moreover, women in rural areas have always helped men in farming and outdoor chores while carrying babies, hence this recent incident shouldn't come as a shock to this country. Why the "haww, haye"?
What perhaps was more alarming and hurtful was how many women also bashed the assistant commissioner and shared the same sentiments as the aforementioned men. It is unfortunate that many women instead of supporting and uplifting other women, constantly drag them down. It is apparent that these women only spewed out venom because they don't have the same opportunities, courage and resilience to pursue their dreams as this brave official did.
This is highly unprofessional of a civil servant. How is she even doing justice to her job when half of her attention is towards her baby? She is definitely setting a wrong trend and this shouldn't be celebrated & welcomed by our so-called media. #saratawab https://t.co/eZx7wRVFlx

— Rabiya khan (@Rabiyak03) December 1, 2018
Our society is extremely selfish and hypocritical when it comes to dealing with women. A man would readily marry an educated, highly paid working woman. His family would expect and love the gifts she would buy for them from her own salary and take pride in having a "doctor bahu" or "afsar bahu". After marriage, she would constantly be interrogated about when she will contribute to the ever-growing population of the world. However, they would not pay attention to the difficulties and burdens she would go through when she becomes a mother.
Once the baby arrives, the same women who had interrogated her would start blaming the woman for sacrificing her family to earn money. They would criticise her for not staying at home and making do with what the husband brings home. These individuals fail to understand that women work exhausting hours to provide the best for their families which would otherwise be difficult. Instead of realising how hard it is for women to juggle work life and motherhood, our people continue to throw stones at the women who have proved themselves to be better and stronger. Consequently, women often give up their careers after having a baby. Or, most of the time, their mothers look after the kids while they work and follow their dreams. Neither the husband nor his family tries to share the responsibility.
This incident should serve as a wake up call for men who burden women with all the responsibilities of raising a child. Our men should realise that they cannot just get off the hook by providing a surname and some monetary amount for their kid. Instead of criticising the officer for bringing her baby to work, they should perhaps help out their partners with their babies. Raising children is after all a shared responsibility.
Furthermore, with Pakistan crawling its way up to becoming a welfare state and organisations welcoming talented women, it is the responsibility of employers to make work environment friendly for mothers. They should have a proper daycare system set up where mothers can safely leave their kids under supervision and work stress-free. It will be easier for them to then tend to their children's needs during break-time. This way none of the responsibilities will be compromised.
On a side note, as a mother who has held her babies many times while working, be it at office or in the kitchen, a baby carrier is a big help and for outdoors, a stroller is a must. These will let the mothers work freely.
As I type this with my right hand while carrying my infant in my lap, I want give a huge shout-out to all the women who are trying hard to make both ends meet and fulfilling their responsibilities to the best of their abilities.
You're all iron ladies!
All photos: Express