Tahir Dawar's brutal murder and the possible existence of IS in Pakistan is a wake up call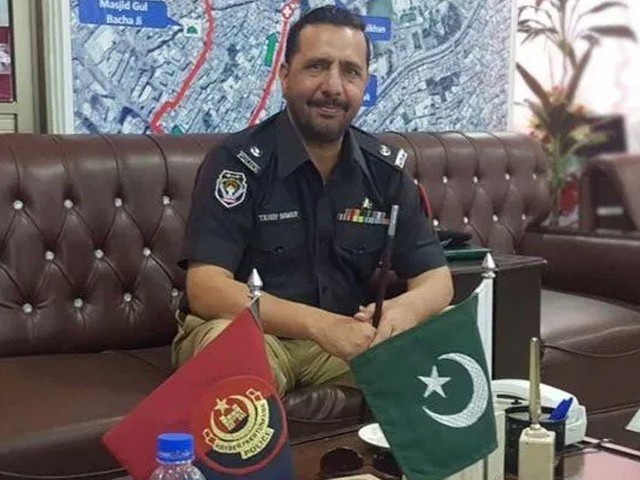 Squeaking with laughter while speaking to a journalist, then concluding with a sardonic snide, Iftikhar Durrani, Imran Khan's spokesperson, claimed with confidence that SP Tahir Dawar was "safe" in Peshawar on October 28th.
Unfortunately, however, with the recent discovery of the policeman's dead body, that arrogant snide should only linger as a haunting memory for the prime minister's top aide. The note from the Islamic State (IS) found alongside the late SP's body is what makes matters worse than one could potentially begin to imagine. The latter being so, specifically because the government has repeatedly claimed that neither IS nor any direct affiliate of the organisation exists in Pakistan.
Peshawer SP #TahirDawar was kidnapped in Islamabad. Now in an apparent letter, #ISIS say they've killed him in Nangarhar. How would the authorities explain it bcoz they have been denying ISIS presence in #Pakistan!? Also, how could IS kidnapped him from Islo to #Afghanistan!? pic.twitter.com/8u205zjWej

— Bashir Ahmad Gwakh (@bashirgwakh) November 13, 2018
The government's claims with regards to IS, however, seem very incredible, particularly with clerics like Maulana Abdul Aziz issuing public statements in support of IS's missions and objectives. Furthermore, with posters and graffiti representing IS's logo vandalising public locations in Punjab, one can only question the credibility of the government's confidence in its claims. Specifically, the appearance of an IS flag in the federal capital back in September 2017 itself is a clear reflection of the extremist organisation's existing support in the country.
Moreover, General John Nicholson Jr, the commander of US and international forces, claimed in early 2017 that the Tehreek-e-Taliban Pakistan (TTP) provides a "core fighting group" to the IS. Considering that the TTP is an existing and identified threat to Pakistan's security, their direct linkage to the IS re-emphasises the support for the organisation across the tribal region of the country.
Without acknowledging the existing support for such a nefarious organisation, the Pakistani government, in effect, turns a blind eye to a very pressing matter. One, which if not handled correctly, could lead to a very barren and distraught country. One that could also possibly be the cause of SP Dawar's assassination, particularly because of his strong stance against extremist ideologies in the Khyber Pakhtunkhwa (K-P) region.
An outstanding officer, the late policeman was a very strong adversary of extremist ideologies. To an extent that he spent a large fortune rehabilitating a close relative who had been brainwashed by a fanatic group including the Taliban. His resilient efforts against such terrorist factions are evident by his success at rehabilitating his relative, and are also reiterated by his successful campaign and encounters against terrorist outfits in the region.
Hence, it stands to reason that he posed a direct threat to such organisations, particularly the IS, which could have taken callous steps to remove this beloved officer from their opposition.
Their success at doing so, however, highlights a blunderous lapse at the hands of our government and security agencies. In failing to protect a coveted officer, one who had already out-battled death twice – once from a suicide attack in 2009, another time during an encounter in 2007 – the government's impotence at protecting its citizens is far too clear.
What makes matters worse is the government's apathetic attitude towards the recovery of the officer after the issue was brought to limelight. Despite his sudden absence being highlighted by his family and friends across multiple media outlets, the government refused to accept the news of his abduction.
Therefore, the concerns regarding his death and the high degree of backlash from the Pakhtun community are not only justified, but an omen portending a divided Pakistan. If the government fails to protect one of its own, and that to a coveted SP from K-P, how can it possibly begin to emphasise any notion of protection for the ordinary citizen? Furthermore, the fact that Dawar was abducted from G-10/4, Islamabad, a residential area in the federal capital, follows to question the ineffectiveness of agencies that could've lead to this event.
As a friend succinctly put it:
"Agar Islamabadi safe nai hain tou phir Lahorion ki tou khair."

(If Islamabadis aren't safe, then Lahoris have much to fear.)
Whilst I supported Imran vehemently throughout the 2018 elections, perhaps due only to the lack of a better choice, I find his lack of decisive action quite alarming. I see the pragmatism in moving forward, but failing to learn from mistakes is not only an unrepentable sin but a poor reflection of the state of the government. And we, as Pakistan, have made the same mistake over a hundred times. From the murder of Italian-Pakistani student Sana Cheema to the murder of SP Chaudhry Aslam Khan in Karachi, we've repeatedly indulged in temporary states of grief, followed by insincere apathy. Thus, at the very core, I sincerely hope that the government is willing to take actions beyond the formation of another joint investigation team (JIT), and eventually ensure the punishment of any entities involved in the SP's assassination.
At the end, Imran seriously needs to reconsider his priorities and reallocate manpower towards ensuring the security of Pakistani citizens as well.
Unfortunately, however, if this trend does go on, Pakistan will only continue to lose gems like SP Dawar.
Nonetheless, as a young Pakistani, I must wait patiently for this country to move out of this constant state of turmoil, and that is what I urge my fellow youth to do. Beyond that, I implore my nation to take up pens against extremist ideologies. I hope that all of us are willing to shun down everyone who even remotely tries to propagate any hatred or divineness and make them realise the toxicity of their behaviour. Without proactive action, Pakistan cannot grow out of this extremist phase.
Pakistan Zindabad!