A lesson for Kashmiris from Manan Wani: "We cannot let the occupation manoeuvre us any longer"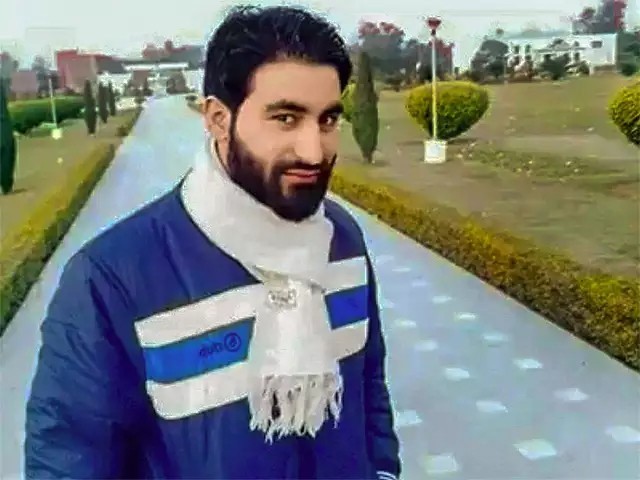 As I pursue my PhD, more often than not I find myself going through and posting on social media on matters ranging from political and social issues to, of course, poetry. However, when Manan Bashir Wani, a PhD scholar at the Aligarh Muslim University (AMU), joined the Hizbul Mujahideen earlier this year to fight the Indian occupation of Kashmir, I found I had nothing to say.
The reason for my silence was primarily the knowledge that from the day one becomes a freedom fighter in present day Indian-occupied Kashmir (IoK), they don't get to live for more than six months. Added to this was the realisation that the occupier is very particular about not letting celebrated and educated individuals like Manan live for long, especially since the untimely martyrdom of Burhan Wani. Burhan living for a long five years before they could get to him was ascertained to be one of the major reasons for him being celebrated, and for his murder catalysing an uproar back in the summer of 2016; an uproar not expected after Manan's martyrdom.
Now that Manan is no longer with us, we have to carry his profound observations forward; mainly his idea that humble workers, hardworking teachers and doctors, fearless journalists and even honest policemen were all as much a part of the resistance as an insurgent fighting the occupation. Equally pertinent is his observation that the purpose of the occupation is to create false narratives and infuse confusion within the society, only for the subjugation of Kashmiris to continue the way it has for decades. We all have to live by the first observation and fight the second by dispelling the fictitious narratives devised by the occupier.
It's difficult to ascertain precisely what led Manan to give up his academic status and join the insurgency, but it is not hard to guess that the violence imposed upon Kashmiris and the crushing of any political space as they struggle for freedom played a central role in his decision. Whatever his personal reasons, no Kashmiri can doubt the route Manan took. He was a student at one of India's best universities, and his intelligence and sound decision-making become evident through his writings. We must therefore conclude that he thought long and hard about his decision before taking the step he could not take back, despite perhaps possessing an awareness of the devastating end results.
I read Manan's writings as soon as they appeared; in fact, I distinctly remember saving them on my computer, given the limits of 'democracy' and freedom of speech in India. Some people agreed with him, others disagreed, and I was no different. While I had no questions over the soundness of his mind and thus understood his decision, I nonetheless wished that more could have been done to not let him join the insurgency. I continue to believe so, and would argue that all Kashmiris must not let another Manan follow suit.
We have to be tactical now! We have to understand the designs of the occupier, for they will not let the Manans live for long. Believe me, they are very particular about this. They are learning from their 'mistakes', and we invariably have to learn from their behaviour. I can understand the pain we Kashmiris, particularly the ones who knew Manan, are going through, but the need of the hour is to control our emotions and not create a wave where we make it easy for our youth to take up more arms, which only gives the occupier easy licence to kill us.
There were also quite a few who wrote on Manan and his writings, castigating him for being disgruntled and then in the same essay patronising him for his intellect. In fact, the day I learned about his martyrdom, I also saw what Indian Administrative Service (IAS) officer Shah Faesal had to say about it, and his statement bears witness to the politicisation of every death in occupied Kashmir. We can all agree that Faesal is a smart individual who knows what he wrote, and I believe him when he says he shares our grief and anguish. He is also a Kashmiri and has seen Kashmir's occupation, which is why he must understand the pain here. However, let us also not condone! I understand when the Indian media barks the word 'terrorist' even as it kills civilians in IoK, but one cannot help but accuse Faesal of dishonesty when he overlooks the nuances as a Kashmiri. He knows better than most that the occupation has deliberately left insurgency as the only way forward, and yet he finds fault with Manan's decision and not the occupation itself. After all, it is the powerful that end the war, not the disenfranchised, and yet Faesal puts the onus on those without power.
Perhaps we also need to keep in mind that the occupation of Kashmir is, at one level, the fight for narratives, and thus have to accept the inevitable politicisation of deaths, however unfortunate they may be. This is something many, including Manan, pointed out; the manoeuvre of confusing each and every notion about Kashmir and its occupation. Unfortunately, this starts with the leadership itself; there is confusion within the political leadership when it comes to the role of the insurgency, and it is very important that the confusion is resolved urgently.
I have arrived to the conclusion that the Kashmiri freedom struggle has to accept the role of the insurgents and thus tactically support it. In fact, we all have to be tactical! What does that mean for current times? One important realisation in this regard is to understand how the occupier sees the conflict in current dynamics; they are experimenting and treating it like a military job, going on a spree to kill all freedom fighters. As mentioned earlier, this is an experiment, and we Kashmiris have to treat it like one to ensure we have minimum losses in a situation in which we have no control. That translates into doing whatever it takes as a society in order to let fewer youngsters join the insurgency. We have a very sound civil society in the form of mosques and shrines, and it is time we explore and use them to our benefit.
Finally, let me make it clear that every Kashmiri has the right to be pro-India, just as they have the right to be pro-Pakistan, and above all, the right to be pro-Kashmir. This difference should not divide us to the extent of declaring each other a collaborator, with the only end product being a fatal social breakdown. But let this also not stop us from calling out the disgusting politics on the dead bodies of our brethren, be it of a freedom fighter or a Kashmiri policeman. I believe this is one of the most important ways the occupier has inserted confusion within our society to prolong their brutal subjugation of occupied Kashmir. This is what I made out of the last two essays Manan wrote before his untimely death: We cannot let the occupation manoeuvre us any longer. Let us agree and work on this, and through this pay a lasting tribute to Manan.
As Allama Iqbal once said,
Ghulami mein na kaam aati hain shamshiren na tadbiren,

Jo ho zauq-e-yaqin paida to kat jaati hain zanjiren.

(Neither swords nor plans prove useful during slavery,

But only once faith is born can the shackles be cut.)