Have you met the sun today?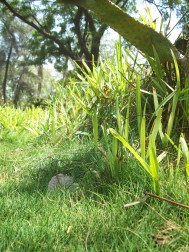 There is no eye that doesn't find serenity in floating clouds, tranquility in shimmering water, and brilliance in the moon light. Nature is the only thing that will fill your heart with contentment and your spirit with peace. Stop and take a look around. There is nothing like walking bare foot on the moist grass, soaking oneself in the rain or sitting under the shade of a neem tree. When was the last time you did any of these things?
Sometimes I like to close my eyes and listen to the melody of nature. As the song of the sparrow mixes with the breeze I can hear the quiet hum of the trees. I smell the wet soil and freshly mowed grass. I find myself constantly mystified by how nature has the power to soothe and recharge our senses. Modern inventions have filled our lives with limitations. The hurly burly of city life has made us time deprived. So, once in a while, stop!
These are the simple but supreme pleasures of life. Here are few easy ways to embrace nature every day:
Start observing nature around you. Observe the trees that you pass by each morning and notice how seasons make them change colors, shed leaves and bloom.
Adopt a plant!
Sow a seed and watch it grow.
Consider your late night load shedding a reason to lie down on your terrace or on the grass of your lawn. Drown yourself in the starry sky.
Do not miss a full moon! Have your dinner on the balcony in the moon light.
Soak your self in rain at least once this monsoon season! Stick your hand out of the car, or your window and collect few raindrops.
If you are anything like me, you will love having a cup of tea on the rooftop where you can see the sun go down and birds flying back to their nests.
Nature has given you thousands of reasons to smile and to adore the wonders of God. Fall in love with the dancing leaves of a tree, admire the sounds of chirping birds, marvel at the radiance of flowers or value the refreshing breeze. Appreciate nature and be a part of it!