When Tanushree Dutta said #MeToo but Bollywood didn't care, because that stuff is only for movies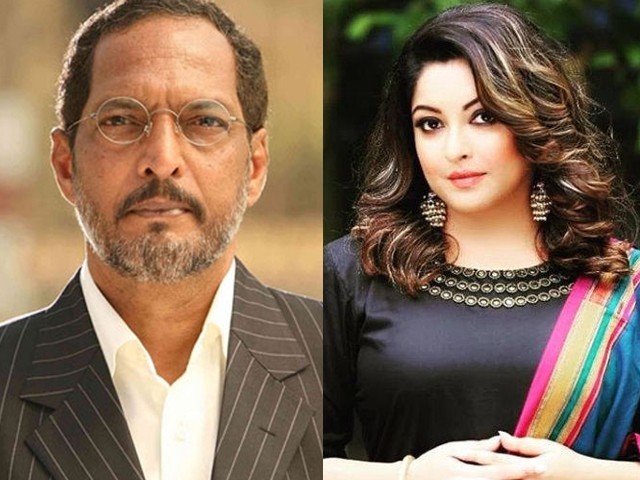 This is one real life story Bollywood will likely never make into a blockbuster, for after all, it involves one of their own. Actress Tanushree Dutta's accusations of sexual harassment against veteran actor Nana Patekar have been met with diverse reactions within the industry, but the most deafening is the sound of silence by most of Bollywood's bigwigs.
On the one hand, some of those who have reacted should have just kept quiet. For instance, 66- year-old Shakti Kapoor, who himself has a dubious reputation, thought it was appropriate to joke about the matter.
#WATCH:I don't know anything about this case. This was ten years back, I was a kid back then: Shakti Kapoor on #TanushreeDutta's harassment allegations against Nana Patekar. (2/10/2018) pic.twitter.com/FxD7LHL6MM

— ANI (@ANI) October 3, 2018
Then there is the big man of Bollywood, Amitabh Bachchan, who responded by saying since he is neither Dutta nor Patekar, he could not comment on the matter. Actress Parineeti Chopra was no different, saying that since she wasn't there, she couldn't really take sides. Be it Salman Khan or Aamir Khan, they all offer the same response on repeat.
Dutta, who seems to be more determined now than she was 10 years ago when she reported the incident for the first time, has taken a dig at them all in an interview, saying,
"The stars and the superstars of our country are just a reflection of our society. They are not aliens from outer space."
Just to rewind, Dutta filed a complaint against Patekar a decade ago, alleging he harassed her during the making of the movie Horn OK Please. The actress had also refused to do an intimate dance number with Patekar after experiencing misbehaviour on the set of the film. She reveals her accusations fell on deaf ears back then, but now seem to be corroborated by the resurfacing of an old video. In this video, Dutta can be seen sitting in her car while it is attacked, reportedly by political goons she claims came at the behest of Patekar.
The Cine and TV Artists Association has openly come out in support of the actress, saying it regrets its evaluation of her claims 10 years ago. The organisation strongly condemned the incidents back then, but never dealt with them.
Patekar, however, continues to live in his reel life avatar, denying allegations and slapping a legal notice against the actress. All this has been done despite being – one assumes – on the back foot, as three people, including a journalist, have come forward as eyewitnesses. Another notice has been sent by filmmaker Vivek Agnihotri, who allegedly asked Dutta to strip and dance off camera.
"This is the price you pay for speaking out against harassment, humiliation and injustice in India", says the actress.
There are many who are questioning Dutta's timing, but there are so many who always question the timing; not only is it in their conditioning to do so, it is also a mechanism of denial. Speaking out and taking a stand makes people – at least in Bollywood – very uncomfortable. And Bollywood likes its comfort; likes living in a cocoon that is in no way a reflection of reality.
Even the often far-fetched movie plots portray a victim who gets justice in the end, but always in Bollywood movies, not in Bollywood. So while movies like Fashion and Heroine show the shady side of glamour, and the more recent Mom tackled a mother taking revenge for her daughter's rape, real life Bollywood does not walk the movie-talk. Films have been made on rape and harassment as far back as Dev Anand's era, and yet there remains no closure for most victims, ironically within the industry itself. The ruthless message one gets is that nothing sells like violence against women.
India's Women and Child Development Minister Maneka Gandhi's asserted that it is time for a #Metoo revolution in the country, but that is easier said than done. All you have to do is look at the reaction of the minister of Maharashtra.
"He (Patekar) is also a social activist who has done tremendous work for the state. You just cannot level allegations against anybody," the minister said.
There are countless men out there, and not just in Bollywood, who have taken advantage of this mindset and forced victims to back down. Dutta now alleges threat and intimidation, adding that if anyone is wondering why the #MeToo movement hasn't happened yet, this is why.
In our society, women are seldom respected for speaking out. Saroj Khan, a famous and respected choreographer who has worked with stars such as Sridevi and Madhuri Dixit, had to apologise for a poorly worded statement admitting the existence of the casting couch in Bollywood. This remains another elephant in the room.
Thus far, Dutta has remained adamant over her claims, and is slowly getting support, even from the hallowed corridors within the film industry. There are the usual suspects, such as Farhan Akhtar, Sonam Kapoor and Swara Bhaskar, who on most days don't shy away from controversial issues, and haven't kept quiet this time around either. From the periphery, Priyanka Chopra also added her voice, but Akhtar's reaction remains the odd one out.
This thread is very telling. @janiceseq85 was there at the time of the incident being debated today. Even when #TanushreeDutta had career concerns to keep quiet 10 years ago she did not & her story hasn't changed now. Her courage should be admired, not her intention questioned. https://t.co/Ola3MNdmtS

— Farhan Akhtar (@FarOutAkhtar) September 27, 2018
I believe #TanushreeDatta and @janiceseq85 recollection of the account. Janice is my friend, and she is anything but an exaggerator or a liar. And it's upto us to stand together. https://t.co/sF3mS5o1P8

— Sonam K Ahuja (@sonamakapoor) September 28, 2018
#IBelieveYouTanushreeDutta https://t.co/slMxDwcGWx

— Swara Bhasker (@ReallySwara) September 27, 2018
Agreed..the world needs to #BelieveSurviviors https://t.co/ia82UsCkkq

— PRIYANKA (@priyankachopra) September 28, 2018
Former actress Twinkle Khanna also spoke out in support, but had no response when questioned regarding her husband Akshay Kumar, who is currently filming with Patekar.
Please read this thread before judging or shaming #TanushreeDutta a working environment without harassment and intimidation is a fundamental right and by speaking up this brave woman helps pave the way towards that very goal for all of us! https://t.co/f8Nj9YWRvE

— Twinkle Khanna (@mrsfunnybones) September 28, 2018
As they say, sometimes a woman is a woman's worst enemy. Just a day or so after the allegations surfaced, director Farah Khan posted a picture with Patekar on Instagram. Everyone in the post couldn't have looked happier.
Despite actresses like Kangana Ranaut and Vidya Balan, Bollywood indisputably remains a male-dominated industry. Currently, drawing rooms will animatedly discuss US President Donald Trump mocking Christine Blasey Ford, who has accused the Supreme Court nominee Brett Kavanaugh of sexual assault. Doing so, they would prefer to turn a blind eye to the garbage in their own backyard.
This is not the first time such serious allegations have been levied against a senior actor, but in the past, everything was quietly brushed under the carpet. Through its silence, Bollywood is complicit in letting these sex offenders progress their careers and continue intimidating countless women, who join the industry full of dreams but quickly come to face its ugly reality. If it now says #MeToo, it is hypocritical. There are plenty of skeletons in Bollywood, but for now, at least one has stumbled out. Hopefully this time, no one will put it back in the closet.