Men in Green vs Mighty Australia: Has Pakistan selected the best team for the job?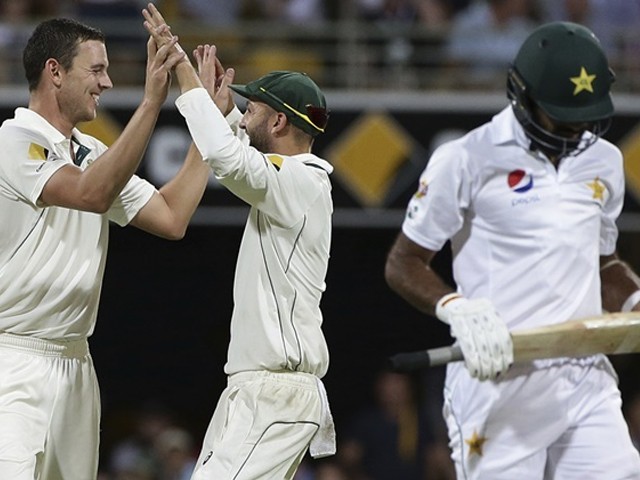 How do we even assess the embarrassing performance exhibited by Pakistan at the 2018 Asia Cup? If we briefly sum it up, we can definitely detect complacency, lack of mental durability and a mismanagement of human resources. Now, after its heart-wrenching exit from the event, Pakistan cricket's next adventure is a two-match Test series against Australia, which starts tomorrow. 
The Inzamamul Haq-led selection committee has announced a 17-member squad to face the team that ranks third in Test rankings. However, it seems the selection committee hasn't learned from past mistakes and has picked players that are either inexperienced or unsuitable for the longest format of the game. The following is an assessment of where the Pakistan team currently stands.
Opening woes
Two months ago, Azhar Ali and Imamul Haq opened the innings for Pakistan against England and Ireland. In three games, both openers made half centuries in six innings overall. We all know how good Ali is in Test cricket, and his current form at the County Championship in Somerset would also aid him in the UAE.
The bigger question is: who can we count on alongside Ali to deliver a successful partnership? Yes, Imam has been in tremendous form overall, but he seemed unsettled in England. His dismissals in England and in one of the games against India by Yuzvendra Chahal are proof of this weakness. Although there is minimal movement for pacers in Dubai and Abu Dhabi, nonetheless the new ball always troubles our batsmen.
On the other hand, Fakhar Zaman has been picked as the third opener, which makes no sense at all! His terrible form and confidence crisis are only two reasons to know better than to expect more from him, while his block-or-hit style of play is what stops him from growing into a successful batsman. This strange selection of openers, who often make the game in Test cricket, already raises alarm bells for fans and is indicative of how the team might struggle to build a strong foundation from the top order.
The mystery of the middle order
Out of the 17 players that make the team, six are batsmen, and what stands out amongst them all is inexperience. Only vice-captain Asad Shafiq has played more than 50 games, while Babar Azam has played 13 Test matches. Haris Sohail and Usman Salahuddin are other 'specialist' batsmen in the team. This explains the state of our middle order.
The mystery of keeping Fawad Alam out of the Test side will probably remain unresolved forever. He recently completed a mammoth 11,000 first-class runs, had a great run in league cricket in England, and is in good form. The conditions in UAE are best suited for his style of play, apart from his agility in the field. So why on earth has he been ignored by various selection committees over the past 10 years, only to take on inexperienced players against a team like Australia?
Lopsided bowling line-up 
For his impressive comeback in the last game against Bangladesh at the Asia Cup, Junaid Khan has been rewarded by being dropped from the Test squad. He has taken 71 wickets in 22 games, out of which 30 have been in the UAE – an impeccable record that speaks volumes of his ability to perform on dead pitches. Then why does Junaid share the same luck as Alam?
On another note, Wahab Riaz has made a comeback, which is a good tactic. His pace and ability to reverse swing the ball makes him best suited for UAE wickets. He will be supported by a young Mir Hamza, who has taken 278 wickets in only 56 first-class games, making his selection a reward for his performance in the last domestic season.
As far as spin-bowling is concerned, Yasir Shah will be the centre of attention once again as he spearheads Pakistan's bowling attack. He will have the support of Bilal Asif and Shadab Khan; one a rookie, while the other is also new to Test cricket. This is ultimately why the men in green will end up heavily relying on Shah and Riaz, as the bowling line-up too looks unbalanced on paper.
Mohammad Amir axed
After his comeback in 2016, this is the first time ace fast-bowler Mohammad Amir has not found himself in the squad for Test series, and rightly so. His performance has been disastrous. From his pace to his ability to swing the ball both ways, Amir has been unable to maintain his consistency in both areas.
Before the Asia Cup, Azhar Mahmood stated he wanted "more" from Amir, and expected him to take more wickets, being the leader of our attack. Unfortunately, Amir has been unable to find the rhythm he is known and celebrated for, and taking some time out to find it is probably the best decision for the team.
Out of form skipper
Sarfraz Ahmed's last Test 100 came against Australia back in 2014. Since then, he has been unable to hit a ton for his side. After a humiliating exit from the Asia Cup, the captain is now facing wrath from cricket pundits and fans alike.
What is going wrong for Sarfraz? The most obvious reason seems to be that the captaincy is getting to his nerves. What he needs is to calm his nerves and not let the pressure get to him, especially when he is on the crease. His natural style of play is to find the gaps and remain busy between the wickets. In Test cricket, the batsman is generally surrounded by close fielders while the slip cordon remains packed. Sarfraz's weak link is that time and again he tries to guide the ball over the slip, and in the process gets taken out. What he needs now is to not only guide the team, but also play straight with soft hands to regain his lost form. 
Calling the professor 
Most of us know the importance of reaching out to professors for some last minute advice before an exam. Including 37-year-old Mohammad Hafeez, who is known as the professor, is no different from that scenario.
In view of the concerns laid by the spin department, the team management picked Hafeez to assist Shah. Hafeez has nearly completed 12,000 first-class runs, and scored a double ton against Peshawar in the Quaid-e-Azam Trophy. Therefore, this move will certainly boost our batting order and will ultimately relieve some pressure off Mickey Arthur and Sarfraz.
From 2010 till 2016, Pakistan played Test cricket in the UAE under the most successful Test captain in Pakistan cricket's history – Misbahul Haq. In the aforementioned period, Misbah set the template of going with two specialist spinners and two pacers. Our record was 100% successful, until Sri Lanka thrashed Pakistan under Sarfraz last year. It is thus imperative to induct two spinners in the playing XI, while Ali and Shafiq should live up to expectations in order to fill the void left by MisYou.
At the moment, things seem unsure for Pakistan, and it seems unlikely that Pakistan will have a repeat episode of 2014 where they whitewashed Australia in the UAE. It remains to be seen whether the green caps will come out of their shell and perform fearlessly, or offer another one-sided display to their fans. The only thing fans know for sure is that they can bank on the Pakistani team's 'unpredictable' tag.