Why Batti Gul Meter Chalu should have stayed in the dark
These days it is difficult to find a Bollywood movie that depicts a strong message. Most movies are made for the sole purpose of entertainment and pay no heed to the script or the plot of the movie. As long as there are some witty dialogues, catchy songs and a star cast, the movie will cash in all the moolah. Unfortunately, due to this, the fine line between commercial and parallel cinema is fading away.
After the success of the eye-opener flick Toilet – Ek Prem Katha, Direcetor Shree Narayan Singh is back with another subject-oriented film, Batti Gul Meter Chalu. The movie stars Shahid Kapoor, who desperately needs a hit at this point of his career; Shraddha Kapoor, who is enjoying Stree's success at the moment; and Divyendu Sharma, who was missing in action since Toilet.
The movie begins with an archery competition held in a small town called Uttarakhand. Since there have been power outages in the town, it is shown that the one who hits the bullseye wins enough fuel for his neighbourhood community centre generator to last six months.
This scene gives us a glimpse of what the movie is about and shows us the struggle of the people of Uttarakhand who cannot afford generators, high electricity bills and suffer in darkness. The plot revolves around three friends, Sunil Kamar aka SK (Shahid), Tripathi (Sharma) and Lalita Nautiyal (Shraddha).
SK is a lawyer who will do anything to earn money, even if that means blackmailing business owners. Tripathi is the only son of his parents and opens up a business after years of saving and planning. Lalita is an aspiring designer and local tailor, she is also the object of affection for both the male protagonists.
Due to constant power outages and the hike in electricity bills, Tripathi faces a lot of issues with his business, which leads to him committing suicide. After the death of their friend, SK and Lalita take matters into their own hands and decide to deliver justice to their friend.
The film sheds light on the electricity woes in India, something us Pakistanis can very much relate to. It highlights how electricity companies are minting money but are failing to provide services to the public. The movie delivers a social message, especially for developing countries.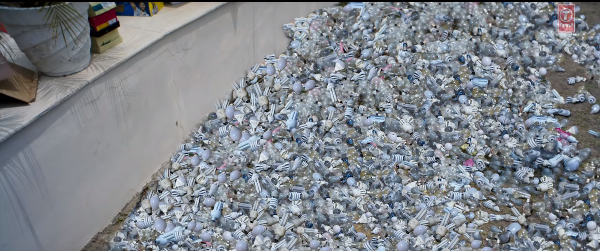 When it comes to performances, Shahid has put forth a decent show. There are a few scenes in the movie where Shahid has hit it out of the park and impressed his fans with his varied expressions and intense emotional appeal. However, in the rest of the film, where he is trying to portray a cunning and scheming lawyer, he fails to offer anything substantial to the role.
After dazzling in her recently released movie Stree, Shraddha gives a noteworthy performance. It is very clear that her acting skills have greatly improved since she first started and that can be seen through her dialogue delivery, pauses and even her outburst scenes.
Yami Gautam, who plays the defendant's lawyer, looks good but unfortunately has nothing brilliant up her sleeves. If she had been given better dialogues and had executed them decently, she might have excelled.
The star of the show however is Sharma, who is as always a delight to watch. The young actor is known for playing carefree and funny characters but he is a revelation in Batti Gul Meter Chalu, where he impresses the audience in every single scene. He already excelled in comical scenes but even his emotional scenes were heartwarming and brilliant. Even without dialogues, his expressions conveyed his feelings so perfectly that one was in awe of his talent.
The script itself is not gripping and each scene feels too forced. The movie has many irrelevant scenes added for the sake of increasing the run time, even though the first 30 minutes of the movie could have easily been chopped off. Due to this, even though there were many emotional scenes, the audience felt agitated by the end and wanted it all to stop.
Moreover, when making movies about real issues, it is important to pay attention to details. Given that courtrooms have a certain decorum in place and lawyers are supposed to respect the integrity of the court, Shahid's portrayal of a lawyer in the courtroom feels completely off. This is not the first time a lawyer is portrayed in a Bollywood film, there have been many, including Jolly LLB series where the plot not only had witty one-liners, it also had a realistic touch to the movie. Even in those movies, the lawyer was not outspoken or as decorated as his opposition yet he managed to pull it off maintaining the integrity of law and the courtroom beautifully.
In this movie, the script and execution feels so amateur that it's hard to believe that something of this sort can occur in a courtroom. SK in the movie comments on the woman's figure in the courtroom and continues to objectify her.
Furthermore, when filmmakers aim to make movies on social issues set in small towns, they should keep it simple, natural and free from far-fetched ideas and lifestyle. We have come across many movies in the past including, Lagaan, Dor, Dum Laga Ke Haisha and so on that have made their point and executed it in a simple way and have still been highly successful. This movie tries to go all-in and fails miserably.
Interestingly, when the trailer for Batti Gul Meter Chalu released, Mehwish Hayat came forward and drew a similarity between the movie's plot to Actor-in-Law. After watching the movie, I can safely say that the only similarity between the two is a case being filed against electric companies. Apart from that, nothing is the same.
Despite its many flaws, Batti Gul Meter Chalu is a better movie since the script is much more detailed and well-researched as compared to Actor-in-Law's. Of course, we hope that a time comes when Bollywood takes inspiration from our movies, just as they do with our songs, but Batti Gul Meter Chalu is definitely not the start of it.
Just saw the #BattiGulMeterChaluTrailer . Major dejavu! reminds me a lot of my film "Actor in law". Great to see that our neighbours are now taking inspiration from our movies.@nabeelqureshi @fahadmustafa26

— MehwishHayat (@MehwishHayat) August 10, 2018
All in all, Batti Gul Meter Chalu misses more than it hits and at the end of it, the audience wants out. You will not be missing much if you do not see the movie but if you do plan to, go in with no expectations and an incredible amount of patience. Also, for those who plan on watching it, please know that the language used in the film is hard to grasp, especially for non-Hindi speakers, and you may have to glimpse at the subtitles every now and then.

All photos: Screenshots