#OneSouthAsia: 8 delicious foods of 8 foodie nations, all on one table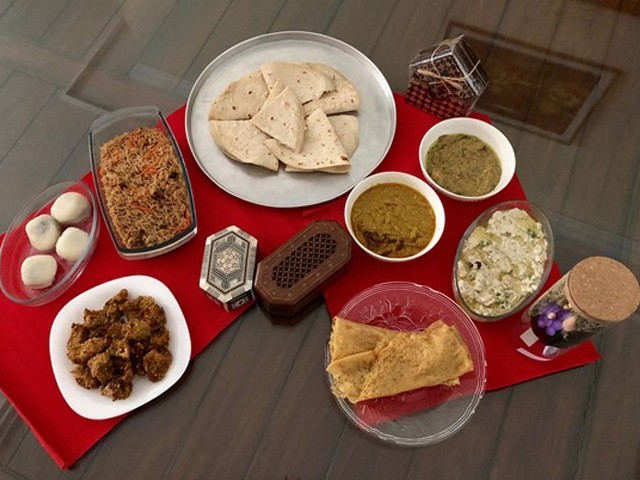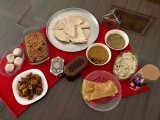 There are moments when an idea simply drops onto your lap when you least expect it to. I experienced one of such moments recently. Last week, I was sitting and waiting for the sun to set when my Indian friend, Riya, sent me a link. I didn't have the brain power at that moment to open anything remotely intellectual; however, my curiosity eventually gave in.
The link brought me to a page detailing a competition conducted by the World Bank called #OneSouthAsia. Participants from eight South Asian nations were invited to submit a photograph showcasing what an integrated South Asia meant to them.
To me, an integrated South Asia would be one in which it would be possible to find a dining table displaying every South Asian country's native cuisines. In every household, a dining table symbolises unity, tolerance and respect. In this case, the dining table, consisting of foods from all the eight countries, would showcase acceptance, mutual regard and no boundaries.
I was among the five winners and the only Pakistani to represent my country! I'm deeming this my Oscar moment; thanks to my mother who has the patience of an endless well and puts up with my shenanigans with unconditional support, and of course a special thanks to both Express Tribune Blogs and Riya, as without their motivation I wouldn't have participated in the first place, so credit where credit is due!
Theses eight countries included Pakistan, India, Sri Lanka, Maldives, Bhutan, Nepal, Afghanistan and Bangladesh. I tried to make these dishes according to our desi taste buds so the taste may vary from the original.
When I was researching for native cuisines, I realised how similar South Asian foods were.
In a time when hatred has taken over, we as people of our respective countries should come together to spread the message of peace. And if there is one thing I know, it is that food always brings people together.
Pakistan: Haleem
Originating from an Arabic dish called Harees, Haleem was introduced to the subcontinent during the Mughal era by foreign migrants. Haleem is a famous Pakistani dish and is a highly nutritious main course. You can make it with either chicken or beef, it will be tempting regardless. As the post-Eid celebrations continue, foodies like us want something delicious every time we get an invitation to a dinner party. What can be more scrumptious than a meaty delight doused in Ghee, garnished with caramelised onions, mint leaves and slivers of ginger?
It is a bowl full of goodness that we call Haleem. Its lingering flavours dance in your mouth each time you have a spoonful of this flavoursome dish. Sprinkling Chaat Masala on top makes it even more delicious.
Ingredients:
Chicken: 1 kg
Channa daal (chickpea lentils): 1 cup
Wheat flour: 2 cups
Moong maash and masoor daal: ¼ cup each
Oil: 1 cup
Onion: 5, medium
Shan Haleem masala
Crushed ginger and garlic: 3 tbsp, heaped
Method:
1. Fry onions, add crushed ginger and garlic and mix well.
2. Add meat and Shan masala.
3. Add water, followed by all the soaked lentils along with wheat flour. I soak them all for more than an hour before cooking them in a pressure cooker till they are well-cooked.
4. Grind the mixture in a blender and then cook again for 10 minutes.
---
India: Chole Bhature
Chole Bhature is a native Indian dish hailing from Amritsar. There are various versions of Chole Bhature in Punjab, India. This dish is super easy and can be made in 25 minutes max (yes, I timed it). I used to make this dish back in my university days in England. Coupled with parathas or puris, it transcends all taste buds and was a favourite among non-desis as well.
Ingredients:
Chole
Kabuli Channa (chickpeas): 2 cans, with can water
Onion: 1 large, finely chopped
Turmeric: ½ tsp
Ginger-garlic paste: 1 tsp
Salt: ½ tsp
Cumin powder: 1 tsp
Shan ready-made channa masala: 1 tbsp
Red chilli powder: ½ tsp
Coriander powder: 1 tsp
Dried mango powder: 1 tbsp
Cumin seeds: 1 tsp
Oil: ¼ cup
Bhature
Plain flour: ½ kg
Milk: 2 cups
Mash daal: 3 tbsp (soaked overnight in water)
Baking powder: ½ tsp
Salt: 1 tsp
Egg: 1
Sugar: 1 tsp
Oil to fry
Water can be used for dough if required
Method:
Chole
1. Heat oil in a pan, add cumin seeds, onions and ginger-garlic paste, and cook on high flame till golden. Add ready-made channa masala, red chilli powder, turmeric, dried mango powder, coriander powder, cumin powder and salt. Mix it all well.
2. Add the chickpeas and one glass of water. Bring to a boil and cover. Let it cook for 10 to 15 minutes on low to medium flame.
3. While the chickpeas are cooking, mash half of them with the help of the spoon as it makes the curry thick.
4. Once it gets thick, serve it with the bhature, onion rings and lemon wedges.
Bhature
1. In a bowl, add plain flour, sugar, baking powder and salt. Mix well.
2. Add and mix mash daal (drain the water) and egg.
3. Add the milk and knead the dough.
4. Dust flour on the working surface and knead for two minutes, then grease your palms and wipe it on the dough. Place the dough in a bowl and cover with damp cloth. Leave it for 20 to 25 minutes.
5. After 25 minutes, uncover and make small balls of the dough. Grease the working surface and with the help of your fingertips, press and flatten it in a round shape like a roti.
6. Heat oil in a pan and fry on both sides till golden.
7. Take them out once fried and place them on paper towel, and serve them with the chole.
---
Maldives: Sagu Bondibai
This dish is akin to the Pakistani kheer. The sagu seeds (which I discovered were easily available in Pakistan) are in fact a starch extracted from the spongy centre, or pith, of various tropical palm stems, especially that of Metroxylon sagu. They resemble little pearls.
In the Maldives, these little starchy spheres are a major component of people's diets. It's a wonderful dessert that is not too heavy on the stomach and perfect for having after a heavy meal.
Ingredients:
Sagu seeds: 150g
Sugar: 80g
Condensed milk: 200g
Cardamom: 5g (optional)
Rosewater: 200ml
Water: 200ml/10 cups
Method:
1. Bring seven cups of water to a boil and slowly add sagu seeds while stirring.
2. Cook until the seeds become transparent with only a very small white dot in the centre.
3. Drain and rinse with cold water until all the starch has been washed away.
4. Add the remaining three cups of water, sugar and boil the sagu seeds for about 30 minutes.
5. Add rosewater and sweetened condensed milk. Simmer for about five minutes.
6. Serve warm or chilled.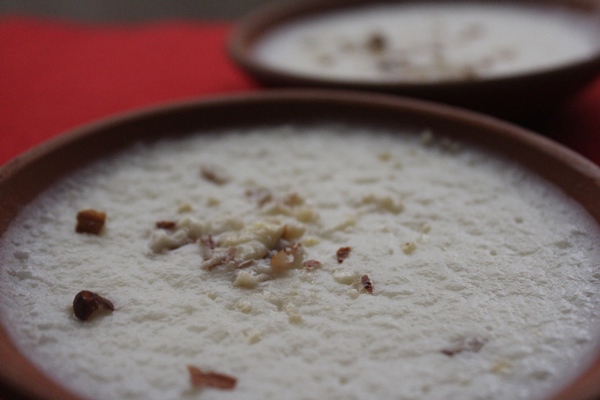 ---
Nepal: Momos
When it comes to simple, delicious, one-meal dishes of Nepal, you can't beat the famous momos. Native to the home of the Everest, much like dumplings, these are firm favourites and now an essential addition to my appetiser menu. What sets it apart from the generic dumpling mix is that momo has a spicy curry masala that deepens the flavour of the filling.
Ingredients:
For the dough
Flour: 4 cups
Salt: ½ tsp
Oil as required
For filling
Boneless chicken: ½ kg
Ginger and garlic paste: 1 tbsp
Salt: ¼ tsp
Pepper: 1 tbsp
Spring onions as per taste, chopped
Method:
1. Make a soft dough using all the ingredients and let it rest for 20 minutes.
2. Boil boneless chicken with ginger and garlic paste.
3. Shred the chicken and add salt, pepper and chopped spring onions. You can also use shredded tandoori chicken.
4. Take small amounts of dough, flatten them a bit and add the stuffing. After that give them ball-like shapes.
For steaming
Method:
1. Heat water in either a steamer, an electric cooker or in a pressure cooker. Let the water come to a boil.
2. In a greased steamer pan, place the momos (stuffed dough balls), making sure to keep some space between each so they don't stick to each other.
3. Steam momos for five to six minutes.
Note: Don't overdo the steaming, as the dough becomes dense and dry. The steaming time may vary upon the thickness of the momos' dough. When you touch the momo, the dough should not feel sticky to you. This would mean that they are done and the momos will have a slight transparent look. The time of cooking momos depends on the intensity of the flame and the kind of pan and steamer you are using.
---
Bhutan: Jasha Maru (chicken stew)
Bhutanese food is famous for the spices used as the core ingredient in nearly each and every cuisine. Jasha Maroo or Maru is another famous Bhutanese food, which is actually spicy chicken, prepared with fresh ingredients. It is an earthy yet delectable dinner served with rice and a profusion of coriander leaves to top it off.
Ingredients
Chicken: 2 lbs
Vegetable oil: 4 tbsp
Garlic: 4 cloves, crushed
Onions: 2, sliced or minced
Tomatoes: 2, chopped
Green chillies: 4, cut into small pieces (or chilli powder: 4 ¾ tbsp)
Curry powder (optional): 1 tsp
Salt: 2 tsp
Oil: 4 tbsp
Water: 2 cups
Ginger to taste
Method
1. Cut chicken into very small pieces, about the size of peas (remove or leave bones as desired).
2. Place in a saucepan, add water and oil and bring to a boil.
3. Add garlic, salt, green chillies, tomatoes, curry powder (optional) and ginger. Lower heat slightly and boil for another five to 10 minutes, stirring occasionally.
4. The dish should have some liquid while it is hot. Serve plain with other dishes.
5. Garnish with cicely, cilantro, peas, and chilli leaves, if desired.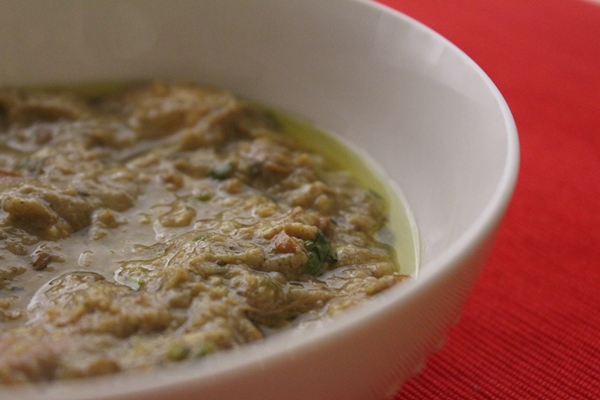 ---
Srilanka: Masala Dosa
Dosa is one of the most famous foods in Sri Lanka. I had my first Dosa, courtesy of a friend at Warwick hailing from Kerala. While Sri Lankans make this dish for breakfast, you can have this masala dosa for lunch and dinner as well.
Ingredients:
For Dosa
Rice: 1 ½ cup, soaked in water for 2 hours
Flour: 1 ½ cup
Sooji (semolina): 1 ½ cup
Mix daal/lentil (channa, moong and masoor): 2 tbsp
Salt to taste
Oil: 2 tbsp
For Filling
Potatoes: 6, peeled, boiled and mashed
Curry leaves: few
Rai (mustard seeds): 1 ½ tsp
Methi daana (fenugreek seeds): ¾ tsp
Red chilli flakes: 3 tsp
Kalonji (nigella seeds): 1 ½ tsp
Safaid zeera (white cumin): 3 tsp
Turmeric powder: 1 ½ tsp
Tamarind water: ½ cup, you can increase it to 1 cup according to taste
Oil: 10 tbsp
Water: 1 cup
Salt according to taste
Method:
1. Blend rice and daal by adding a little water.
2. To make the batter, mix all the ingredients, except oil, by adding water until desired consistency. Don't make it runny or it might break while frying.
3. Cover batter and place it in a warm place (oven or microwave) for three hours.
4. Take a non-stick frying pan, add oil and spoon the batter, spreading it in a thin layer.
5. Let it turn golden from one side and then turn it over.
6. For the filling, add oil in pan and fry curry leaves and add all the dry ingredients.
8. Add few spoons of water to prevent masala from burning.
9. Let it simmer for a few minutes and then add mashed potatoes, water and tamarind water.
10. Let it cook for 10-15 minutes.
11. Place potato filling on dosa and roll it.
---
Afghanistan: Kabuli Pulao
Considered an ancestor of the yakhni pulao, this dish topped with carrots and nuts is a sweet and salty delight. Carrots were indigenous to Afghanistan for almost 5,000 years, as were various nuts. Hence, it is understandable how chefs during that time amalgamated all ingredients available to them and came up with dishes such as this.
Ingredients:
Rice: 2 ½ cups
Beef or chicken: 1 kg, with bones or boneless
Onions : 2 large, finely chopped
Cumin seeds: 1 tsp
Cloves: 1 tsp
Whole black pepper: 1 tsp
Salt to taste
Carrots: 2 medium, grated
Raisins: ½ cup
Water: 2 cups
Oil: ⅓ cup
Method
1. Heat oil in a pot. Fry chopped onions until light brown.
2. Add meat and fry till brown.
3. Add water, salt, pepper and cloves, and let it simmer till tender.
4. Remove the meat and cook the rest of the gravy until one cup of stock remains.
5. In a separate pan, cook the grated carrots in oil until brown.
6. Add raisins and fry till plump. Drain and set aside.
7. Boil the rice. Do not completely cook them.
8. Place the rice into a large pan.
9. Sprinkle cumin seeds. Pour the meat stock over it and stir.
10. Layer the meat and half of the carrot-raisin mixture over rice.
11. Cover the pan tightly and put it on dum (steam) for few minutes.
12. Sprinkle the rest of the carrot-raisin mixture on top when serving.
---
Bangladesh: Fried fish
Whenever winter approaches, fish is a common sight especially in rural Bangladesh. Dhaka fish is famous on its own merit. There is no comparison. The perfect blend of spices, grilled or fried on an open flame especially in cold winters is a must have.
Ingredients:
Fish: ½ kg
Red chilli powder: 3 tbsp
Turmeric powder: ½ tbsp
Fresh ginger garlic paste: 2 tbsp
Vinegar: 2 tbsp
Method:
1. Mix all the ingredients well and marinate fish for two hours.
2. Deep fry when done.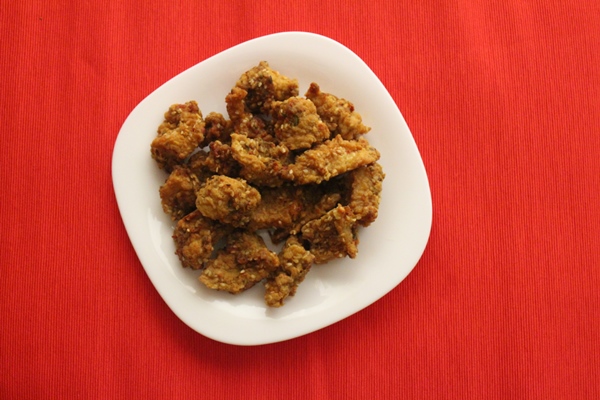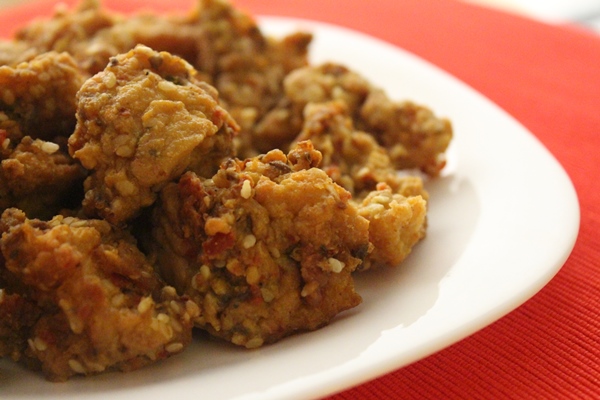 ---
In the end, set them all up on the dining table and enjoy the South Asian foodfest!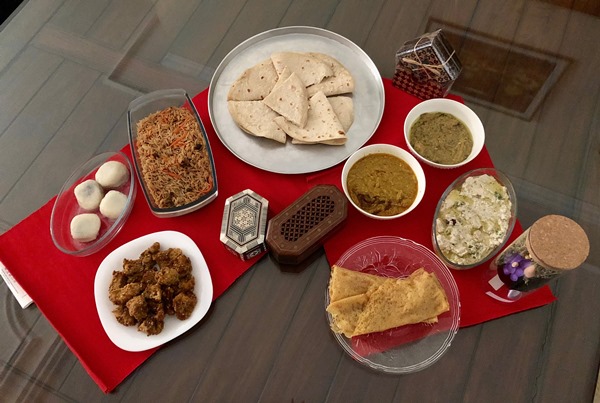 Note: For this particular piece, I changed two dishes. I replaced Roshi (Maldives) and Butter Chicken (Indian) with Sagu Bondibai and Chole Bhature respectively.
All photos: Arhama Siddiqa