Hide my terrorist bakra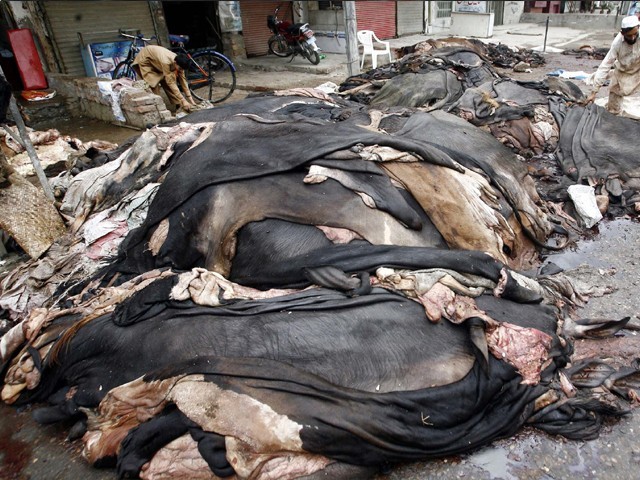 Bakra Eid or Eidul Azha is here. With the new government being sworn in, there is more news coverage of the political situation in the country rather than the festival which always garners great interest in Pakistan.
One serious issue, which pops its head every year during Eidul Azha, is of course of the collection and utilisation of animal hides. As early as food stalls pop up all over the city, volunteers from different organisations start visiting houses, requesting the donation of the animal hides to their 'deserving' organisation. As mundane as this sounds, anyone living in Pakistan knows that it isn't. Here is a little history into the phenomenon.
If you are a resident of Karachi, historically your animal hides belonged to Muttahida Qaumi Movement (MQM). This was of course from the days when they were Muhajir Qaumi Movement and continued way after they became Muttahida. Their workers or 'karkunaan' would show up at your door and humbly request you for your hide and customary as it was in those days, you obliged.
Their hold over the hide collection was only broken when certain other players decided to show up to the party. Parties such the Awami National Party (ANP) and Jeay Sindh Qaumi Muhaaz (JSQM) that had the street muscle to push over the MQM in their areas of influence, did so successfully. However, the most troublesome of these players were the right-wing religious organisations (who were later banned and put on schedule).
Despite the banned organisations such as Ahle Sunnat Wal Jamaat (ASWJ), formerly Sipah-e-Sahaba Pakistan, have been active in collecting hides openly in the country and their volunteers can be seen peddling their propaganda outside mosques. In 2012, the interior ministry specifically banned certain terrorist and terrorist sympathising organisations from collecting hides but implementation of this ban is of course where the issue lies.
Hides are lucrative business. The estimated value of the whopping 12 million hides collected during the three days of Eid in 2016 was Rs8.5 billion. With such a massive amount of money in play, everyone wants a piece of this pie.
This year, the problem has been hugely complicated by the fact that 'some' of the banned organisations have been given a free hand by the people in power. The Election Commission of Pakistan (ECP) allowed numerous right-wing organisations to not only contest elections, but they also unfroze their accounts and financials to do so. This unfreezing of assets not only allows every terrorist sympathiser access to white money but also to maintain the backend channels they have developed from the time when the freeze was in place. These organisations contested elections in July and also formed political alliances with mainstream parties as any other secular party would.
The worst part is that the heavy-handed tactics of these organisations are now on full display with the tacit support of the law enforcement agencies (LEAs). As per the LEAs, no banned organisation was allowed to take out a rally on August 14, 2018, as per the guidelines of the National Action Plan (NAP). However, a banned organisation in question, ASWJ, did take out a rally on Independence Day as they had announced in pamphlets and posters. A friend, who was present when the rally passed Jail Chowrangi, went to the nearby PIB police station to complain.
Firstly, they were not allowed to lodge a complaint but once they started posting a live video of the refusal of the police, their cellphones were confiscated and they were taken to the Assistant Sub-Inspector (ASI). The ASI went through their written complaint and after a barrage of abusive language, locked them up for writing the complaint, which he termed as 'sectarian' in nature against a 'religious organisation'. They spent two hours in the lockup before family members came for them. A complaint has been lodged against the actions of the ASI.
There is another aspect to this issue, which relates to national security and the security of the region. It is alleged that some of the banned organisations have been brought into the mainstream to calm the nerves of 'certain groups' associated with them. Rumour has it that this 'regularisation' or 'mainstreaming' has been done to employ these organisations to re-establish contacts with 'organisations' whose footprint expands numerous countries in South Asia, to counteract other 'players' in the region.
Recently, a high-level meeting of all the heads of intelligence of four South Asian countries took place in Islamabad just after the elections. Intelligence heads from Iran, Russia, China and Pakistan discussed the terrorist threat posed to the region by the return of the Islamic State (IS) terrorists, who have been defeated in Iraq and Syria, to Afghanistan. There are strong rumours of the IS popping up again by certain western countries, to be infiltrated later into our region.
Our new Prime Minister Imran Khan mentioned the NAP in his inaugural speech, saying that terrorists will not be spared as peace is crucial to economic progress. Foreign Minister Shah Mehmood Qureshi, who was recently sworn-in, is also planning his first visit to discuss peace and terrorism related issues with his counterparts in Afghanistan. With the new government planning to get a grip on terrorists and their allies, only time will tell if they will be able to do so or not, and will we be inadvertently funding their cause through our religious sacrifice?