Munir and Ali needed a goat like Raju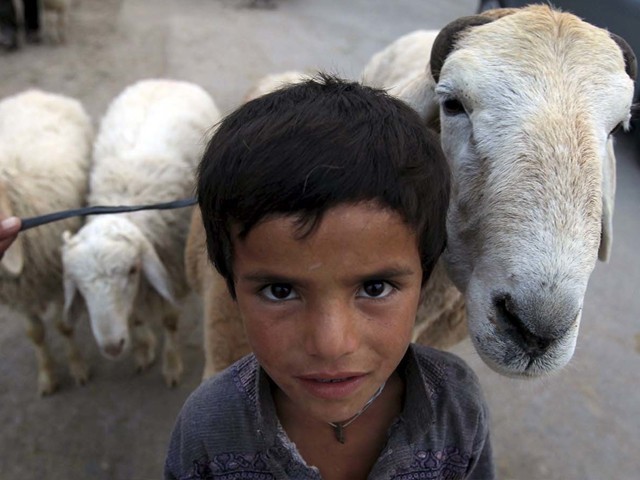 "Mama! Mujhay subha uthana please aath bajay. Baba kay sath mandi jaunga," Ali pleaded with his mother.

(Mom! Please wake me up at eight in the morning. I have to go with dad to the cattle market)
She nodded as she tucked him in lovingly. Ali had been looking forward to the Bari Eid since Ramazan. He had been extremely disappointed to find out that the Eid after Ramazan will not involve getting a bakra (goat) and bringing it home.
He had insisted though.
"Hum le aatay hain na! Hum bakra isi wali Eid pe le aatay!"

(We should get it! We should get our goat this Eid)
Smiling, his father explained how both festivals had distinct significance in religion.
From that day onwards, Ali started marking days off the calendar for the next three months to come and as soon as the Zilhaj moon was sighted in the country, he had pestered his father to take him to the mandi.
His father had hesitated, as they were on the ground floor and the space was quite limited for them to acquire the animal 10 days before the day of sacrifice. Then there were the steeply priced animals; it was quite difficult to get a good bargain this early before Eid. But obviously, Ali thought differently.
Why couldn't his father understand that his son's reputation as the "trend-setter" in the neighbourhood was at stake due to this dilly-dallying? He was the first one to watch the latest Avengers movie among all his "followers" in the neighbourhood. Yes followers, not friends, as Ali did not believe in friends but only devout followers that would praise his every move just like the ones he had on Instagram and on Twitter.
He was the first one to get a smartphone as well. Following his example, his 'friends' had bugged their parents to buy them phones too. Little did they know, Ali had sneaked out with his mother's phone one day to impress them. It had worked on them as Ali was the 'coolest' boy on the street. So naturally, they believed him when he said that he would get the biggest animal on Eid this year.
Initially, Ali had nagged his parents to get a cow for the sacrifice but upon hearing the finality in his father's voice when he refused, he had improvised.
"Itni mujhay ye cows stupid lagti hain na! I hate everything fat. Girls bhi jo wide houn ziada, I call them cows so why should we get a cow for qurbani then? Main tou bakra lunga," he had preached to his loyal band of followers.

(I find these cows really stupid. I hate everything fat. I call girls who are wide in their physique cows so why should we get a cow for the sacrifice? I will get a goat.)
Parents of his buddies might have actually thanked him had they known it was his idea that stopped their own children from pestering them about getting cows for the qurbani. So after bringing down the Eidul Azha expenditure of his entire neighbourhood, Ali headed to the mandi with his father.
Although there was still a week left before Eid, it was quite evident that most of the finer animals had already been taken.
"Sir wo naya maal bhi ayega lekin ye mandi shayed gorment utha de wesay. Aap behter hay kuch pasand karlo aaj hi. Kal phir wo shehar kay dusre konay pe jana parega!" an animal dealer advised Ali's father.

(Sir, there will be new cattle coming in but the government might close down this market before that. It's better if you pick one today only. Otherwise you might have to go to the other side of the city tomorrow.)
Thus, they kept looking. Just when they were about to leave empty-handed, something tugged at Ali's shirt. Startled, he looked back to see a boy his own age looking at him expectantly. Wearing a patched black kurta shalwar, a size too big for him, the boy seemed quite troubled.
"Kiya hay? Choro meri shirt!" Ali snubbed him, wrinkling his nose in disgust.

(What do you want? Let go of my shirt)

"Ali! Badtameezi nahi karo!" his father snapped at him.

(Ali, stop misbehaving!)
His father turned towards the boy,
"Kiya baat hay beta? Kuch chahiye apko?"

(What is wrong child? Do you want something?)
The boy glanced at Ali, his face listless. Then he turned to Ali's father and said,
"Aap humara Raju bhi dekh lein. Itna zaada bara nahi hay magar bohat acha hay. Mera abba teen haftay se koshish kar raha lekin log bara bakra maangtay hain. Humne kamre ka kiraya dena hay. Abba bara pareshan hay."

(Please look at our Raju too. He is not that big but he is very nice. My father has been trying for three weeks to sell him but people want bigger goats. We have to pay the rent for our room. My dad is very worried.)
Moved by his words, Ali's father followed the boy to the back of the mandi.
There on the ground sat a rather thin white goat. It was much smaller than most animals in the mandi but it was an incredibly clean animal. As Ali got a closer look, he saw that the goat was not sitting on the ground but on an embroidered sheet of cloth that looked handmade. On its forehead was a faint orange mark.
The boy's father had gotten up quickly to see customers. He tried to get the goat to stand up but it wouldn't budge. The boy rushed to help but instead of tugging at its rope, he got down on his knees near the goat and whispered something. Patting and stroking his hair, the boy finally got the goat up on its four limbs.
Ali was intrigued by the connection the boy seemed to have with the goat. So although it went against his earlier announcement to the neighbourhood boys, Ali decided to get this one. He would also have this weird control over this goat like the shabbily dressed boy had and every onlooker would be impressed.
Ali's father, for entirely different reasons of course, had started the discussion over the price of the animal with the vendor. He thought it was an affordable deal and the boy's insistence had also convinced him to help the poor family out.
A great deal of tugging and pulling followed the purchase as the goat seemed unwilling to leave. The boy who had earlier seemed eager to make the sale now stood alone in the corner. His eyes averted, Munir could not bring himself to watch as they took Raju away. Fifteen minutes passed as he watched the rude boy try in vain to get Raju to move. Finally, as he saw them getting tired, he decided to offer a solution. In a choked voice, Munir offered to accompany them to the house to get Raju inside.
"Isko ander baandh kay main wapis ajaunga Abba. Warna ye jayega nahi."

(I will go and tie him inside and come back, Dad. Otherwise, he will not go.)
Ali did not approve of the situation one bit but there was not much he could do. The stupid goat just wouldn't budge without that boy. Munir rode with the goat in the pickup. As they pulled into the street, Ali's peers stood watching.
"Ali ka bakra tou chota sa hay wesay! Baatein tou barri barri kar raha tha!"

(Ali's bakra is so small. It was just big talk)
They sniggered amongst themselves as Munir walked the goat into Ali's house.
Ignoring them completely, Ali rushed into the house.
"Chalo chalo tum bhago yahan se! Ab ye humara hogaya hay. Paisay le liye tum logoun ne!" he screamed, directing his anger at poor Munir.

(Now go away! This goat is now ours. You guys got the money!)
Munir patted Raju one last time and left quietly. Munir had a certain air about him, completely unperturbed by Ali's high-handedness. He left Ali abashed by his own behaviour.
Two whole days had passed since Raju's arrival at Ali's residence but he had refused to touch any food. He would sulk in a corner; only sniffing the food he was offered. When Ali tried to pat it, Raju bleated so frighteningly that it scared him out of his wits. His father dismissed all this,
"Bhayeee ghar ka palla hua bakra hay, time lagega usko aadi hone mein. Jaanwar hay, bhook lagegi tou zarur khayega."

(He has been a pet, it will take time for him to get used to a new place. He is an animal, when he gets hungry, he will eat.)
Ali, however, was unconvinced.
Looking at Raju closely, it seemed as if the poor animal had lost the very will to live.
"Isko shayed yaad araha hay wo larka. Usko kahan se laun ab? Wo wesay bhi meray saath kyun ayega? Meinay itni burri tarha aat kit hi us se."
(I think he is missing that boy. Where do I get him from? And why would he even come with me? I was so rude to him.)
Lost in these troubled thoughts, Ali dozed off.
He was woken up by Raju's baaing. He got up to look out his window. A strange sight met his eyes. Raju stood chewing on the fodder from the bucket while a small black figure crouched besides it in the shadows. Scared, Ali slowly opened his window wider to get a better look. As the dark figure shifted from the shadows a little, the faint glimmer from the street light lit up its face. It was Munir! He sat next to Raju stroking its hair lovingly who seemed at ease now as it munched on fodder.
Ali quietly came outside and switched the porch light on. Startled, Munir stood up. Attempting to escape, Munir started climbing the wall.
"Ruko, Ruko!"

(Wait, wait)
Ali ran after him and grabbed his arm to stop him.
"Dekho main sirf isko khilanay aya tha…please apnay abba ko na batana…mujhay chor samjheingay wo!"

(Look I only came here to feed him…please don't tell your father, he will think I'm a thief)
Munir pleaded with Ali, his face as white as a sheet.
Ali stood thinking.
"Chalo meray kamray mein chal kay bethtay hain. Kuch khao gay?" he asked Munir.

(Let's go sit in my room. Do you want to eat something?)
Munir couldn't believe his ears,
 "Aap mujhay pakarwaanay tou nahi le jarahay?"

(Are you taking me to be incriminated?)
Smiling, Ali said,
"Nahi pakarwanay nahi le jaraha. Tum Raju ki dosti ki khaatir raat ko yahan tak agaye. Risk le kar. Meiny aisi dosti kabhi nahi dekhi. Meray dost tou aisay nahi hain. Kiya tum meray dost bano gay? Meray pehlay dost?"

(No, I'm not taking you to be incriminated. You came all the way here at night just for the sake of your friendship with Raju. You took the risk. I have never seen a friendship like this. My friends are not like this. Will you be my friend? My first friend?)
He extended his hand towards Munir who was still in shock. Looking at Ali, he extended his hand too. As they stood near Raju, shaking hands, a friendship was born. Munir did not lose Raju until of course the day when he was supposed to fulfil its destiny of sacrifice. And Ali, well, he finally made a real friend. More importantly, he finally seemed to have understood the distinction between a real friend and a meaningless band of followers.
He learned that friends stick with you even if they have to sacrifice something that is of value to them, while followers abandon you if your claims of pomp and show fall short of their expectations.