Bored of the same ol' bbq? Spice up your Eidul Azha with these mouth-watering yet easy recipes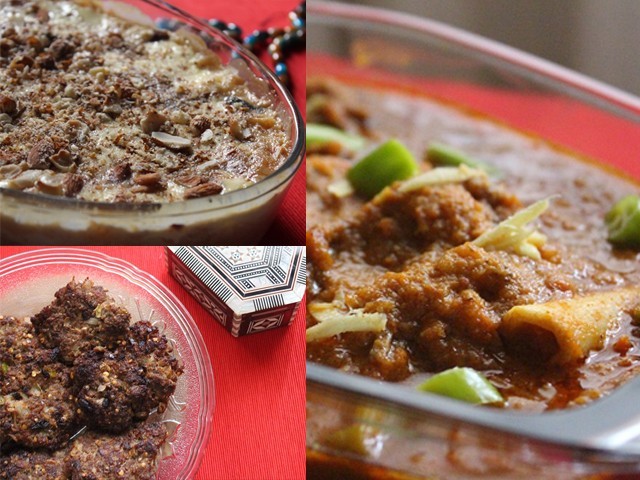 Eidul Azha, more commonly known as Bakra Eid in Pakistan, is that time of the year when Muslims sacrifice cattle in the remembrance of Hazrat Ibrahim (AS). But alas, the majority of the population here is either immersed in a statement marathon or avails this festival as a money-making opportunity.
A growing trend has emerged nowadays, where people prefer to buy their animals a couple of days before Eid to avoid the costs and efforts required for maintenance of the animals. That doesn't feel like it is in the Eid spirit. However, there is still a glimmer of hope. A few months ago, I was pleasantly surprised to find out that there are still people here who take the traditional route. Purchasing the animals well in advance and fattening and caring for them for the big day.
When I heard about this, it evoked childhood memories of the excitement we, as children, felt when the goats used to come to our home. At first cautious, then slowly whole-hearted petting ensued. The way we used to feed them, bring them pails of water and even cover them with blankets in the winters are right up there in my (now-aging) memory log. We even had the time of our lives picking out names for them, Chikini and Chambeli were two favourites, Akkar and Bakkar were another two. Children these days rarely have these memories and this is a major cause for concern. They probably would never know the true Eid feeling.
Every family has its traditions. Ever since I can remember, it has always been a ritual in our household that we gather around the oldest members of the family (my grandfather and grandmother) and pray that our sacrifice is accepted. The kids (regardless of whether you were the help or not), according to their ages, are lined up and then eidi is distributed. No one is left behind.
After the meat has been sorted into packets, the children are bundled into cars, with grandparents calling shotgun, and driven out to the rural part of the city where we distribute the packets. I once asked my Nano (maternal grandmother) why we had to go there like this every year. She told me she feared that if we did not, we would grow ungrateful of our blessings and become desensitised to the poverty in which people live.
When the responsibilities are dealt with, we get to the fun part: the food! Meals have to be prepared for lunch and dinner for the Eid guests. In my household, spicy stir fried kaleji (liver), mutton stew and kheer are a must.
For the blog, however, I am going to make a three-course meal and bring in something close to Pakistan, close to my own home and then a little something from the Middle East. I hope these chapli kebabs, mutton stew and umm ali bring joy to your dinner table. All these recipes are simple, easy-to-make and delicious from the very first bite.
Beef chapli kebabs
The word kebab originated from the Arabic language, but the word is also used in Persian, Turkish and Central Asians cultures. Ibn Battuta mentioned that kebab was an integral part of the daily diet of Indian royalty as early as 1200 AD.  Kebabs are meant to be fried, burnt or cooked on a skewer by grilling or open fire cooking. In Pakistan, chapli kebabs are very famous and originally come from the northern areas, in particular the Khyber Pakhtunkhwa (K-P) province.
Ingredients:
Beef or lamb mince: ½ kg
Onion: 1 medium, finely chopped and dried using paper towel
Tomato: 1 medium, finely chopped and without seeds
Green chillies: 3 to 4, finely chopped
Fresh coriander as desired, finely chopped
Fresh ginger and garlic: 1 tbsp, finely chopped
Cumin: 1 tbsp, roasted and crushed
Coriander seeds: 1 tbsp, roasted and crushed
Fresh anaar dana (pomegranate seeds): 1 to 2 tbsp
Red chilli flakes: 1 tsp, roasted
Chaat masala: 1 tsp
Garam masala: ½ tsp
Haldi (turmeric powder): ¼ tsp
Salt to taste
Gram flour: 3 to 4 tbsp
Ghee for frying: ½ cup
Method:
1.Mix in all the ingredients well into your meat and make round, flat kebabs. I don't add eggs in my chapli kebabs but if your kebabs break, you can add half or one egg.
2. Shallow fry till golden brown.
Spicy mutton stew
One of those age-old and timeless dishes that will probably outlive mankind is the good old fashioned stew. No matter where you go in the world, every country has some version of a stew. Even if named differently or eaten differently, a stew is a stew. This is probably the easiest, most convenient dish to make when you are going to have a house full of guests and are pressed for time.
Ingredients:
Mutton: 1 kg
Ginger and garlic: 2 tbsp, chopped
Onions: 3, chopped
Tomatoes: 3, chopped
Green chillies: 4 to 5
Crushed chilli flakes: 1 tsp
Chilli powder: 1 tbsp
Garam masala (Cloves, Cinnamon sticks, Black Cardamom) according to preference
Salt: 1 tsp
Method:
1. In a pot, heat oil and add the washed mutton, chopped garlic and chopped ginger.
2. Then add crushed chilli flakes, garam masala, chilli powder, salt, onion, tomatoes and green chillies.
3. Then add in one and a half glass of water and cook till oil floats on top.
4. Garnish with fresh coriander (optional) and serve.
Umm Ali
Umm Ali is an Egyptian dessert, almost like a bread pudding. It originates from lower Egypt "falaheen" (peasants) and has many stories attached to it regarding its invention. While some say it was made to celebrate the tragic death of Shajarat Al-Durr, who was the first and last woman Sultana to rule Egypt.
Others say Umm Ali, which means the mother of Ali in Arabic, was a life saver for her village. She made a good example of the saying "necessity is the mother of all inventions" by conjuring up a dessert when the Sultan demanded she make a dessert with whatever she had in her house.
Ingredients:
Bakarkhani (puff pastry): 6 pieces, unsweetened
Milk: 1 litre
Sugar: 1 cup
Heavy cream: ½ cup and some for garnish
Rose water: ½ tsp
Ground nuts (pistachios, almonds, cashew): a handful
Method:
1. Preheat the oven on 180°C.
2. Crush bakarkhani and spread in a pyrex dish.
3. In a pan, dissolve milk and sugar, and cook for five minutes.
4. Add rose water in the mixture and pour in the dish.
5. Pipe cream on top and add the nuts.
6. In a preheated oven, bake for 20 minutes and serve hot.
Eid Mubarak!
All photos: Arhama Siddiqa