Of politicians and social networks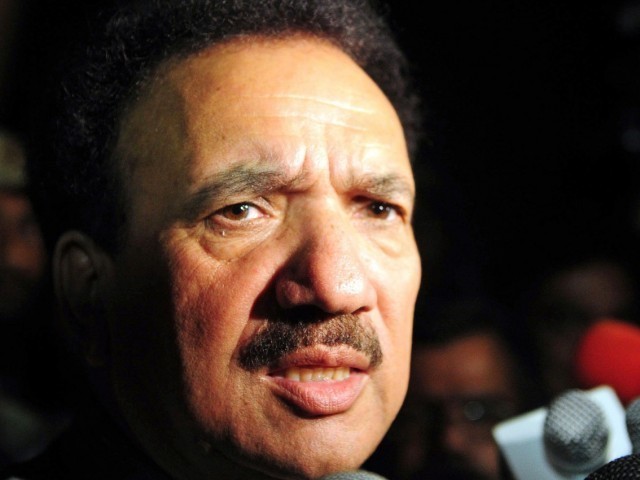 With Rehman Malik declaring that 70% of the recent violence in Karachi can be attributed to (incredibly angry) wives and girlfriends and Jamaat-i-Islami declaring that Malik needs to see a doctor, the lines between farce and reality have been fairly blurred.
If not the usual suspects, it's the new Sindh home minister saying that the multifarious problems of Karachi can be solved using a 'wand of love'.
Harry Potter couldn't have been happier to hear that ethnic divides, riots, tyre-burning, killings, strikes, loadshedding and the like could be solved with a loving wand.
But just when we thought it couldn't get any more bizarre, Malik surpassed all expectations on the murky world of Twitter. Aficionados of the social network may be aware of the fiasco that took place in the virtual world this Friday, but for the rest of us who remain unfortunately aware, the incident was too ridiculous to be missed out on.
When an avid tweeter, @SamadK updated his Twitter biography to 'media adviser to Rehman Malik, clearly I'm very competent.#Not,' PPP supporters weren't too happy about it. Before long, Malik was informed of this activity, which 'obviously' could not have been a flippant remark on a website well-known for flippant remarks from self-made political commentators.
The next thing you know was that the world of Twitter was in a frenzy over a tweet posted by Malik from his official account:
'@SamadK is not my media adviser and I have ordered an inquiry to trace him and charge him under impersonation'.
This begs the question that if I were to tweet tomorrow saying that I was US President Obama's manicurist, would the Central Intelligence Agency come and chase me down Osama bin Laden raid style?
It's a tough world out here in the twenty-first century, where Facebook precipitates revolutions and Twitter initiates official investigations.
Last I heard, no investigation had begun so far. When I checked the hapless tweeter's biography while writing this blog, he had (perhaps wisely) changed it to 'Now I don't really know what to put as my bio anymore'.
In the meanwhile, he'd managed to receive a barrage of supportive tweets.
Biographies describing tweeters as Malik's pediatrician, psychologist and what-not popped up all over Twitter.
As for those of you interested in following the matter up with Rehman Malik, he can be found on Twitter under the name @SenRehmanMalik