Is Bollywood's 'Batti Gul Meter Chalu' really a copy of Lollywood's 'Actor in Law'?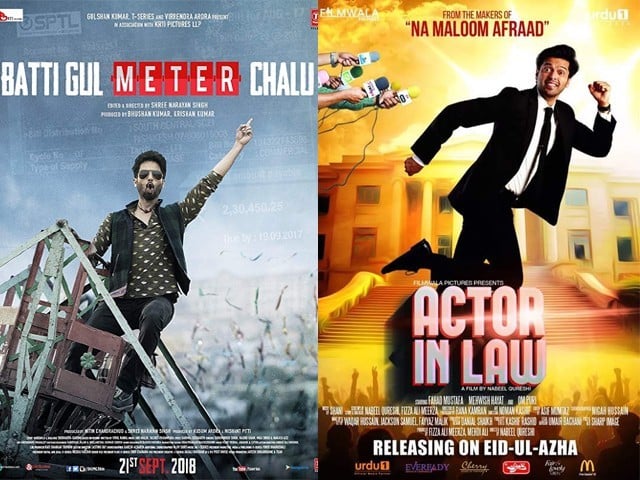 The trailer for Batti Gul Meter Chalu, scheduled for release on September 21st, was recently released to acclaim. The film, helmed by the Toilet: Ek Prem Katha director Shree Narayan Singh, stars Shahid Kapoor and Shraddha Kapoor alongside Divyendu Sharma and Yami Gautam.
The film's theme is truly commendable, for this is perhaps the first Bollywood film dealing with the subject of electricity theft. The film is essentially an issue-based commentary on the subject of power theft and skyrocketing electricity bills in the mofussil areas of India.
Shahid is a cheerful and carefree advocate, but his life changes completely when his friend (Sharma) commits suicide under the pressure of paying a hefty amount of Rs1.5 lakh as his electricity bill. From that moment, the sole purpose of his life is to seek justice for his friend.
The makers of Toilet: Ek Prem Katha have, it seems, ventured into another social issue faced by common Indians, largely because of the success of their previous film.
Shahid is clearly following in the footsteps of Akshay Kumar, who has rightly received both commercial and critical success because of his films dealing with real and serious issues faced by India specifically.
However, apart from Shahid's presence and the grave issue the film is centred upon, another reason the film's trailer has been in the news is due to some similarity with the 2016 Pakistani film Actor In Law, which was directed and produced by Nabeel Qureshi and Fizza Ali Meerza respectively.
Actor In Law also highlighted the issue of load shedding in Pakistan in a particular courtroom session, with Fahad Mustafa playing a lawyer. As mentioned earlier, Batti Gul Meter Chalu reflects a similar subject, with Kapoor playing a lawyer. Overall, it is obvious how similar difficulties and issues have inundated common people on both sides of the border.
Though fans were quick to notice the similarity, it was brought into the national conversation by Mehwish Hayat – who starred in Actor In Law – expressing that the trailer reminded her of her own film. Looking closely at both films, however, I must agree the similarity is quite evident. Both Kapoor and Mustafa play common men who fight against the system as lawyers in the courtroom, particularly regarding the electricity crisis. Hence, Hayat's opinion has considerable ground when she says that both movies have presented their premise in a similar pattern.
Just saw the #BattiGulMeterChaluTrailer . Major dejavu! reminds me a lot of my film "Actor in law". Great to see that our neighbours are now taking inspiration from our movies.@nabeelqureshi @fahadmustafa26

— MehwishHayat (@MehwishHayat) August 10, 2018
Yup when i saw the trailer i thought
"Ye phele kahin dekha dekha sa lag rha hai"
Whether its songs or movies they'll copy anything

— Ahmed (@ahmed1206says) August 10, 2018
Oh so india just copied our original cinematic masterpiece 'Actor in law' with the title of 'Batti Gul Meter Chaalo' and then they say, they have original talent. wow. 🙂

— Zed.☄ (@Gosleepbabyy) August 15, 2018
However, those who are going to the lengths of declaring that Bollywood has copied a Pakistani film should hold back their horses. It is simply not reasonable to come to a conclusive decision by merely watching a three-minute trailer. The film may tread on similar territory in terms of thematic concerns, yet that does not corroborate the idea that the film is copied.
Coincidentally and ironically, Actor In Law was screened in India on August 10th, the same day the trailer of Batti Gul Meter Chalu was released. According to Fizza Ali, this would help cementing their claim that Kapoor's film has taken inspiration from Actor In Law. Ali was visibly peeved, as she believes credit should have been given by the filmmakers to the original Pakistani film.
"This just proves that people are watching our cinema across the border. Be it discreetly, they're still watching." Ali stated. "And if they just want to take inspiration, they should do it ethically by giving due credit at least."
Of course, credit should rightfully be given if the film has taken inspiration from another, yet one can only be sure of this possibility once the film actually releases. Only then can it be determined with certainty whether any semblance is intentional.
What is similar madam ?? There is an Actor who is actually a lawyer and raising an issue of over billing and I have seen Actor In Law where an inspiring actor in acts as Lawyer.We have Jolly LLB much before Actor In Law.I loved Actor In Law but i refuse to agree on this 🙏

— Rajni Sharma (@findrajnisharma) August 10, 2018
Previously, there was only ever talk of instances where Pakistani films were seen to be similar to their Bollywood counterparts. It is interesting to be on the flip side, where the trailer of a Bollywood movie seems similar to one of our products. With the success of our Coke Studio and the many Bollywood movies that frequently use our musicians and our music, this ultimately feels like another win, where our industry is at a stage where its products are of a quality other people want to reproduce. If this is indeed an inspiration, it is great that people on the other side of the border watch Pakistan's films too, along with Pakistan's dramas and its music.
It remains that while Batti Gul Meter Chalu's trailer is not exactly the same and does have its fair share of differences, it does offer a strong vibe similar to Actor In Law. Only time will reveal whether the Pakistani film industry has progressed to the extent that now Bollywood is looking to us for ideas. Nevertheless, it is great to see how the cinematic route is taken to tell the stories and problems facing the common people to create awareness and make films relatable and realistic in both Bollywood and Lollywood. For now,
"Picture abhi baqi hai, mere dost!"

(The picture is yet to conclude, my friend!)