'Sui Dhaaga' may just be as good as or even better than 'Dum Laga Ke Haisha'
When I read that Yash Raj Films was producing a movie starring Anushka Sharma and Varun Dhawan, I didn't really care about it as I thought it would be just another mindless romantic comedy, with the same tried and tested formula Bollywood has been using for ages.
However, soon afterwards, I read that Sharat Katariya, the man who helmed and wrote Dum Laga Ke Haisha, will direct the Dhawan and Sharma starrer titled Sui Dhaaga: Made in India. That turned my indifference into excitement. Dum Laga Ke Haisha was a movie I thoroughly enjoyed because of its unique premise, and after watching Sui Dhaaga's trailer, it is safe to say that this movie also promises the same entertaining content.
The three-minute long trailer starts with Mauji (Dhawan) narrating his life story. Mauji's family had to struggle a lot after his grandfather's tailoring business came crashing down. He marries Mamta (Sharma) who doesn't like the way Mauji is treated by his bosses. In one scene, Mauji's boss makes him act like a dog, which disheartens Mamta and she asks Mauji,
"Roz doggy banate hain aapko?"

(Do they make you act like a dog everyday?)
To which Mauji replies,
"Pagal ho kya? Roz kon doggy banega? Kabhi chakka banna hai, kabhi gali ka sand, kabhi bazaar ka bhaand."

(Are you crazy? Who would act like a dog everyday? Sometimes you have to act like a cross-dresser, a bull or a joker)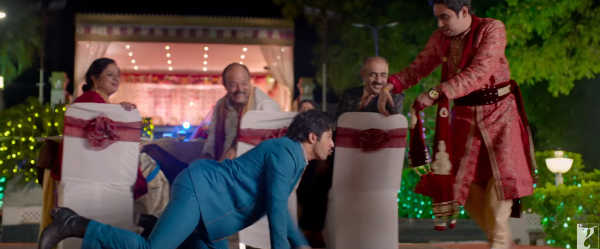 Mamta is unable to stand her husband being disrespected and encourages him to start his own tailoring business.
The movie explores the heartwarming relationship between a lower middle class husband and wife, who try to make it on their own by supporting each other through thick and thin.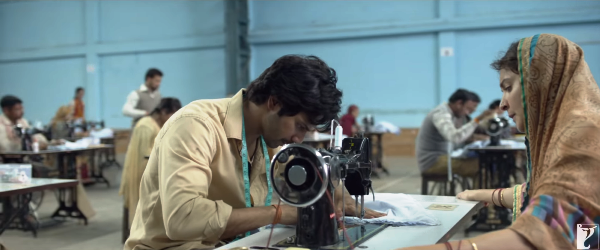 Dhawan has always delivered at the box office, regardless of how his movies are reviewed by critics. But with Sui Dhaaga, Dhawan aims to not only set the box office on fire, but also win critics' acclaim as well. Sharma and Dhawan are both riding high on success with their recent films being highly appreciated, and with Sui Dhaaga, they are both likely to continue their winning streak.
If Sui Dhaaga is as good as Dum Laga Ke Haisha, then it surely will be a huge hit, even bigger than the latter itself, as that movie lacked the star power of Dhawan and Sharma. The movie, however, also runs the risk of shooting itself in the foot if it is overly dramatic or if the audience fails to connect with the movie's characters. This is going to be Katariya's biggest venture and quite possibly the most difficult one as well, because with a talented cast and an interesting premise comes great expectations.
Here is hoping that he meets these expectations and delivers yet another masterpiece.
Sui Dhaaga seems like a family drama with some light comedy, which will surely keep the audience entertained. All in all, "trailer main sab barhiya hai (everything is great in the trailer)".
Sui Dhaaga releases on September 28, 2018.
All photos: Screenshots