Pakistan, a champion of making footballs, but not the game itself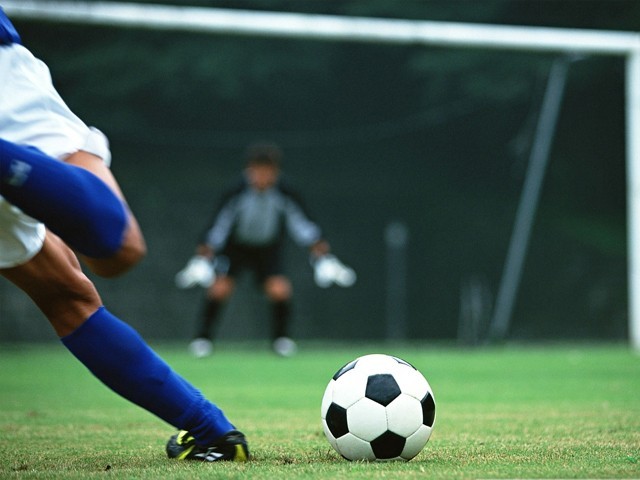 The Middle East, notably the UAE and Qatar, is not just sponsoring European football clubs; it is also inviting them to occasionally play friendly matches in their home grounds. This is not only to promote football in the region, but also to promote their heritage amongst football fans.
China, the Asian giant, is investing heavily in their football league by buying expensive players from top leagues of the world for their local clubs. Similarly, India has just successfully organised an Under-17 (U-17) FIFA World Cup this year, and is also following in the footsteps of China to improve their league. They are organising a  Football Super League with the help of celebrities, and many top businessmen are buying the clubs in order to promote football in the region.
However, when it comes to Pakistan, we have not taken the necessary steps to encourage this sport. Pakistani manufactured footballs are not only used in FIFA World Cups, they are also used by top football leagues in developed countries. Sadly though, Pakistan ranks 201 out of 206 in the FIFA World ranking, and 46 in the Asian Football Federation (AFC), which is basically at the bottom of the table.
The difficulties faced by Pakistan are not because of the people or the sport itself, but because there is improper planning, lack of a basic framework and mismanaged affairs. It's a sad and heart-wrenching reality that even though we are the biggest supplier of footballs in the world, we rank at the bottom amongst football playing nations.
Faisal Saleh Hayat, current president of the Pakistan Football Federation (PFF), was reinstated as the same after a three-year ban by FIFA. In 2003, when he first held this position, Pakistan ranked 168 in the world. In the passage of 15 years, we have suffered laboriously due to his futile policies. Under him, we have failed to develop a professional football league in Pakistan, which can actually help us find and train the distinctive and pre-eminent players we need for our national team.
PFF's president now claims that Pakistan would qualify for the FIFA World Cup 2026! But the harsh reality is that at the rate we are going, we are not capable of qualifying for the World Cup even in the next 30 years, especially if we keep up with the non-serious approach and continue to deprive our football players of quality facilities.
Hayat had announced, back in 2011, that Pakistan will be part of the 2022 World Cup, yet we failed to draw even a single match in the pre-World Cup qualification round of World Cup 2018. We don't even have a football stadium that meets international standards! If that wasn't enough, we have not played a single match in the last three years. We have not even qualified for the AFC Cup yet, let alone something on a bigger scale.
As per my understanding, if we have to set a goal, we should tread carefully and set realistic and achievable goals. We should keep in mind our ground realities, available resources, aptitude, knack and capabilities.
Lack of fitness and training can knock you out of the race because you would be unable to compete against the best teams. In order for us to improve our FIFA ranking, we have to play friendly matches on FIFA dates against teams with better rankings so that we learn, but also because a win against such a team would actually count towards something. Sadly, our national league does not even get coverage by our local channels, and hence the importance of football slowly fades.
There are hundreds of things to be blamed but the point is, if PFF keeps going at the same pace, our football federation will further deteriorate.
Additionally, football is one of the most popular and commercial sports played in the world. If we want to portray a softer image of Pakistan in front of the world, then we need to do this by promoting sports, especially football because it has a huge fan following all around the world. Also, if one Muslim player, Mohamed Salah, can change people's opinion on Islam, one can only imagine the positivity it would spread watching talented Pakistani players competing in international leagues.
Cricket, for example, is only played in 10 countries and our players are still making us proud by making history both locally and internationally. The neglected sport, football, is played around the world and yet we have not paid any heed to its improvement and progress. Football has a wider and brighter scope not only for the players but for coaches, trainers, managers, referees, cameramen, ground-men and sports analysts. This would create more job opportunities and improve Pakistan's economic condition as well.
A world class FIFA MBA should be organised for Pakistanis, which can help inform our youth of the importance of a sport like football in the modern world. We need international coaches working with our local coaches for our national team. We need to televise our league so it garners people's interest and gives clubs more chances to grow. We need to work on our youth teams and give them slots to play internationally, not just against South Asians, but also against African and Middle-Eastern sides to further prosper and excel their level.
Kaleemullah Khan is the only star produced by Pakistani soil who has played in US, Kyrgyzstan and is currently playing in a Turkish League, hence, it can be said he is Pakistan's flag bearer. It's a great achievement without any doubt. Neymar Jr's five finalists from Pakistan participated in the Brazilian city of Santos. Although they got eliminated from the group round, it was a great opportunity for them to play against USA, Georgia and Malaysia.
Similarly, National Leisure Leagues Champion, Lahore's ICAW, will represent Pakistan in the 32-team International Socca World Cup starting September 23rd in Lisbon, Portugal. The tournament will be played on a six-a-side format. If these two events run successfully across Pakistan, without any interference from PFF and Pakistan Sports Board, it will provide a splendid platform for youngsters to showcase their talent internationally with the efforts of the private sector in Pakistan. This event makes us realise that you do not need heavy funds, extraordinary football structures or multi-million dollar sponsorships to run the show – after all, war-torn states like Syria, Palestine and Afghanistan remain way ahead of us in the FIFA ranking. If we are committed and run a virtuous event, no one can stop us from shining.
I further reiterate, let's not run after unthinkable and unachievable targets in order to create hype in the media. The limelight won't last that long and it will not solve our basic problems. We need to work together to form a plan to take Pakistan out of this sinking sand. We need to organise an international conference with our current management and ask stake holders and players for their inputs to make a road map for the next five years. The very first step is to develop a competitive football league in Pakistan, which will consist of quality international players for our local teams. Perhaps we can start with dual nationality Pakistani players, and with the passage of time add in more quality players into the system.
Ultimately, the very least we need to do is take the first step in the right direction, as we literally cannot get any worse. The situation won't change in a day but if we do our best, we might achieve our targets.