Back to school: Can 'Helicopter Eela' help Kajol get her mojo back?
The last time the audience saw Kajol in a Bollywood movie was in Dilwale, which also starred Shah Rukh Khan. That was three years ago. Since then, Kajol has appeared in one Tamil movie which was a critical failure. She will next be seen in Helicopter Eela, which is being produced by her husband, Ajay Devgn. The trailer of Helicopter Eela released a few days back on Kajol's birthday.
The story revolves around a single mom, Eela (Kajol). Her son suggests that she complete her studies, since she had to leave in between before he was born, and start tutoring other children. However, to do so, Eela decides to join her son's college. National Award winning actor, Riddhi Sen plays Eela's son.
The trailer shows the difficult and awkward yet funny situations a middle aged woman faces as a student. In one particular scene in the trailer, a local newspaper story featuring Eela as a middle aged woman trying to complete her studies, results in Eela being treated like a celebrity by many youngsters of the college.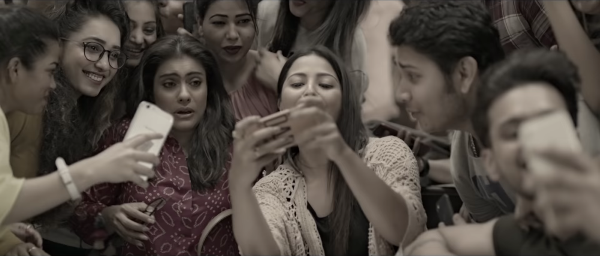 Eela's son is not ecstatic about the fact that he has to go to the same college with his mother. Being a brown parent, Eela is very protective about her only son, but her son feels suffocated by the fact that his mother is around him all the time. This puts a strain on their relationship and pulls apart a mother and a son.
In the trailer, Eela is also seen trying to revive her music career, which she left for some undisclosed reason, maybe because she had to take care of her child. It reminds us of the many sacrifices that our parents have to make in order for us to have a decent life.
The movie seems like a light-hearted family movie with a very unique premise. Kajol played a desi mom brilliantly in Kabhi Khushi Kabhie Gham and if she is able to replicate that in Helicopter Eela, then this movie will surely be a treat to watch.
The movie also stars Neha Dhupia, who really impressed the audience and the critics with her acting in Tumhari Sulu. In the trailer, Dhupia's Lisa is seen giving Eela a moral lecture about her situation with her son. It would be interesting to watch the two talented ladies team up for this movie.
Kajol didn't impress anyone with Dilwale and the movie too didn't earn as much as it was expected to at the box office, as it was overshadowed by Ranveer Singh's Bajirao Mastani. Similarly, Helicopter Eela also runs the risk of being overshadowed by Sushant Singh Rajuput's Drive (an official remake of 2011 film Drive, starring Ryan Gosling) and Arjun Rampal's Paltan, both of which are set to release alongside Helicopter Eela.
In order for the film to be a success, Helicopter Eela must get exceptional reviews because only that could be its saving grace in the midst of such a fierce competition.
From the looks of the trailer, Helicopter Eela, looks like the film for mothers and young children, but I don't think it will appeal to the male audience. I say this because, although the trailer looked heartwarming, it didn't compel me to buy the movie's ticket as soon as it's released. This may point towards the fact that the movie may be lacking that "punch" or wow-factor that pulls men to go watch it.
The movie might get some love from both, the audience and the critics, but that love will probably not translate into big box office numbers. Kajol's last critically and commercially successful film was My Name is Khan (2010), which was also a family drama film. Here's to hoping that with Helicopter Eela, Kajol can regain her lost mojo and start rocking on the big screen once again.
The movie is set to release on September 7, 2018.
All photos: Screenshots