MS Dhoni – an era on his own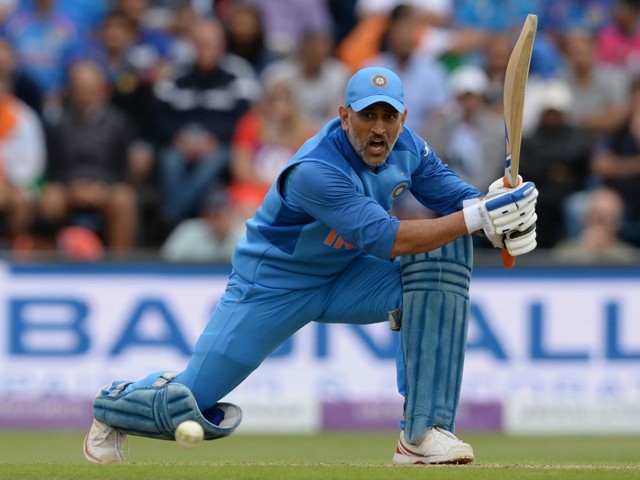 He came, he saw, he conquered. These words are the very least one can associate with Mahendra Singh Dhoni for his performance thus far in international cricket. By placing the ball behind the square through to the third man boundary for a single, he recently achieved the milestone of making 10,000 ODI runs.
On July 14, 2018 at Lord's, the home of cricket, he became only the 12th batsman in the history of ODI cricket to achieve this rare feat.
As a fan, there are several memories I associate with the accomplishments of this gentleman. From his early days as a boy from a small town, the passage he passed through and the circumstances he overcame to get to this point, it all makes this achievement more significant.
Congratulations MS Dhoni on 10000 ODI runs. Fantastic achievement to do it at an average of 51.5 .

— Virender Sehwag (@virendersehwag) July 14, 2018
His journey started with a competition to win a place in the team. Dinesh Karthik and Parthiv Patel were in line as well, but Dhoni was prioritised over the two as Indian selectors wanted to take the extra burden off Rahul Dravid, who was performing wicket-keeping duty in limited-over cricket. Thus, Dhoni made it to the Indian team by passing through an extremely tough competition against extremely talented players.
I still remember Ravi Shastri's words when Dhoni came to the crease during his debut against Bangladesh in Chittagong in December 2004:
"Let's see what this boy from Ranchi can do."
Although he bagged a duck in his very first appearance, he was unfortunately run out right after. Nonetheless, it was the start of something extraordinary.
His smashing maiden hundred against arch rivals Pakistan at Vizag (formerly Visakhapatnam) in 2005 settled the debate over his selection. With his long dyed hair and swashbuckling style of play, he caught the eye of cricket lovers all across the world. After all, out of the 12 players to make 10,000 runs thus far, Dhoni has faced the least number of balls to achieve the feat. This speaks volumes regarding his consistency to not only score, but to do so with a strike rate in the high 80s.
After the debacle of the 2007 World Cup, when Dravid quit his job as leader, the Board of Control for Cricket in India (BCCI) were all set to hand over captaincy to Sachin Tendulkar. But Tendulkar refused and put Dhoni's name forward as the new in charge. What a master stroke this was!
Dhoni's first real test as captain was the inaugural World T20 event in which he succeeded as a champion. It is still a tragic memory for me as a Pakistani fan, with Misbahul Haq's last ball 'mis-hit' costing us a final we could have easily won otherwise. However, that was the moment I became Dhoni's ardent admirer. He led the young side well and his strategic decisions as captain (who can forget the bowl-out rule where he used non-regular bowlers to hit the stumps and won that game) throughout the tournament made him even more special to his fans.
My favourite memory of him is most definitely his inning of 113 not out at Chennai during Pakistan's tour of India in 2012-13. In an overcast condition when Junaid Khan ripped India's top order apart, Dhoni proved yet again that he is made for pressure. He knew the ball was seaming and swinging, so he took his stance two steps outside the crease to nullify the seam and the swing. His rock solid defence and powerful scoring shots were simply gorgeous to watch. That inning is just a sample of his great batting career – something that instilled an admiration and obsession in me for Dhoni, both as a player and as India's captain.
Greatness is always achieved when you think beyond yourself. His leadership skills, selfless attitude and well-maintained fitness are profound qualities which inspire me a lot as an individual. Before the on-going tour of England, he passed the Yo-Yo test with the highest marks amongst the entire squad.
I have no qualms in declaring Dhoni the best captain in international cricket over the past decade. After all, there are so many lessons that can be learnt from him. His tendency of assuming responsibility when the team loses but giving credit to the entire team after a win, his delivery under pressure, as well as his bravery to bat up the order in the final of 2011 Cricket World Cup, are just some examples. His sharpness behind the stumps, guiding the bowlers where to pitch the ball, and out of the box field placing are all hallmark of his career so far.
As a Pakistani fan of India's Dhoni, it is indeed very sad to see India and Pakistan have an implicit agreement to not play with each other. I consider myself one of the lucky ones, as I got to witness Dhoni's batting at the National Stadium Karachi when India toured Pakistan in the 2005-06 series. Although India lost the Test match then, the glimpse of Dhoni's powerful stroke-making will always remain fresh in my memories. I vividly remember that his performance and the beauty of his shots were equally cherished by Pakistani and Indian spectators alike.
While writing this, it feels as if his entire career – spanning 14 years thus far – has passed by in the blink of an eye. From his pre-captaincy era where he invented the helicopter shot and his lightning fast wicket-keeping, to becoming the skipper and winning trophies, to making India the number one ranked Test team for several years, to grooming Virat Kohli to be his successor – Dhoni is an era on his own. I can only wish that in the twilight of his career, I can once again watch him play Pakistan in Pakistan and enjoy the experience as a fan one more time.