Zesty and witty, Load Wedding uncovers body shaming and marriage like never before
Director cum screenwriter Nabeel Qureshi and producer Fizza Ali Meerza, the famed duo behind hits like Na Maloom Afraad, Actor In Law and Na Maloom Afraad 2, are once again back to lure filmgoers. This time, they are ready to amaze movie-buffs with a newfangled theme; conveying the message regarding social issues via a highly charged romcom – Load Wedding.
The much anticipated film has been creating buzz and excitement since its first look was released. It is obvious, judging by the recently released official trailer, that the subject is captivating for various reasons.
The three-minute trailer is a mix plate of buoyant ambiance, unforgettable love affair, a delightful fusion of laudable slapstick, relatable social problems, sharp dialogues, and charged performances. One can easily conclude that Load Wedding is a fresh dramedy with a compelling storyline and enchanting music, all set in the background of a vibrant Punjab.
Narrated by Mohsin Abbas Haider, the trailer shows a straightforward young man, Raja (Fahad Mustafa), who wants to marry his childhood crush, Meeru (Mehwish Hayat). However, a red card is shown by Raja's mother, played by Samina Ahmed, to signify that he can't marry until his sister Baby Baji gets married.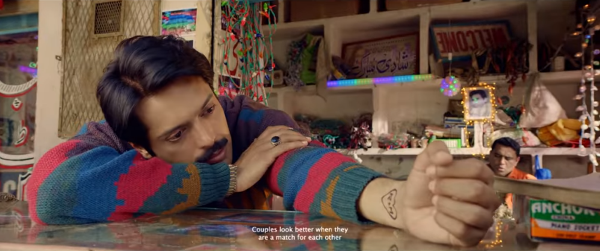 The rest of the trailer clips are enough to understand the dramatic twists and conspicuous upheavals of the unabridged storyline. One more thing that is generating some hype is the parody of Dr Aamir Liaquat; clad in a vibrant shalwar kameez, running his game show.
Moreover, the trailer also reveals how unmarried, obese women face difficulties in getting proposals, how they tackle fat-shaming and their constant struggle to shed some weight. It seems that the film tackles some of the sensitive social stigmas attached to arranged marriages, divorce, dowry and obesity in a conventional society.
The onscreen chemistry of Mustafa and Hayat, along with the performance of Ahmed, looks true to life, and their Punjabi accent is pretty appealing.
Mustafa portrays the small town, honest and frank boy aptly, while Hayat depicts a strong young lady with beauty and brains. Ahmed is a truly versatile actress who flawlessly and comfortably illustrates a desi maa (mother).
The trailer shows some dance clips and romantic soundtracks with fascinating cinematography by Rana Kamran. The music is composed by Shani Arshad.
All in all, Load Wedding is a family drama with relatable social affairs as well as zesty entertainment full of robust performances and a witty plot. One can hope that the Qureshi-Meerza movie lives up to the high expectations and its overall impression remains as pulsating as its energetic trailer.
Load Wedding is slated for release on Eidul Azha. The movie buffs will enjoy diverse films on Eid and it is evident from all the trailer hypes that there will be a tough competition between Parwaaz Hai Junoon, Jawani Phir Nahi Ani 2 and of course Load Wedding.
All photos: Screenshots