Are internships a waste of time in Pakistan?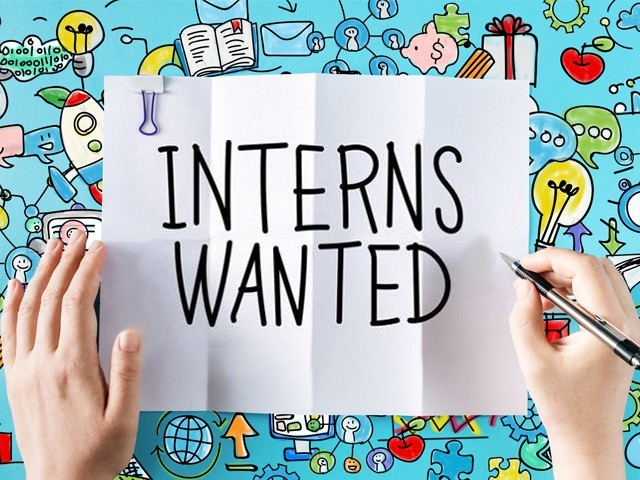 "Mind the gap."
This is a warning familiar to anyone who has ever taken the tube in London. It refers to the gap that exists between the platform and the train itself. It is also a warning delivered to all of us at university before we step into "the real world" – the platform being college and the bullet train being the corporate sector.
What is this 'real world' we hear so much about? And why does every working professional refer to it as a world that every student is completely oblivious to and unprepared for? Did we not just spend four years preparing to step into this 'real world'?
Although there are a few professions where students learn some key critical skills before entering the field, for the vast majority of the corporate sector, we have to learn skills on the go. The lack of instructions, mentorship and exposure provided to us makes us feel like we'll have to take the wheel of a speeding car at Sharae Faisal, and all the while we can't even tell the difference between the brake and the accelerator.
The extent of the gap
Faisal Bari, an economics professor at the Lahore University of Management Sciences (LUMS), recently wrote an article on the education-employment mismatch. He cited an example of a job advertisement for an entry level job. The advertisement received 500 applications out of which only seven were deemed fit to interview, and the person selected eventually was not the ideal fit, even though he had a postgraduate degree for an entry level job!
The education-employment mismatch debate is not just about skills…it is also about quality of education…With youth bulge as it is, we need to really worry about this.
Education-employment link
https://t.co/Fa9LlqMTRQ

— Faisal Bari (@BariFaisal) May 18, 2018
This example is alarming, as a vast majority of us are clearly not fit for employment. But is our education sector to blame? The author seems to think so, but I beg to differ. And that brings us to the crux of the problem: internships.
Closing the gap through internships
College graduates ought to have linguistic and numerical skills, be confident and persuasive in their communication, have the ability to think logically, and the ability to conduct inductive/deductive reasoning. To encapsulate, they must have the ability to engage with data and then make decisions based on it. These skills are not exhaustive, and certainly do not mention the hard skills that are necessary for different jobs. However, they are skills that are probably the most valued in the corporate sector, according to our prospective employers.
However, the aforementioned skills are not only instilled into students. Quality education can only get us so far. Education is only theoretical; for instance, one can study writing emails in business communication, but it is only regular correspondence through emails that teaches one to draft them regularly and correspond in a professional manner.
Quality education and meaningful experience go hand in hand. Employers today are not willing to invest into students and interns – they do not want to play their role in the hope of improving the pool for the future. It is sort of like the Nash Equilibrium, where every employer wants to reap the benefits of quality graduates who have been trained but ultimately, not by their own firm.
While it is true that there are fast-moving consumer goods (FMCG) companies, law firms and NGO's that run proper meritocratic internship drives, they have only served a few of my peers. The vast majority of internships out there are offered on connections and personal favours. For instance, last summer, I happened to intern at a reputable legal aid clinic that claimed to run proper internship drives and had a decorated page on its website devoted to appraisals from former interns. However, when I got there, I was the only intern whose parents did not know someone in the organisation. I only managed to get the internship because I bombarded their HR department with emails and calls.
Companies do not take their interns seriously, because they do not take their recruitment drives seriously. And as a result, students often waste entire summers 'working' at their internships. After all, it is not uncommon for interns to spend the entire day trying to xerox a report that does not need to be photocopied, all in the hope of looking busy.
This is in stark contrast to how interns are treated elsewhere. For instance, in the US, the National Association of Colleges and Employers (NACE) estimates that the hourly wage for interns across all degree levels and years in 2018 was around $18.73. Fresh graduates earn only a bit more than that, at around $20 per hour. Thus, companies there tend to treat interns a lot like fresh graduates.
I am not making the argument that students ought to be trusted with game-changing decisions, and they be given more responsibility than they can handle; I only ask of companies to recognise that students can contribute to their organisation. Companies need to recognise that students sacrifice their summers to work for them at a negligible stipend, or in many cases, for free. Thus, their potential and willingness to work needs to be appreciated and cultivated accordingly.
Of course, students will need to change their mindset as well. If we seek internships only to pad our resume, then we might as well fabricate the experience entirely. And while at internships, we need to actively seek out work, and at the same time, our employers need to be able to trust us with it as well.