Paradise from a different perspective: Maldives is more than just turquoise waters and sandy beaches!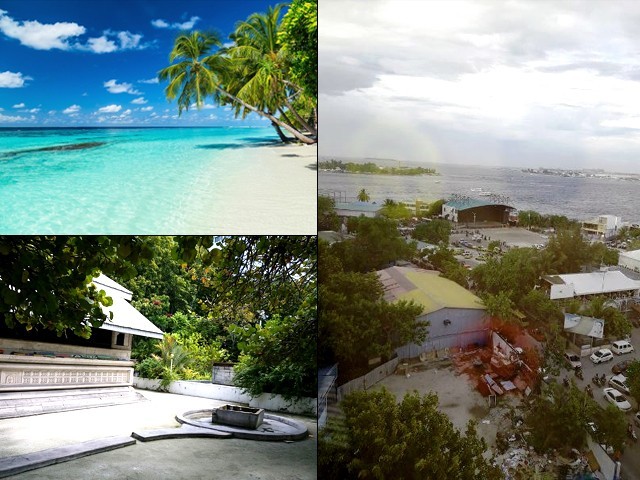 Whenever the phrase 'vacation to the Maldives' rings our ears, turquoise waters and luxurious resorts instantly flash into our minds. In order to fully utilise their vacations, the general preference of tourists is to spend time relaxing and soaking in the beauty of beaches. 
Conversely, my idea of traveling and vacationing is slightly different, for my chief aim is always to explore the historical and cultural aspects of different places.
Therefore, my very brief yet unique trip to the land of the clear blue waters – the Maldives – persuaded me to pen down and share my experience of a wonderland from a different perspective.
In pursuance of one of my uncountable goals in life – to visit the island country at least once in my life before it vanishes from the world due to prospective global environmental effects – I, along with my parents, undertook the much anticipated journey via Karachi to Colombo, and from there we made our way to the Hulhulé Island (Airport Island of the Maldives).
To my extreme disappointment, we landed in Maldives during a night of the crescent moon, hence there was no extraordinarily picturesque landing.
Our immigration process was relatively prompt. We were received by our hotel representative at the airport, who led us to our ferry. It took us 10-15 minutes to reach the island of Malé, from where we took a five-minute bus ride to our cosy and comfortable hotel.
As mentioned earlier, since our preference was to explore Maldives as a country and not spend our vacation at some picturesque or serene spot, we chose a mediocre yet ideally situated hotel with a spectacular view of the ocean and landing airplanes, within the main capital city of Malé, in order to better understand the cultural and social order of the country. However, it is pertinent to mention here that after interacting with the locals, we realised we were lucky to visit during the local holiday season, as the tiny capital was less crowded then.
We were informed by our hotel staff that Malé is the world's smallest capital, and that its total area is about five kilometres only. The climate is tropical, and the temperature hovers between 25 to 33 degrees around the year. However, according to my observation and from the local perspective, this uniformity of weather, climate and terrain can create an unpleasant monotony.
I would add here that despite the non-severity of the heated weather, the water of the ocean at the three islands I experienced was lukewarm, unlike the seawater of Karachi, which is cold even when the temperature outside is 42 degrees.
We also came to discover that throughout Malé, the taxis, irrespective of the distance (be it one kilometre or five) would charge a fixed fare of 25 Rufiyaa, which in my view is a good policy preventing the exploitation of innocent tourists.
Generally, the public with whom we interacted, such as taxi drivers, hotel staff, children and common people travelling with us in ferries or people I met at my favourite spot, the Artificial Beach, all were unhappy with the hustle bustle and crowded environment of the capital city, and would prefer to live in their native islands, which they suggested were less crowded and more peaceful.
Here I feel obliged to describe my aforementioned favourite spot, the Artificial Beach! Since Malé does not have any beach of its own, this beach has been humanly crafted out of the reclaimed land of sea in order to fill the gap.
To continue, how can the cultural exploration of any land be complete without tasting its local cuisine? However, as none of us are real foodies, our focus was not on trying popular Maldivian seafood or local dishes. Instead, being fruit-lovers, we preferred spending on local fruits such as Jackfruit, Rambutan, locally grown bananas and pineapples, which we don't find in Pakistan.
We also had ice cream from the famous Seagull Café. Here I feel worth mentioning the subway-like bun we bought from a roadside restaurant called 'Submarine', which was huge and really delicious.
Since the roads in Malé are non-spacious and streets are narrow, scooties and cycles are more commonly spotted than luxurious cars, and people often choose to walk to cover the small distances.
I noticed that, unlike the rest of the commonwealth nations, Maldivians are more fond of football than of cricket, and we spotted plenty of football grounds in the city. Indian culture is also visibly dominant in their eating habits, language and daily activities.
We also happened to visit a number of attractions within the capital. The first was the National Museum of Maldives, where the guide introduced us to the Buddhist era, the rise of Islam, and the colonial as well as modern Maldivian history and culture.
Next up was the Old Friday Mosque, constructed in 1656, as well as the Grand Friday Mosque situated nearby. However, since in Muslim culture women are not encouraged to enter mosques, my mother and I were not allowed to offer prayers inside.
We later visited a number of parks, as well as the National Football Stadium. We also got the opportunity to briefly visit the neighbouring islands of Villingili (approximately a five-minute ferry ride from Malé) and Hulhumalé (approximately a 15-minute ferry ride and 10-minute speedboat ride from Malé). The latter is an artificial island built to meet industrial, housing and commercial requirements; it is also connected via the causeway to the Airport Island.
My deepest regret out of the entire trip, however, was not getting enough time to visit the popular underwater Ithaa Undersea Restaurant, situated at the Rangali Island.
To sum up, I would strongly recommend everyone interested in or planning to visit the Maldives, to reserve at least a few days to explore the generally ignored cultural and historical aspect of this beautiful island nation. For me, it was indeed a memorable journey, not only filled with pleasure and relaxation, but also with intellectual enrichment. Lastly, I wish to formally thank my parents who helped turn a long-awaited dream into a pleasant and memorable reality.