#FIFAWorldCup18: The only thing that worked for Argentina was Nigeria's bad luck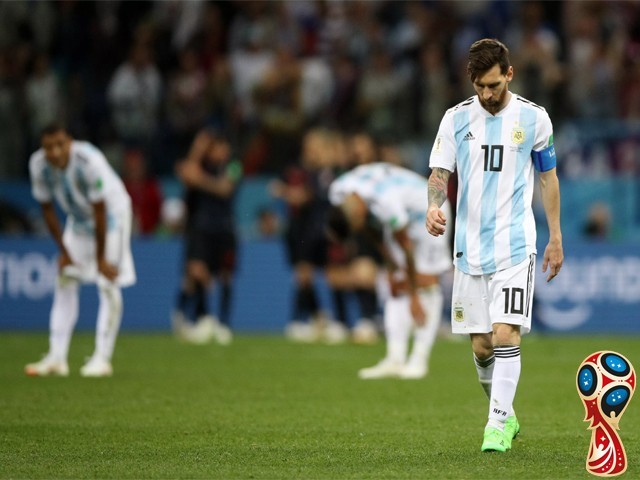 This is a clipping of a supposed interview, attributed to Pelé, going viral on social media these days. It goes as follows:
Interviewer: "Do you think Brazil's 1970 team can beat today's Argentina?"

Pelé: "Yes."

Interviewer: "By how much?"

Pelé: "1-0"

Interviewer: "That's it?"

Pelé: "Well, most of us are over 75 years old now."

😂😂😂 pic.twitter.com/mThA6bDQ8A

— World Cup (@EPLBible) June 25, 2018
This citation, to the best of my knowledge, is a complete fabrication. But the funny part is that if you analyse Argentina's performances over the course of FIFA World Cup 2018, you would completely understand where the Brazilian legend would be coming from, if he actually said it.
Following a dreadful start to their World Cup campaign, La Albiceleste was staring right in the face of an embarrassing exit. Their painful draw against Iceland in the first match coupled with their humiliating defeat at the hands of Croatia in their second, placed them in a nerve-racking, do or die encounter against the Nigerians.
Argentina started the game tentatively, but then as the age-old saying goes,
 "Cometh the hour, cometh the man."
Lionel Messi grabbed the contest by the scruff of the neck and kick-started Argentina's redemption with a goal in the 14th minute.
Sergio Aguero and Paulo Dybala were on the bench but even Angel Di Maria and Gonzalo Higuain, who were on the pitch, failed to take advantage of the gift that Messi presented them with on a silver platter.
Argentina failed to capitalise on their advantage, and were duly punished when Victor Moses equalised from the spot to level the proceedings. And if Marcos Rojo hadn't scored in the 86th minute to snatch an undeserved victory from the jaws of utter humiliation, La Albilceleste would have crashed out of the tournament at the first hurdle; an outcome their wretched performance would have rightly deserved.
It just completely boggles my mind that how Messi, arguably the greatest player ever to live, has failed to win a major international tournament with his country. And no, I don't count the Olympic Gold medal in 2008 and FIFA under-20 World Cup as major international achievements.
On paper at least, Messi's support cast is more than an adequate one; unlike Cristano Ronaldo and his less than stellar gang as far as Portugal is concerned. But to the Real Madrid man's immense credit, he still managed to win a Euro Cup for his unfancied country in 2016.
Aguero, Di Maria, Higuain, Javier Mascherano, Dybala and Nicolas Otamendi have all won major honours with their respective clubs. But when it comes to the national side, neither have proven to be an able Robin to Messi's Batman. A lot of football critics have often criticised the raft of successive coaches that this gifted group had the misfortune of working under. But with at least half a dozen coaches, holding the top spot of the Argentina national team during these lean years with this supposedly talented bunch, it gets a little tiresome always placing the blame with the tactician.
These players, excluding Messi, would have to take their fair share of responsibility for La Albilceleste's shameful performances over the past decade or so, and not just this tournament alone. Lest we forget, it was a last gasp Herculean effort by the Barca man in the South American World Cup qualifiers that Argentina are even in the tournament.
For now, Argentina are still in the World Cup, but with France as their Round-of-16 opponents, their prospects look extremely bleak. And if somehow they manage to sneak past the French, their potential quarter final opponents could be a Ronaldo-led Portugal; arguably one of the tastiest contests ever in the history of the prestigious tournament.
In the previous World Cup, it was Messi who took all the plaudits with his individual performance over Ronaldo. His four goals during the tournament were only met with one from the Portuguese. But this time around, the roles are completely reversed; Ronaldo is on four strikes as opposed to the Argentinean's one.
But maybe if we do end up having a Messi/Ronaldo faceoff, which is slightly improbable at the moment, we could finally settle this debate as to who is the actual 'Greatest Of All Time (GOAT)' once and for all.