Today is Eid, and I want to be home, not abroad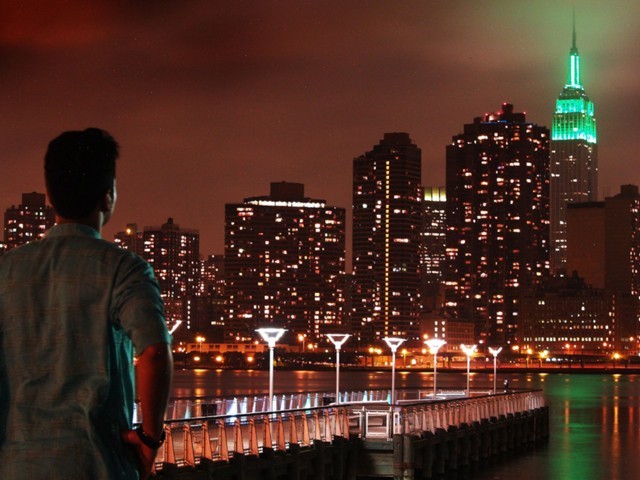 For every other day of the year, deciding what to wear early morning would be a task in itself, but not today. A kurta is hanging in the corner of my wardrobe. The entire year, I pretended it wasn't there, but not today. Today is Eid in New York. It begins by embracing a traditional outfit to feel somewhat closer to home.
A shower early morning and as usual a rush to the mosque is the norm. While trying to beat traffic to catch Eid prayer, a call back home to my parents is my favourite part.
Each year, my mom asks my elder sibling and me why we couldn't leave early to pray so that we didn't have to rush now. Each year, we come up with the same excuses:
"He showered too long!"

"He didn't wake up on time!"
So on and so forth. Had we been at home, none of these excuses would have worked because my mom is a walking alarm clock.
The mosque is a roughly 30-minute drive from home and during the entire ride, Skype helps us feel our parents are with us, along with another sibling tuning in from London. Of course, a couple thousand miles exist between us all, but not today. Today is Eid. We pretend to be in the same car at this particular moment.
None of us are kids; the harsh reality of being apart on this special occasion is aching in each one of our hearts. Hence, to ease the pain, we laugh it off with a few family jokes until we reach the mosque.
After parking the car, a small sprint to the mosque is part of our healthy routine, or in other words, we might miss the prayer otherwise. After offering the Eid prayer and briefly hugging Eid Mubarak to the individuals we just met at the mosque, we make a trip back home.
The real agony of being a student abroad begins this very moment. The very instant you step in the house after returning from the prayer, there is silence inside to welcome you wholeheartedly. The kitchen smells as it would when no one has touched it for hours. Nothing special is being cooked.
Had I been at home, sneaking into the kitchen to bother my mom as well as taking a peek at what's cooking would have been my plan. Kheer was often on the menu. This Eid, however, I know exactly what's in the fridge. Nothing will surprise me, so I just walk past it.
Normally in Pakistan, the afternoon would be an ideal time to make family plans for the day but here I stood, looking out the window. Luckily, this time around, it's the window of my living room and not the finance class I found myself attending last Eid.
No sound of excitement buzzing in the streets. No kids running around fresh out of the shower, including those that won't even wash their face for the rest of the year. No relatives hogging the phone calls.
Oh Pakistan – I miss you.
There is a lot to admire about having an opportunity to study abroad, but not today. Today is Eid; it should be spent at home with your loved ones. Some ground realities prevent a reunion with the whole family. Therefore, you sit and ponder why am I abroad?
Tuning into channels from back home often helps avoid indulging in thoughts that demoralise the entire mood. It is still Eid after all; the spirit must be kept alive.
Normally, Pakistani channels would be brimming with meaningless political shows. Slinging mud at each other on live shows is the usual form of entertainment on Pakistani channels, but not today. Today is Eid. Some sanity prevails in media as well so it's bearable to watch for those of us abroad.
The activities outside are no different than any other day. The sun is beating down, remote sounds of traffic passing by and birds chirping. Nothing is different, yet inside our closed walls and a loud TV, we pretend that this day is different. It's our Eid abroad.
Of course, an Eid picture is mandatory at some point in the day whether you are in Pakistan or not. Countless clicks in the same kurta you ignored the whole year makes for a great love story. Pictures often find space to live in the phone's gallery their entire life, but not today. Today is Eid. Pictures must make a journey from the phone's gallery to social media platforms.
As the afternoon hours pass, a plan for the evening is a must to close the day on a high. Locations to go eat are limited especially if you are in a non-Muslim country and more often than not you end up in the same place you ate before. It's the same menu and the same you. It should taste exactly the same as any other day, but it does not today. Today is Eid. We will pretend it tastes differently.
As the day comes to an end, it becomes evident that Eid in Pakistan is unmatched.
Spending time with your whole family, watching swarm of kids hunting down adults for Eidi, greeting forgotten relatives and trying every food item you can get your hands on is what makes Eid special. The most we can do abroad is put in an effort to make the day feel a little different than any other day.
The entire year, the hours would fly by so fast that you would find it hard to keep up with the fast pace of life abroad, but not today. Today, the hours are infinitely longer and the silence more prominent.
Today is Eid. I want to be home, not abroad.
Eid Mubarak!