The downfall of Bahria University: From a prestigious institute to the "six-inch university"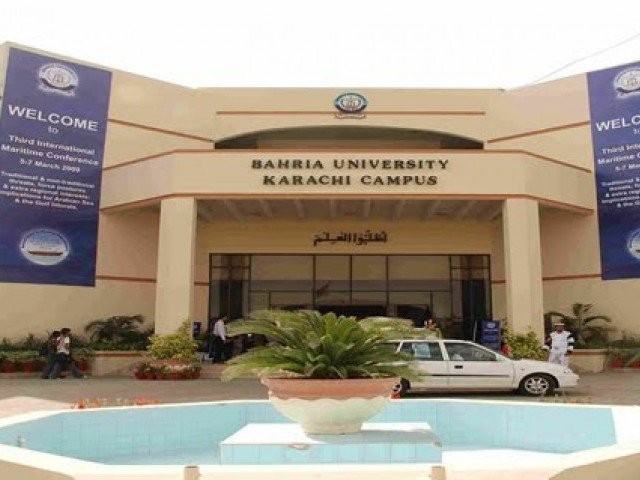 "Men and women are to maintain a distance of at least six inches while sitting/standing together."
Imagine reading this somewhere, or hearing about it. What would your first reaction be?
Perhaps something like,
"Oh my God! The Taliban are back! They must have started enforcing their version of Shariah, and are probably planning to bring the days of terror back to the country!"
If so, relax! This notice wasn't issued by those fanatics, but by a renowned semi-government university, and is applicable only within its premises.
It all began when a notice was issued by Bahria University's (BU) director, requiring male and female students to keep a six-inch distance when sitting or standing near each other. This is not even the worst part though, as the notice also called to enforce a "no touch" policy between male and female students.
Private sector university in Pakistan issues directive to staff to ensure that male and female students are "at least six inches away from each other" pic.twitter.com/BPQlHSqeHU

— omar r quraishi (@omar_quraishi) May 18, 2018
A friend who studies at Bahria University Islamabad shared this message received from admin. pic.twitter.com/Wdhbjs5nx6

— Roha Nadeem (@RohaNadym) May 21, 2018
This is not the first time my alma mater has been in the news for all the wrong reasons. There was a jeans controversy a few years ago, where wearing jeans was prohibited in the Bahria prison… I mean university. Deeming this ban to be unfair, scores of students gathered in the campus lobby to protest this policy, chanting "we want jeans". The ban was ultimately withdrawn with a few new restrictions, but not before the totalitarian regime running the university had kicked the instigators out.
None of this moral policing is unfortunately new in Pakistani institutions as there have been numerous other cases. For instance, a female lecturer at the Institute of Business Management (IoBM) in Karachi came forward last year after being harassed by the university guard over what was perceived as indecent dressing by him.
Abrasive moral policing is routinely carried out in large public sector universities such as the Punjab University and Karachi University as well, where radical student unions are also accused of bullying students into submitting to their ideas of morality. The National University of Science and Technology (NUST) too has made headlines in the past for reinforcing a certain dress code on its students, contrary to their will.
Thus, what Bahria University did is not a new addition to the spectrum, but is the latest contribution to the already alarming moral policing culture that exists in the country. This time around, it seems the university has completed its transition to a madrassa, for that is what the university comes across as, rather than a modern-day higher education institute. No other institution comes close to having adopted a rule this regressive and medieval in nature, which is precisely why it was immediately picked up by the mainstream media.
When i see couple in Bahria University pic.twitter.com/OnNcikXNdL

— BAPPA (@mzulkafil) May 20, 2018
I contacted the public relations department of the university to get their narrative, but they had no comment to make. However, a spokesperson did give a feeble rationale for the move to the media, claiming it was to ensure the protection of religious and ethical values. The question of how they plan on achieving that by ordering a six-inch distance remains unanswered. After all, why not 10 inches? Or a mile?
Moreover, are the students supposed to carry a measuring tape with them at all times, just to measure the distance they keep with the opposite gender, instead of focusing on their studies?
Guys & Girls have been seen following 6 Inch Rule by Bahria University 🎓

Remember 6 INCH is Very Important! pic.twitter.com/AG367vsbtx

— Dekhlo (@DekhloTv) May 24, 2018
Insanity overloaded…
Now take inchtap to the university in the month of #Ramazan to have six inches of distance.
Because Bahria University has issued orders that girls must keep distance of 6 inches when sit with boys.
What about standing together in university buses? pic.twitter.com/MTWk1W0oos

— Shama Junejo (@ShamaJunejo) May 18, 2018
Boys after Bahria University's 6 inch scheme be like pic.twitter.com/tzQYyX4flN

— M O I Z (@Aao_chars_pien) May 21, 2018
Perhaps the notice could have entailed, 'male and female students must respect religious and cultural values at all times'; the intention could have been articulately conveyed in a much more appropriate manner, and there would be no outcry.
On the other hand, enforcing this ridiculous policy seems to be the work of some narrow-minded moral police who clearly do not know what they are doing. It is almost as if the director of Bahria wasn't entirely satisfied with the already heightened levels of intrusion in students' personal spaces in the university.
Universities cannot operate under such draconian measures. How will these students fare as per global standards, especially when it comes to interaction with people from diverse ethnic, cultural and linguistic backgrounds, when they have been indoctrinated through ridiculous rules based on gender segregation?
Meanwhile in #Pakistan -Male and female students forbidden to touch, sit 6 inches apart 🤣🤣🤣 Leave room for Jesus yallhttps://t.co/EfcDFfGAve

— Mariam Mohammed (@_marmariam) May 25, 2018
Bahria University still living in the bygone era ! https://t.co/nVjC32iMMK

— Dipalay Dey (@dipalay) May 25, 2018
Such rules hamper creativity and pave way for batches upon batches of students devoid of free thought, exposure, unable to thrive in the rapidly changing dynamic of a world shaped by science and technology. Students also find themselves unable to work in challenging situations, to think out of the box and be good problem solvers, all owing to the excessively controlled environment they just spent four years in.
What's more alarming is that this absurd policy has dragged the university's name down the dirt, popularising it as the "six-inch university". After getting labelled as students of the 'six-inch university', who would hire these students? What will happen to their career placements?
6 Inches Rule by Bahria University has become a laughing stock. Not sure if Bahria University or Hogwarts School of Witchcraft. University clearly took it as inspiration from Educational Decrees created by Dolores Umbridge from the Harry Potter. #BahriaUniversity

— Inshal Khan (@Inshalkhan) May 19, 2018
I reached out to several of my instructors for their thoughts on this matter, and though they wished to remain anonymous, they certainly had a lot to say. An assistant professor bashed the director and blamed him for defaming the university's name. He suggested that this typical mindset represented by former Navy personnel hired to run the institute is simply not compatible with the environment of a contemporary higher education institution. According to him, this is why policies that are entirely uncharacteristic of progressive academic culture are being created and implemented.
A visiting lecturer of finance was also critical of the management, and believed the matter should be rectified before it gets picked up by the international media, which definitely would not be in the university's best interests.
When you are a Bahria University student and watched a couple sitting 5.5 inches closer.#Ramadan pic.twitter.com/G9oI5vqiCy

— Sami LaiQ (@SamiLaiQ_Uet) May 22, 2018
So, what exactly is wrong with Bahria University? Or does the fault lie with the people who are running it? Having spent four years at the university, I have witnessed the authoritarian attitude of the administration first-hand, which is reflected in the fascist policies and rules implemented in the name of discipline.
Another problem is the current administration has no marvels to show for its tenure, nor has it taken any measures to improve academics, which reflects in the fact that there has been no improvement in the university's Higher Education Commission (HEC) rankings either. Today, it ranks below the relatively unknown Hazara University and Jamshoro University. Instead of doing something about the deteriorating quality of education of the institute, the administration may have made this move simply to deflect attention from its poor performance.
The Federation of All Pakistan Universities Academic Staff Association (FAPUASA) demanded Bahria to withdraw the notification. The representatives of FAPUASA were right on the button when they said,
"It gives an impression that Pakistani universities are busy in everything except academics."
However, given the adamant attitude of the university's representative and the rigid nature of the brass running the institution, it is highly unlikely the university will withdraw the notice.
The six-inch rule is the product of rigid, narrow-minded individuals who have no experience in running educational institutions, but opted to run a higher education institute. If the administration of an institute is unqualified or incapable of understanding what it takes to run a good university and shape the leaders of the future, all they end up making is a mockery out of our education system.