Farah Khan's #WheelchairDiaries are proof of her privileged class and ignorant mindset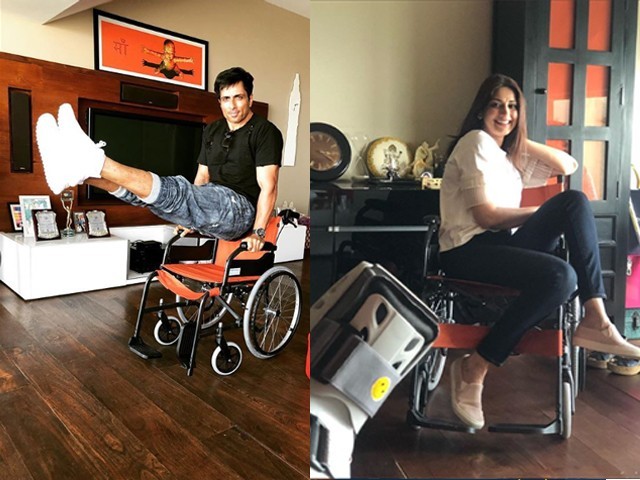 While scrolling through my Instagram feed a couple of days back, I saw a photo where a prominent Bollywood celebrity sat on a wheelchair. The expression was confusing; it was more of a happy-go-lucky, strangely triumphant one, very different from what I would see on a triumphant Muniba Mazari's face. Opening the profile where this photo was uploaded, I saw many more such senseless photos.
The photos contain many Bollywood actors and actresses of the likes of Anil Kapoor, Javed Akhtar and Raveena Tandon, doing antics on a wheelchair. Some are shown singing on it, some posing on it, while one of the actors is shown doing a leg raise on the said wheelchair.
I'm sure most of you must have already seen these photographs on social media by now. The picture in question and many others like it, were uploaded on Farah Khan's official Instagram account, under the hashtag #WheelchairDiaries.
I have always regarded Khan as a creative intelligent in her field, capable of churning out hit movies and songs so effortlessly. Her audience is not just her own country, but also the whole world. If this series of photos and short video clips under #WheelchairDiaries has a certain context to it, the world fails to understand.
Pakistan is home to some heroic people like Muniba Mazari aka the iron lady of Pakistan, and Moiz Shaukat, where they are held in high esteem. These people have proved themselves a beacon of hope and strength against all odds. Their physical limitations did not dampen their spirits, rather pushed them to try even harder. Today, they are making Pakistan proud. Many Pakistanis look up to them and tell themselves each day not to lose hope.
Given all this and seeing Khan's "wheelchair diaries" after, felt anything but humane. I went through all the photos and video clips but failed to find even an iota of sense to it.
Perhaps she was doing it for awareness purpose; all I had to do was look harder.
Nope. My bad!
There was no awareness to this. It was senseless, lacking any meaning at all and was disrespectful to many people who find it hard to battle life with a disability and are actually wheelchair-bound.
If this was a harmless act of fun by a group of friends, with no malicious intent behind it, then it had no place being uploaded to a profile which is followed by close to 1.5 million people. Anything posted on such an online space carries a message; you are either making a statement or starting a trend. Sadly, all we see is complete lack of empathy in Khan's #WheelchairDiaries.
A wheelchair is something that has painful memories attached to it. Given as a movement aid to those who do not have the privilege of walking on their own two feet, the wheelchair diaries by Khan appear to be making a mockery of the pain of so many.
As I talk about someone not being able to walk, just recently we saw Mazari's beaming face as she finally "stood tall" after 10 years. Her struggle and courage is a story known to the world. There are countless such heroic people who battle their limitations; the world does not know their stories, which makes motivation even more difficult for them. What impact will such mockery have, then?
Dear all,
Thank you so much for your prayers and well wishes. Here's a small video of how Rewalk works! 😊 It was truly a wonderful experience. Thank you @ReWalk_Robotics and my amazing medical team for this! #gratitude 🙏🏻 pic.twitter.com/xAgQsxbAGi

— Muniba Mazari (@muniba_mazari) May 19, 2018
Let me assure you, the most realistic impact of these absurd pictures by Khan will not be that of inspiration. For someone facing physical disability, all they will see is a privileged class who, a) can afford the best treatment if needed; b) can afford to make a joke out of it because the wheelchair's owner doesn't need it for life; and c) can easily turn this sensitive topic into a common joke.
Sure, a wheelchair is a wheelchair and it is all a well-meaning, unintentional joke but let's not forget that for those who need it, it can strike up a deeper wound. People who suffer from disabilities that render them immobile are not only battling their physical limitation, but also the mental limitations of those around them. They need to work twice as much as a healthy, normal person would, because it is a common perception that a disabled employee will always be less efficient, and they need to prove this perception wrong, which indeed it is.
Yours is indeed a very bad taste in jokes, Khan.
The "real world" has many people suffering from various disabilities. With a huge following like Khan's and all the celebrities sitting on her wheelchair, they could have chosen to bring awareness; yet all they did was make a joke out of it. It is the kind of joke that is not even funny; it hurts a disabled person right in the gut. Would it still be funny to any of these celebrities if they or someone they loved was actually told that they will be on a wheelchair for life?
Take a moment from your privileged bubble to think about others for once, Ms Khan. A little consideration can, knowingly or unknowingly, go a long way.