Robin Hood's trailer is shooting arrows but missing the target
I remember watching Robin Hood (2010), starring Russell Crowe and directed by Ridley Scott, with my cousin. We had specifically put on this particular movie because the bow and arrow clad Crowe on the DVD cover looked pretty menacing and we had faith in the actor-director duo which had given us Gladiator.
Unfortunately, our expectations came crashing down as the movie progressed. It was a dull affair that dragged for too long. I am never getting those 140 minutes of my life back. This is the reason why I was quite sceptical about another iteration of Robin Hood being produced, because truth be told, there are a gazillion Robin Hood movies out there and not one of them is worthwhile.
The teaser trailer for this year's Robin Hood just dropped recently and… meh!
The 140-second long trailer, which has more than nine million views on YouTube, shows Robin Hood, portrayed by Taron Egerton (The Kingsman series), shooting arrows in slow motion sequences. The movie also stars Jamie Foxx (Django Unchained, Baby Driver) who portrays Little John, Robin Hood's best friend and leader of Merry Man, and Jamie Dornan (Fifty Shades series) who portrays Will Scarlet, Robin Hood's half-brother. Ben Mendelsohn (Rogue One, Ready Player One) plays the Sheriff of Nottingham and Robin Hood's arch nemesis.
Unlike the Scott film, this one seems like a completely different vehicle. Otto Bathurst's (Peaky Blinders) directorial debut feature film doesn't seem to run out of high octane action scenes and you see an explosion in almost every frame. The trailer implies that people are still getting to know Robin Hood and that his identity is a secret. Foxx's John seems like the perfect ally who accompanies Robin Hood in horse wagon chases, while also training and guiding him. There is a romantic angle involved (quite obviously) with Eve Hewson (The Knick) portraying Maid Marian.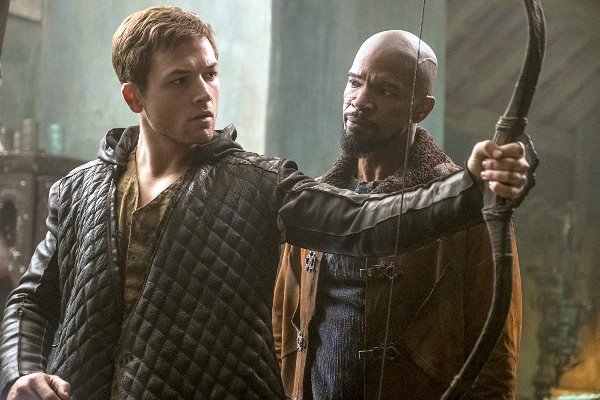 The movie seems to be bogged down with action sequences and the makers have concentrated on making the film look visually pleasing, which it does, but the plot of the movie seems to have been buried under the explosions, chase scenes and the slow motion sequences. In the end, it doesn't matter how good the action choreography is and how good the visuals are; if the story is not engaging, the audience won't be pleased.
I have a strong feeling that this movie will be panned by critics once it releases, and will most probably tank at the box office. It seems we will have to do a lot more waiting before we get a Robin Hood movie that actually delivers on all fronts, because this one promises to be fun but it doesn't really seem like it will be.
As mentioned before, just because a movie has tons of action sequences doesn't mean it will be an entertaining affair, but again, keeping the Crowe led Robin Hood in mind, at least this one will have some decent action sequences, and who doesn't like watching Foxx on screen?
Robin Hood releases on November 21, 2018.
All photos: Lionsgate