Battling for votes: Mud-slinging and the maa-behen dilemma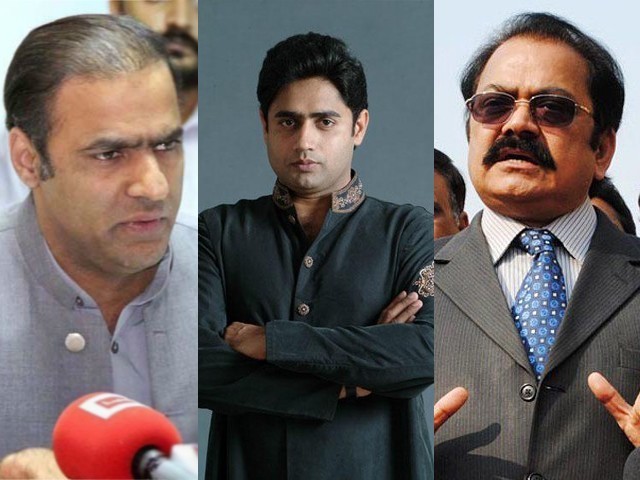 I walked into my house on a very crisp and warm evening this week, only to find that Punjab Law Minister Rana Sanaullah had passed disgusting comments about the women who attended the Pakistan Tehreek-e-Insaf's (PTI) Lahore jalsa, on their apparent 'character'.
The crude statements targeted women who participated in the PTI rally and Member National Assembly (MNA) Shireen Mazari. Where Sanaullah raised 'concerns' over the 'character' of PTI's women supporters, Abid Sher Ali's tirade elaborated the scuffle between him and MNA Murad Saeed during the parliament's budget session on April 27.
Unsurprisingly, the comments received severe backlash from all quarters. Taking to micro-blogging site Twitter, Imran Khan expressed his disgust and strongly condemned the filthy language used by Sanaullah and Ali against PTI women supporters.
Disgusted by & strongly condemn the filthy language used by Rana Sanaullah & Abid Sher Ali against our PTI women. In the past 30 yrs these people have always disrespected women which is against our religion & culture. I want to thank our women for coming out in such huge numbers!

— Imran Khan (@ImranKhanPTI) April 30, 2018
Disgruntled by the horde of people that showed up at the party's power show last week, lawmakers and leaders of the ruling Pakistan Muslim League-Nawaz (PML-N) thought best to belittle the PTI's popularity by going on record and passing intolerable comments about the women who attended the rally.
While Sanaullah and Ali made irreversible damages to the deepening politics, they are not the only ones who have uttered such remarks.
PTI leader and former pop singer Abrarul Haq thinks using gendered terms relating to pregnancy to relay 'pain' is a smart idea. In a tweet (which he obviously deleted after the entire PML-N fiasco), Haq tweeted the following:
Shudders
A cold chill runs down my spine every time I read something of the sort, because not only is it insulting to all females, it also shows the mindset chosen by these leaders and lawmakers. As mentors, ideals and symbols that people look up to, these men should be ashamed of themselves. Using "labour pains" as an intelligent pun sheds sufficient light on your humour level and the levels you are willing to stoop down to, just for political or selfish gains.
But perhaps what bothers me the most is women-on-women oppression – it should never be okay to belittle another woman on the behest of your own socio-political gains. Many women, in politics and otherwise, took it upon themselves to prove that Sanaullah's comments were perhaps not 'wrong'.
Not just PML-N leaders but even PML-N social media activists.
As I always say, misogyny is enabled and endorsed by not just men but also women. pic.twitter.com/VPgExVZaUE

— Mehr Tarar (@MehrTarar) May 2, 2018
"As I always say, misogyny is enabled and endorsed by not just men but also women." – What a beautifully haunting thought.
In academia, women-on-women oppression is seen as the worst kind because it shows that even people of the same gender are unable to truly support each other. Intersectional feminism explains different identities and points of oppression, and she who can't gather the support of her fellow women is among those who are oppressed more.
The maa-behen (mother-daughter) dilemma
"These are your mother and sisters?"
But perhaps the most worrisome lingual nuance is of the maa-behen dilemma, the spewing of insults from one end to other always seems to be around the woman. The mother, the sister, the khala, the phuppo, the chachi. All of the insults are of women, but for men. Imagine the worth of a woman who is being used as an insult between random conversations among friends, but more dangerously, on national forums.
The PTI argument of "how would you feel if this was said about your mother or sister" may be apt in spreading awareness of the consequences of such statements, but is it really the best argument? Could PTI have not adopted a stance calling for sanctions of the use of such words in the national narrative overall, as opposed to proposing resolutions in Provincial Assemblies regarding the two individuals at hand?
The problem is not the men, it is what they said and why they had the audacity to utter it. Because it's normalised in the society to use such terms to cause offense. Why must you use gendered terms to offend the other?
Now, for a rightist party like the PML-N, the idea of women grooving up to PTI's tunes is unacceptable. Because the ruling lawmakers are dipped in heaven's own crème, such behaviour from women obviously means they're from 'bad' backgrounds. Let's check the facts. 
The most important one is the fact that for years and years, from the dawn of time perhaps, men have taken it upon themselves to appoint honour to everything in their lives. Today, from the phone they use, and the car they drive, to the women they marry – everything must depict honour and must be hauntingly perfect. A man's fragile male ego must always be in a boost, and if not, they grow highly dysfunctional.
What does a highly dysfunctional man do when he sees that another is rising above him? He slings mud, throws dirt, and tries to steer the public opinion favourably towards himself. That is precisely what the PML-N lawmakers intended to do here. One small flaw – they used women to do that.
Under no circumstances is it ever okay to use women to relay anger. The politics of language in Pakistan's state of affairs is truly worrisome. While some allege that men often don the chooriyan (bangles) when they protest, others throw disrespectful taunts at Bilawal Bhutto Zardari for seeming "effeminate".
The use of gendered terms, slangs and taunts is an obvious insult to the entire female race. How dare these men use women as a tool or a pawn in a larger "political gamble"? In Pakistan, women are considered the inferior gender, and have mostly been thought of as property. While the rest of the world manages to stagger into the realm of pragmatic thought, the buffoons in this country manage only to regress.
Every word uttered on record contributes to the national narrative, be it a press conference, a random passing of remarks outside an assembly or even a tweet – they are all part of the national narrative. People in the dirty ditch of politics in the country have shaped the narrative in a way that to insult the other, one must make use of some gendered remark and slam the other with it to achieve maximum impact. Because what is more derogatory than being compared to a woman, right? What bigger insult is there?