Simple and endearing, 'October' is a risk that pays off for Varun Dhawan
What happens when a hotel management student working at a leading hotel has to juggle between spending time with a sick friend and trying to climb up in a dead-end job? October, starring Varun Dhawan, shows exactly how a stubborn yet loving man would manage this situation realistically.
Directed by Shoojit Sircar and written by Juhi Chaturvedi, the film stars Banita Sandhu and Gitanjali Rao alongside Dhawan.
The movie, which can aptly be described as a story of hope, narrates the tale of Dan (Dhawan) and Shiuli (Sandhu), who work together at a hotel. Unfortunately, one day a tragedy leaves Shiuli in the hospital; an accident that leaves a deep impact on Dan. Interestingly, though they worked together, they did not share a particularly strong relationship; neither were they good friends, nor did they show any romantic interest in each other.
While Shiuli is in the hospital, Dan visits her every day, caring for her and naively hoping she will recover soon. Dan's support for Shiuli in such challenging times creates a bond of friendship and gives her hope – the hope of survival, and the hope of a lasting friendship.
While taking care of her, Dan becomes so close to Shiuli that her family believes he is her love interest. However, despite him clearing their confusion, their doubts remain, due to the extent of his love and concern for her. It is Dan who keeps running from pillar to post to get medicines for Shiuli, and talks to her nurses and doctors about her condition and her progress. Dan even confronts one of Shiuli's uncles when he complains about the possibility of Shiuli not remembering anyone after coming out of her coma. Defending her, Dan exclaims,
"So what if she doesn't remember who you are? At least all of you remember who she is."
The innocence and optimism of Dan's character overpowers every other facet of the movie. Even though Dan is the leading character, we get to see Shiuli's perspective through him. The film is justified in calling itself not a love story, but a story about love.
Though everyone, particularly Gitanjali Rao, delivers a great performance, this movie belongs to Dhawan. This can easily be touted as Dhawan's best performance to date, which is a big deal, considering the strength of the other performances he has delivered in his career thus far.
Dhawan's character is believable and realistic, which may be why he makes the most impact in the movie. Despite being a rookie in the hotel industry, Dan knows he can get a better job, and feels the system is holding him back. Interestingly, Dhawan brings in a lot of youth appeal to his character, as he is stubborn yet caring, outspoken yet responsible, and thus adds value to the story by making his character someone many of his generation can relate to.
Despite being a Bollywood production, October highlights the lives of ordinary people, facing ordinary circumstances and reacting to ordinary situations. The aspect of believability and relatability is so intense, you feel as if the characters could be your relatives, or your next door neighbours.
For once we get to see a Bollywood movie where a mainstream, young actor portrays a realistic hero without flashing his abs to the camera or wearing skin tight clothing to highlight all the muscles the actor has undoubtedly worked hard for. Doing this film was a risk for Dhawan as a mainstream Bollywood actor, but seeing the final product, the risk has paid off.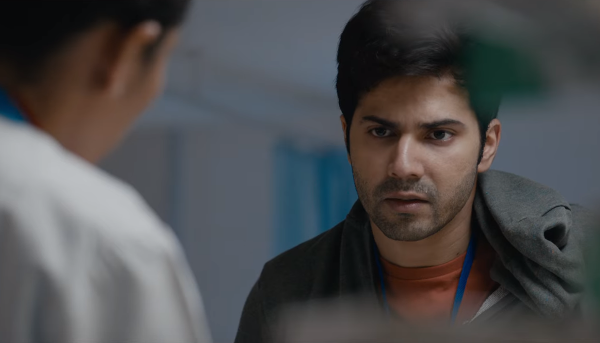 Further, unlike most Bollywood films, October does not entail heavy dialogues or death-defying stunts. However, the story flows from the first scene to the last, without letting the audience fall asleep, because it is neither slow-paced nor packed with so much action that viewers lose track of what is happening. Subtle and simple is perhaps how I would describe the movie.
You can think of October as a movie which blends art and drama together, while adding fictional elements to a story that might as well be real. The direction of the movie must also be applauded. With many scenes shot outdoor amongst nature, the director has incorporated all elements and transitions seamlessly.
The script will also have a lasting impact on you, as there is no jargon, or anything complicated being said. The dialogues are all simple and meaningful, creating story progression without any clutter or unnecessary information taking away the essence of the story.
October's tale is compelling, and will surely move you. Watch it with your friends, or go watch it alone – either way you will "feel" the story, and enjoy the experience!

All photos: Screenshots