Dear West Indies, you took a chance on us, and we are eternally grateful! Love, Karachi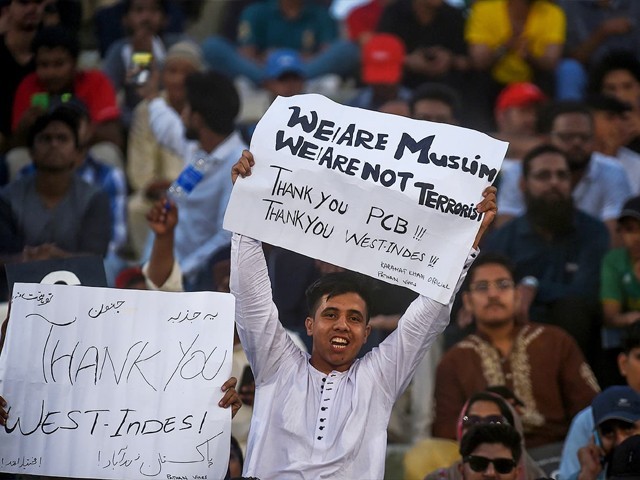 It's slowly creeping in, one match at a time. Flags are being rolled out. Hats, paint and whistles are being bought. There are inconceivable traffic jams, and mercifully long ticket lines. You're afraid to be excited, for fear of it being taken away. You silently pray everything goes smoothly. Putting on your green jerseys, you wear your flashiest smile and plead with the cameras, convincing every foreigner that you are safe, and they will be too. You look around at the sea of green around you, and fight back the tears as, after almost a decade, you once again hear the roars at Karachi's National Stadium.
Nine years is a long time. Governments have changed, the Pakistan Super League (PSL) has been launched, Pakistan spectacularly won the Champions Trophy final last year, we managed to win two Oscars and a Nobel Peace Prize, and yet, our stadiums were left abandoned. There were rumblings of too much cricket happening in the world, including right next door, and yet tragically none was taking place in our own backyard. We were nomads, as our team played in empty grounds in the United Arab Emirates (UAE), racking up wins in sheer silence.
In 2015, Zimbabwe gave us a shot with three T20s in Lahore, and we celebrated with the kind of thirst and obsession that can only emerge after losing something you really love. Cricket has been 'coming home' to Lahore for some time now, with the World XI, the PSL Final 2017 and the Sri Lankan Tour, but Karachi had remained in the shadows until recently.
Yesterday, the West Indies team took a chance on Karachi, and played only the second T20 International ever on the soil of the National Stadium. This was a moment so deep and so relevant, that when the national anthem stopped playing midway, you could hear an entire stadium sing as one with pride.
National Anthem ritual goes one level up. PA system fails mid anthem and then this happened. #PakvWI #ApnaKhelApneGhar #Karachi pic.twitter.com/N3R3puffXc

— Sawera Pasha (@sawerapasha) April 1, 2018
Windies arrive in Pakistan for the three-match T20 International Series in Karachi.

We start tomorrow night with the opening contest against @TheRealPCB #PAKvWI #RALLY pic.twitter.com/HnS1BndmmO

— CricketWestIndies (@westindies) March 31, 2018
My 17-year-old brother walked into the National Stadium for the first time in his life yesterday. He was eight-years-old, the last time a match was played here. This is a moment that can never be taken away from this great city. The jazba (passion) it feels for this sport was once taken for granted. No one is taking it for granted any longer.
There was much speculation before the match. Would water be available? Could we take our car? What time would the gates close? We were ready to brave the heat and any hurdle that came along the way, as long as we made it there before the toss. Things went smoothly – far better than we had expected – and we were comfortably seated in a nearly packed stadium for the next four hours.
Perhaps the greatest let down of the night was that the Pakistan Cricket Board (PCB) was unable to fill all 28,000 seats in a city of approximately 20 million. With no marketing for this series and the PSL final played only seven days earlier, the impact could be felt on game day. The Iqbal Qasim and Nasimul Ghani enclosures were virtually completely empty – the once general stands now having been converted to VIP. Mismanagement of ticket sales also took place, with false rumours of all three matches being sold out being spread early on in the week, only for new to later emerge that tickets were still available the night before.
However, none of this could dampen the spirits of the crowd.
They were here to celebrate. To thank West Indies. To cheer on Shoaib Malik's sixes. To watch the enigma that is Mohammad Amir bowl. To marvel at Sarfraz Ahmed's first match on his home turf.
Hussain Talat continued his PSL form in his international debut, getting awarded the Man of the Match. Hasan Ali's signature pose had the spectators on their feet. Malik's hat-trick had us on the edge of our seats. As an entire stadium chanted Amir's name, you could feel the goosebumps as he turned to acknowledge the crowd.
It was a team effort from all the boys. Karachi stood up and sang the national anthem with us 🇵🇰🇵🇰🇵🇰. Also congratulations @HussainTallat12 on an amazing debut. #ApnaKhelApneGhar

— Shadab Khan (@76Shadabkhan) April 1, 2018
This was as much a novelty for the players as it was for us. From the hilarious signs carried by the crowd, to the immense respect shown to the opposing team, the magnitude of yesterday's match was lost on no one. We cheered when West Indies took our wickets, we danced to their boundaries – cricket was winning, Karachi was on a high, and we would remain eternally grateful.
i tried, y'all. #PAKvWI pic.twitter.com/QlwMLI9q6x

— critical kacchumarr (@nakaamrade) April 1, 2018
It doesn't matter which of their stars came. After all, nobody will ever care for the scorecard at the end of this series. We left the stadium with our voices hoarse and the beginning of Monday blues, but the adrenaline we felt is still alive and pumping.
Nine years of history was overcome with one match, in a city that had been waiting with baited breath for this very moment. As Pakistan scored 203 and bowled out the visitors for 60, we walked out looking on to the floodlights, as this was our moment.
Cricket wasn't just home – it had finally arrived in Karachi.