Amir's punishment was justified, but has the world been too harsh on Smith and Warner?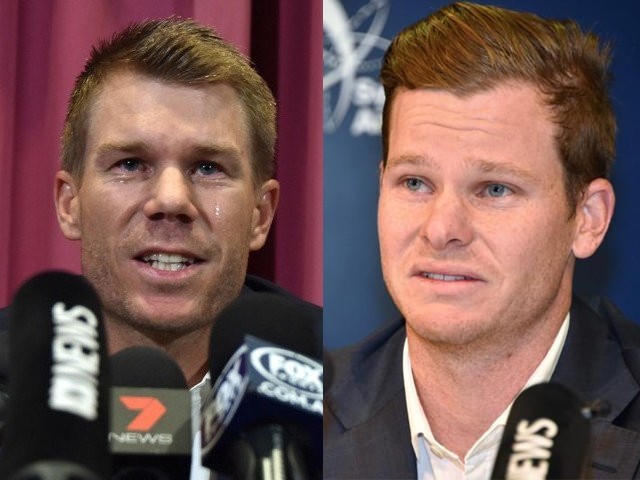 The recent ball tampering scandal – SandpaperGate, as it is being colloquially referred to – continues to emanate shockwaves in the cricketing world. Both Steve Smith and David Warner have ended up losing their leadership roles, and have also been banned for one year each. Further, Smith has been declared ineligible for captaining Australia for two years, whereas Warner has been declared the same for life.
In addition, both have also been banned from playing in the Indian Premier League (IPL), which will literally burn a hole worth millions in their pockets. While young Cameron Bancroft has also been banned for nine months, David Lehman, the "aggressive" coach, remained largely unscathed, but did end up resigning after Smith's conference.
Besides the ban itself, the level of abuse and vitriol these three players have faced is unprecedented. Smith was virtually treated like a petty criminal at the Johannesburg airport on his way back to Australia, while both, the global and the Australian media, have been scathingly critical of the trio.
Plenty of media and security personnel were around for Steven Smith's departure from Johannesburg https://t.co/k31z2UACeu pic.twitter.com/tYo3XN455j

— ESPNcricinfo (@ESPNcricinfo) March 28, 2018
Haven't Australia made enough of a spectacle of Steve Smith? I'm blown by what he is being put through.

— Harsha Bhogle (@bhogleharsha) March 29, 2018
— Rohit Sharma (@ImRo45) March 29, 2018
This unprecedented level of criticism has made me question if the punishment is justifiable and proportionate to the crime these players committed. Even before Smith's press conference, I felt the response was too harsh. After seeing his heartfelt and tearful apology, however, I was moved by his sincerity and regret.
Former #cricket captain #SteveSmith breaks down in tears at a press conference at Sydney Airport. #abc730 #StevenSmith pic.twitter.com/TjvNFMLU0k

— abc730 (@abc730) March 29, 2018
Bancroft: suspended.
Warner: suspended, will never return to leadership role.
Smith: suspended, emotional wreck.
Lehmann: resigns.
Cricket Australia: lost sponsor, at centre of national / global scandal, struggling to regain trust.

That was one powerful piece of sandpaper.

— Richard Conway (@richard_conway) March 29, 2018
No matter how hard I try, I cannot agree with the general reaction; for these punishments, particularly which the Australian Cricket Association (ACA) has accorded, are completely out of sync with what has been the standard.
Several major factors, particularly the public furore – both from the Australian public and the rest of the world – has affected the decision-making process. Moreover, the outcry over the supposed leniency by the International Cricket Council (ICC), which has handed a one-match ban to both Smith and Warner, has also played a role here, as this put pressure on the ACA to hand down stricter verdicts.
The moment the ICC announced its verdict, there were cries of too much "leniency" from many former cricketers, as well as from the general population. Graeme Smith compared it to a slap on the wrist. On social media, I saw posts drawing analogies with the five-year ban on Mohammad Amir, claiming how the standards in both cases were "different".
I agree with @surmenon that Steve Smith should be banned for at least two years. Mohammad Amir, who committed a lesser crime (bowling a no-ball for the bookies on his captain's instructions), was banned for five.https://t.co/ArM9wcGV6t

— Ramachandra Guha (@Ram_Guha) March 27, 2018
Only Bancroft, Smith and Warner were behind ball tampering. The bowlers who were reversing the ball didn't know. Who is buying this? #SandpaperGate

— Mazher Arshad (@MazherArshad) March 27, 2018
wow @ICC wow. Great treatment nd FairPlay. No ban for Bancroft with all the evidences whereas 6 of us were banned for excessive appealing in South Africa 2001 without any evidence and Remember Sydney 2008? Not found guilty and banned for 3 matches.different people different rules

— Harbhajan Turbanator (@harbhajan_singh) March 25, 2018
In reality, the ICC decided fairly, and the punishment was in sync with previous cases. One simply has to examine the level of severity of previous  offenses falling in this category in order to reach this conclusion.
In 1994, Mike Atherton was found guilty of ball tampering, and was merely fined £2,000.
In 2000, Waqar Younis was suspended for one game and fined 50% of his match fee after getting caught ball tampering.
In 2001, Sachin Tendulkar was suspended for one game, but was later cleared by the ICC of all wrongdoing.
In 2004, Rahul Dravid was merely fined 50% of his match fee, despite there being video evidence of his crime.
In 2005, the famous pitch tampering incident, which was caught on camera, resulted in Shahid Afridi getting banned for one Test and two ODIs.
In 2010, Afridi was once again suspended for two T20 matches, after biting the ball to "adjust" the seam.
Ironically, the current South African captain, Faf du Plessis, has also been sentenced twice. In 2013, he was fined 50% of his match fee when it was proven he had been rubbing the ball against his zipper. In 2016, he was fined 100% of his match fee after it emerged he had used mint to shine the ball.
All the aforementioned incidents prove that the punishment given to the Australian trio by the ICC was in line with the precedent. The claims that the punishment has been too lenient are unfounded, especially when subjected to empirical scrutiny.
Further, comparing this to the five-year ban on Amir is also wrong, because ball tampering is a totally different kind of offense. What Amir did was completely immoral, as spot-fixing is a crime involving financial corruption. In other words, ball tampering is a far less serious offense, and is also very common. One cannot compare apples and oranges here.
A year ban for ball tempering ?? That's a joke.What kind of crime they have done ?Taking the game away from someone for a year is absolutely nonsense.understand if ban was for 1 test series or 2 but this is ridiculous.hope @CricketAus reduce th ban @stevesmith49 @davidwarner31

— Harbhajan Turbanator (@harbhajan_singh) March 29, 2018
People comparing Smith/Bancroft to Butt/Amir are naive. The former committed a crime in cricketing terms, the latter a crime in actual legal terms. Not punishable equally. #SandpaperGate

— Henry Dean (@HDean0) March 26, 2018
In reality, the outrage has perhaps more to do with the way Australians play their cricket, which has ended up alienating them. They are undoubtedly an outstanding team, who play aggressively and ruthlessly. Their on-field behaviour, however, is characterised by sledging and constant intimidation of their competitors. These tactics may help them win, but at the same time, they also earn them a lot of animosity all around the world.
The ACA was also under a lot of pressure from the Australian public and media, who felt the team had embarrassed the nation. Over the years, the Australian team has acquired a legendary status amongst Australians, a fact mentioned by the Australian Prime Minister as well. Such a status is often more fragile because of extraordinarily high expectations from the public. The comments made by the prime minister in the immediate aftermath of the scandal merely aggravated the situation and unleashed the fury of the public and the media.
While cricket needs to be corruption-free but feel sanctions on Aussies bit harsh. Are @stevesmith49 & @davidwarner31 paying for revolt for pay hike? History has it administrators deride those who standup for players' cause. Classic case: Ian Chappell #BallTampering #StevenSmith

— Gautam Gambhir (@GautamGambhir) March 29, 2018
I feel a degree of sympathy for cricketers Smith, Warner and Bancroft. They admit they made a mistake but their treatment is now way over the top. They're only human and I, for one, don't want to see their lives completely destroyed. I'll take your views from 10 @talkSPORT

— Jim White (@JimWhite) March 29, 2018
The anger, though justified to an extent, was nonetheless disproportionate to the crime committed. Further, as time went on, the bandwagon effect on social media brought the actual severity of the crime into the background, while mob behaviour and public shaming took over. As Shane Warne expressed himself; a sentiment with which I am in complete agreement,
"We are all so hurt and angry and maybe we weren't so sure how to react. We'd just never seen it before. But the jump to hysteria is something that has elevated the offense beyond what they actually did, and maybe we're at a point where the punishment just might not fit the crime."
Adjudication on such cases should be insulated from public pressure, as it is often temporary and instinctive. I am sure that the Australian public is also softening up after seeing the tearful press conferences by the trio. Smith is an extraordinary talent and a good person who, to put in Du Plessis's words, is
"one of the good guys and he's just been caught in a bad place."
I hope all three cricketers are at least allowed to play domestic cricket. They made a mistake many cricketers, from Imran Khan to Du Plessis, have also made previously, but have ended up receiving far tougher retribution due to this lynch mob mentality which has become characteristic of the digital age. To err is only human, and I wish them luck and hope that sanity prevails in the near future.