Welcome To New York: Less like a Bollywood film, more like an extended PR campaign for the next IIFA Awards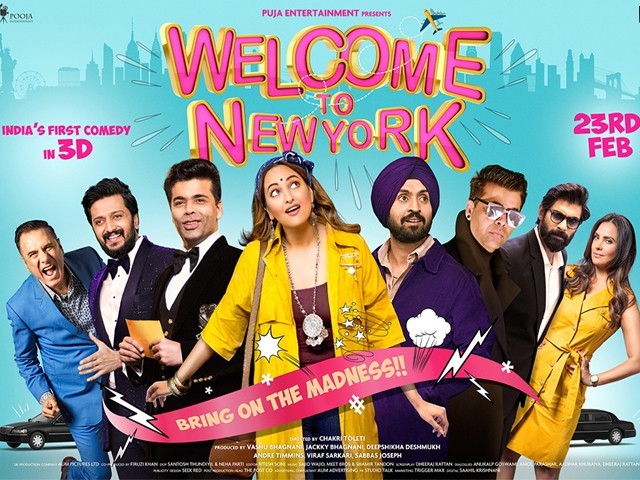 Some films can be declared hits or flops even before they release, based on the strength of their trailers and the audience's response to it. Watching the trailer of Welcome To New York – which is director Chakri Toleti's first venture in Bollywood – instigated a feeling of disappointment not unusual in the industry, as audiences wondered what the plot was and why they should go to the theatres. Even though the cast has a plethora of popular names, in terms of its content, the film did not appear to offer much to get excited about.
The film is set amidst the backdrop of the International Indian Film Academy Awards (IIFA), the most stylised award show Bollywood has to offer. Teji (Diljith Dosanjh) is a recovery agent who wants to be a movie star, and his gang mates are sick of his ambition. Jeenal Patel (Sonakshi Sinha) is a fashion designer who, due to her frequent tantrums, is not doing well in the industry. Things change when Teji and Jeenal both happen to win a free ticket to attend the IIFA Awards taking place in Amsterdam, and they both fly off for the big show with the hope of showcasing their respective talents to the industry.
Most celebrities in the film, such as Riteish Deshmukh and Karan Johar, play themselves, while others such as Boman Irani and Lara Dutta play fictional characters. The film is also loaded with guest appearances from every other celebrity who attended the IIFA Awards in 2017. These unpredictable and random appearances by celebrities are perhaps the only reason the film manages to engage the audience for a scene or two. The cameos include prominent celebrities such as Salman Khan and both his brothers, Aditya Roy Kapoor, Rana Daggubati and Sushant Singh Rajput, amongst others. However, with the exception of Khan and Daggubati, all of them too fail to leave a mark.
The entire plot revolves around the award show, and while the writers try to bank on celebrity appearances and humour, the film itself has no substance to engage the viewers for long.
Sonakshi Sinha is almost unbearable on screen and fails to do justice to the character of a Gujarati girl. Diljith Dosanjh, on the other hand, is a good actor and manages to give his best, but there is only so much a good actor can do with a poor script. However, if the film has any saving grace at all, it is undoubtedly Dosanjh.
As usual, Boman Irani needs to polish up and start doing different (read: sensible) characters for a change. Lara Dutta, conversely, reminds us that we'd like to see more of her on the big screen on a regular basis, yet her character is poorly written and does not do her justice. Giving credit where it is due, there is a scene where Dutta and Irani share a pizza, and it is an incredible performance from both actors.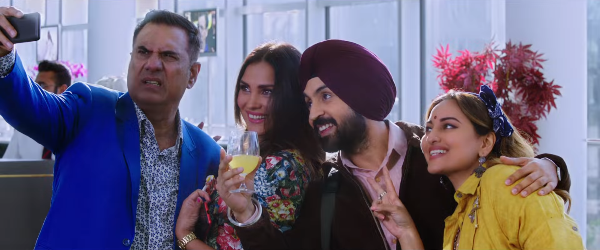 Karan Johar appears as himself through and through, the way he does in any reality show – a brand and self-obsessed director who tries to venture into acting every chance he gets even though he cannot act.
On the other hand, it is unsurprising to see Riteish Deshmukh in the film, as he manages to be cast in almost every film by Jackie Bhagnani's production house. After proving his talent with films like Ek Villain and the Housefull series, he should be careful in selecting films and avoid adding his name to just any project that comes his way.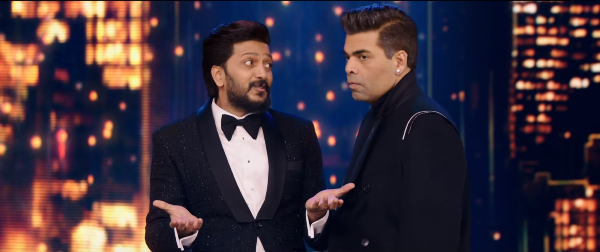 For a movie relying on its humour, most of the jokes in Welcome to New York are lame and simply unfunny. The movie tries to create a joke with a track from Karan Arjun, yet it feels too forced and inorganic. Even the soundtrack of the movie, which is centred on entertainment, fails to entertain, with Rahat Fateh Ali Khan's song coming close but ultimately failing due to its less than praise-worthy lyrics.
On the whole, Welcome To New York seems less like a Bollywood film and more like an extended PR campaign for the next IIFA Awards. A few scenes have their charms, but unfortunately, they are not enough to make the entire film bearable. The film is strongly reminiscent of Happy New Year, which was another disaster with a potentially great cast. Welcome To New York has nothing to offer, and to top it all off, for some unknown reason, this bland non-entertainer was made as a 3D film. The 3D effects only serve to remind the audience more thoroughly of how terrible the film truly is. Though they promoted the film as India's first 3D comedy, perhaps the filmmakers wanted to make this film memorable by making it India's first 3D disaster.
All photos: Screenshots