Intense and insane, 'Blackmail' seems to have all the ingredients to be a real winner
The moment the posters for Irrfan Khan's upcoming dark comedy Blackmail were released, with the actor wearing a paper bag over his face while he stood bare chested in his boxers, I knew it then and there that we were in for a treat!
Khan rarely misses that quality movie mark and the kind of movies he does are always a little different than what Bollywood usually has in stores for us. The trailer of the movie released recently, and as expected, it seems like one hell of a ride.
The trailer, with a 150-second runtime, is hilarious and quite intense. Usually, Bollywood comedy movies are light-hearted at their core, but that is not the case with this one. The trailer starts with Khan, a middle class man, learning about the fact that his wife, played by Kirti Kulhari (Pink, Indu Sarkar) is cheating on him with another man, played by Arunoday Singh (Jism 2, Main Tera Hero).
Khan, instead of choosing between the two obvious yet insane options of either killing the other man or killing his own wife, opts for a third and the most bizarre alternative. He decides to blackmail both of them and demands one lakh rupees, but little does he know that his wife and her lover are both broke. In a twist, Khan, the blackmailer, starts getting blackmailed for blackmailing his wife by another person. Insane! I know! Thus begins the comedy of confusions.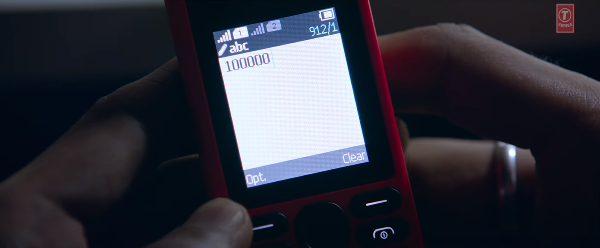 There is an interesting and funny scene in the trailer where Khan is seen running on the street with his face covered with a paper bag and wearing only boxers while being chased down by goons. As I said, this is not your usual light-hearted comedy which is why there are knives, gunshots and blood.  As this is not a Bollywood magnum opus, the trailer is pretty simple and the movie will be highly dependent on the plot and the performance of the cast. From the looks of the trailer, this one seems to have all the ingredients to become a real winner.
Blackmail has been directed by Abhinay Deo of Delhi Belly fame and also stars Divya Dutta and Omi Vaidya. Deo's movies post Delhi Belly have not worked any wonders at the box office and neither have they impressed any of the critics. Hopefully, things will change for Deo when this madcap comedy finally hits the theatres.
What really seems to work for this movie and makes the trailer stand out is the fact that the flick has both suspense and comedy, which is quite a rare combination. I am sure Khan will hit yet another bullseye with this one and bag more accolades as well.
Blackmail releases on April 6, 2018.
All photos: Screenshots