Pari proves that Pakistan's film industry is not ready to take on horror movies just yet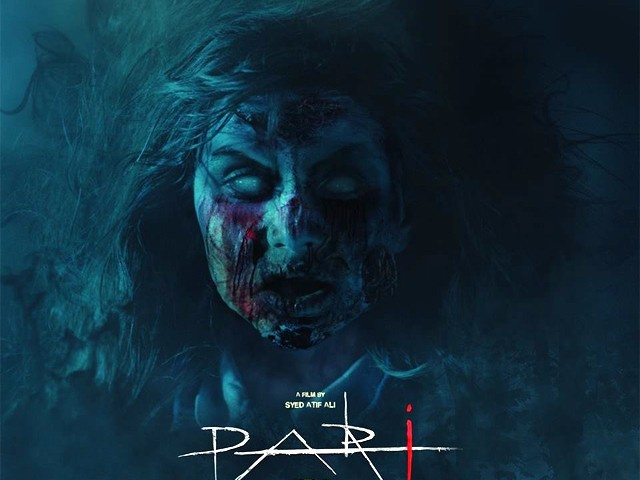 Horror is a convoluted category of filmmaking that is really challenging to master. It needs an engrossing screenplay, fine directorial work, hypnotising camera work and so on. The characters that can seize the spectator's mind even after leaving the cinema hall, such rudiments deserve to be reminisced and appreciated by movie buffs. The absence of any of these elements can result in the worst film, and Pari is one such example.
Syed Atif Ali's directorial venture Pari tells the story of a family of three, comprising of husband Shahram (Junaid Akhtar), wife Mehwish (Azekah Daniel) and their daughter Pari (Khushi Maheen). In search of a peaceful atmosphere to continue his writing, Shahram decides to move with his family to a new house somewhere in Ayubia.
After shifting, Mehwish senses some peculiar presence in the new building. Initially, Shahram ignores such eeriness, but eventually, the couple realises that their daughter is the one who is behaving in a weird manner. The evil presence in the haunted house has taken control of their daughter and consequently, supernatural events start to scare them.
The rest of the plot revolves around the couple's endeavour to fight the paranormal, unfolding of a life-altering hidden truth, and religious help to end all this.
If one were to ask if Pari managed to meet the high anticipation surrounding this movie, the riposte would be an absolute no. In fact, the film is a random compilation of not-so-horror paranormal scenes and dull characters interweaved with humdrum sound to present a below standard horror flick.
I am going to be honest in an uncompromisingly forthright way. The movie is not the spookiest I've seen; it is actually quiet terrible. The ambiance and some of the computer-generated imagery in the movie is worth appreciation. However, these are the only two factors that were the main attractions of Pari, given how the storyline was utterly unbearable and feebly ended.
Pari's spine-chilling trailer was nothing but a deceiving technique to snatch away your life's precious two hours. Promotions advocated the notion that it is Pakistan's first horror film since the revival of Pakistani cinema. Truth be told, there was nothing attention-grabbing, except for a few visuals and the mountainous area, which gave off an eerie impression to the movie's outlook.
The director, Ali, who co-wrote the script with Muhammad Ahsan, unproductively attempted to mingle an anecdote without lucidity and correlation. His efforts left the moviegoers baffled as they struggled to find the missing areas in the movie, along with trying to piece together irrelevant characters such as the ghost boy, mentally disturbed doctor and a nun, that were thrown at them during the movie. Moreover, it was really difficult for anyone to digest Omar Sharif and Gregory Peck as the hospital's board of directors.
The film started with Pari's substantial character, but soon the focus of the movie shifted to her parents, leaving behind all the uncanny mystery (that had just started to build) in the middle of nowhere. The director's real focus was to present a mix-chaat plate made up of horror films' clichéd ingredients, such as an empty rocking chair, no lights, dark corners, candles suddenly blowing out, too many crows, a poster, creepy nun, creaking wooden floors, jump scares, nearby forest and so on.
In search of adding creepy scenes and atrocious special effects, Pari was left without a proper innovative storyline and turned into a weakly predictable plot; destroying all the thrill and excitement. Artists like Qavi Khan, Rasheed Naz and Saleem Meiraj were wasted in meaningless characters.
All in all, Pari is neither scary nor has a clever plot. Its nonsensical storyline, mediocre songs, inane get-ups and most importantly, the clueless dialogues to ignite arguments about belief and faith will compel you to leave the cinema in the middle of the movie.
Ali's debut film is a huge disappointment because scriptwriters didn't build the interesting and thrilling aspect of the plot that is required of a horror movie. There is nothing in this absurd movie for moviegoers to enjoy, but it will surely be remembered as Pakistan's worst horror film.
All photos: Screenshot