Dear India, a simple "thank you" would have sufficed. Your neighbour, Pakistan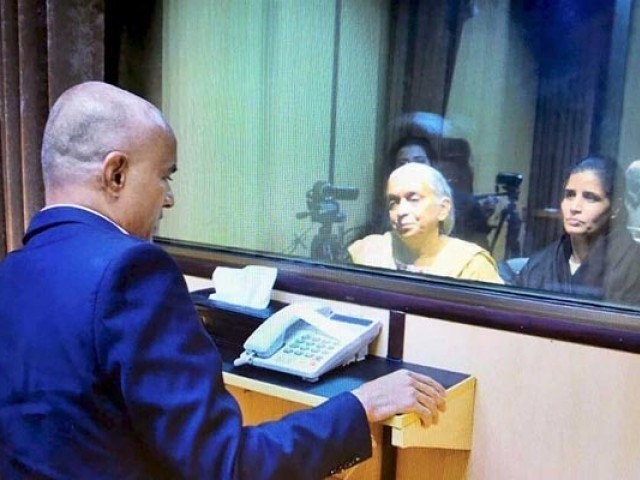 "The best lack all conviction, while the worst are full of passionate intensity."
These words from Irish poet WB Yeats' poem, Second Coming, sum up the mood in the subcontinent today.
All the negative forces have ganged up to throttle the voice of sanity. These divisive agents are full of passion and want to preside over the fate of the relationship between India and Pakistan.
We witnessed the worst effect of these negative forces after the meeting between Kulbhushan Jadhav, an Indian spy facing death sentence in a Pakistani court, and his female relatives. The meeting was aimed at breaking the ice between the two nations; it was a humanitarian gesture, no doubt, and the signal Islamabad wanted to send was that lets revive the interaction.
But this was not to be.
The Indian media was playing to a script; they were more interested in sabotaging the effort than appreciating it. They immediately claimed that Jadhav's family was harassed during the meeting and that Pakistan did not respect the cultural and religious norms of the women and made Jadhav's wife take off her jewellery, including her mangal sutra, which is a necklace that married Hindu women wear. Later, they added that Jadhav was talking under duress and that there was "an atmosphere of coercion."
Perhaps the Indian media should answer a simple question: has the Indian government allowed a convicted Pakistani facing death sentence in an Indian jail to meet his mother and wife? Will it not follow some prison manual and protocol in allowing an interaction with an imprisoned man and his relatives? Will it consider a Pakistani spy arrested on Indian soil as a hero or a terrorist?
Islamabad followed its own guidelines in letting Jadhav and his family members interact.
It was always in Pakistan's hand not to allow the meeting to take place at all. We should have been more appreciative of Islamabad's gesture. But on the contrary, New Delhi was more aggressive and acting as a victim.
There were accusations made from Pakistan's end too, as they claimed that there was a chip in Jadhav's wife's shoes which looked suspicious and hence were not returned to her as they have been sent for further investigation. Given the sensitivities of the matter, if it is proven that there indeed was a chip in her shoe, this will be the last meeting between Jadhav and his family. In this case, India would have no one but themselves to blame because it violated Pakistan's trust.
One can always argue that Islamabad should have been more polite, sensitive and aware as to how the whole affair will play out. It should have handled the situation differently. However, as an old watcher of Indo-Pak relationship, I can vouch that no matter how elegantly, nicely or deferentially Pakistan handled this matter, there would have been some controversy or the other.
The problem is that we are hostages to a deep-seated historical paranoia, and as long as we are prisoners of this paranoia, we will remain stuck in the time warp.
It was this sheer paranoia that forced Pakistan to micro-control the meeting between Jadhav and his family. But India – a big country claiming to be a South Asian power house and one of the largest economies of the world – suffers from deep short-sightedness. It's not the progressive politics that informs this emerging power but a regressive worldview that grips it.
The media also reflects that paranoid vision. As a result, what is happening is that we are producing a mass, a generation, which can act as a lynch mob. It is devoid of any historical sense and is highly anti-liberal.
But it is not just the media that is perpetuating hate, but the politicians of India too who have taken it upon themselves to deepen the divide between the two countries just to feed their own agendas. This can be seen by the statement made by a Rajya Sabha MP, Subramaniam Swamy, who urged that it was time that India go to war with Pakistan. This statement came into light after the Indian media accused Pakistan of harassing Jadhav's family.
The way we are behaving, we are making a mockery of ourselves. It's not Pakistan that is insulting us; it is we who are abusing our own ethos, culture and thinking.
The way the situation unfolded after the meeting on December 25th and the way vested interests were allowed to hijack the whole issue and create a war-like situation, shows how the biggest democracy of the world lacks the political and emotional maturity as a nation.
It does not expose Pakistan; it exposes how we are becoming a nation of reactionaries, and how we are becoming a country where lynch mob mentality is becoming our second nature.
Does India really care what is going to be the fate of Jadhav? A persistent hostile relationship will further jeopardise the life of this Indian spy.
With Narendra Modi into the last year of his term, he will use the anti-Pakistan sentiment to reap electoral dividends. He does not have much to show in terms of achievement or progress, the emotional card is a tried and tested formula and the Bhartiya Janata Party (BJP) government will try its best to exploit that.
No wonder the frequency of border skirmishes has increased. The media is helping the government's cause by resorting to divisive propaganda.
Pakistan is also going to face elections in a few months' time, and when election is round the corner, peace is the biggest casualty. And we are witnessing exactly that.