With rebel groups pledging allegiance to the IS, will Kashmir turn into another Syria or Iraq?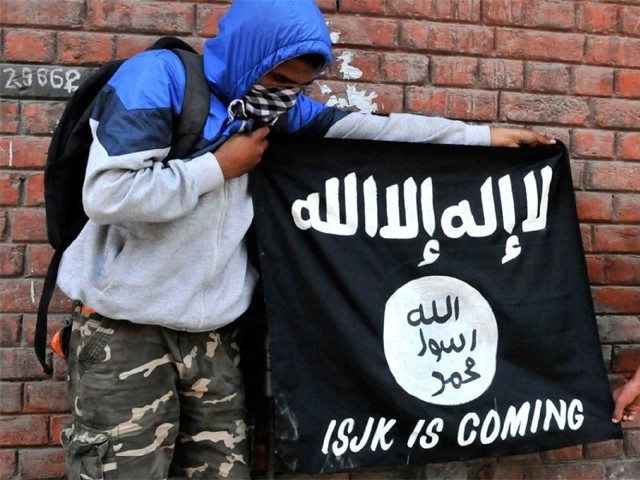 After being routed from Syria and Iraq, the Islamic State (IS) is now attempting to create its presence in Afghanistan, Pakistan and Indian-occupied Kashmir (IoK).
The first time the black flag of IS was seen in Srinagar was in 2014, after which an inquiry launched by the local police revealed that a local "small-time" cleric was involved in encouraging the waving of this flag at protests, particularly outside the Grand Mosque.
The director general of police has denied the presence of the group in the valley, while the Indian Home Ministry has also denied its presence in IoK. However, despite these recurring denials, the IS are trying to create a base in the region, and there seems to be growing support for the terrorist group, especially amongst the youth. The security agencies have noticed some youths engaging in internet chats and establishing contacts with possible handlers in Syria and Iraq.
However, what is disquieting is that a certain fundamentalism is slowly taking root in the valley. Kashmir has always been known as the seat of Sufism, as it had spread a pluralistic culture in IoK by spreading the message of interfaith harmony through love and brotherhood. Sadly, this is all changing. With the spread of Wahhabism, many terrorist groups have also embraced this ideology, seen when a suicide bomber detonated his vest at a famous Sufi shrine in Pakistan. The IS appear to be pursuing a nefarious game plan to turn the Muslim-majority IoK into a caliphate. Moreover, the IS ideology of establishing a caliphate has now metastasised beyond the shores of Iraq and Syria.
There is no denying that a certain section of youth in Kashmir has been attracted to fundamentalist groups, as more and more youth have either joined such groups or are contemplating to join them, defying the sane voices in the family. In fact, the death of Burhan Wani has been the turning point in the movement, as more people are now taking up arms. IoK has witnessed unprecedented unrest since his death, with more than 300 people alone injured in the clashes that erupted after Wani's death.
Zakir Rashid Bhat, a local commander of Hizbul Mujahideen who took over the leadership after Wani's death, is ascribing to practices quite similar to that of the IS. He threatened to behead Hurriyat leaders for terming the Kashmir conflict a political one instead of a religious one, and also warned them to not become a thorn in the imposition of Shariah. Hizbul Mujahideen disassociated itself from the statement after his threatening message, leading Bhat to quit the organisation and start a new group.
The IS have openly advocated eliminating all traces of Sufism, as they label Sufis as heretics. Despite this, the youth has been misled in supporting their unsubstantiated narrative for establishing a caliphate in the valley. The appeal of this ideology is motivating them to sacrifice their lives, perhaps because they are seeing the IS as their saviour, and would prefer to join them in an effort to secure independence.
Another interesting development is that people pledging allegiance to the IS have been asked not to raise pro-Pakistan slogans, as they consider their fight to be apolitical, and want to establish a caliphate in the valley. Recently, two masked gunmen appeared at the grave of a member of Hizbul Mujahideen, and asked the gathering to not only follow the rules and ideology of the IS, but also to stop supporting Pakistan.
Syed Salahuddin, the supreme commander of the Hizbul Mujahideen who has a big following in IoK, has categorically said that their freedom movement is indigenous and has no global agenda. He has also reiterated that the Kashmiri freedom movement has no international agenda, thus precluding the rule of any global organisation, including the IS.
Unnerved by a rise in stone pelting against them, the Indian forces resorted to firing of pellets which received severe backlash as it resulted in impairment of one or both eyes of over 1,000 Kashmiri people, including children, inviting international condemnation.
The government of India is aware that the Kashmir issue cannot be solved by brute force alone, and needs a political solution. It had recently appointed Dineshwar Sharma as an interlocutor to visit all major cities and towns and meet a cross-section of people to understand their problems and submit a report to the Indian government. They are also examining ways to end the unrest, and exploring a political solution that is acceptable to all in order resolve the problem. However, the separatists refused to meet, as they said no solution is possible without involving all parties, including Pakistan.
The Kashmir issue defies any political solution in the absence of a unified leadership in Kashmir. The separatists, who once had total control, are losing to people like Bhat who are now enjoying the support of the locals.  There are far too many players involved in order to peacefully reach a settlement. Unfortunately, the local elected representatives have also been marginalised, as they are in no position to facilitate a dialogue between the interlocutor and the locals to understand their grievances and look for ways to resolve them.
There is no denying that the Kashmiri people in the valley feel alienated, with both the central and state governments unable to solve the problem. In this state of flux, there is no immediate hope for finding a solution acceptable to all. It is unlikely that both India and Pakistan will agree to an independent Kashmir, mainly because of its geopolitical significance. It is, therefore, advisable to revisit Pakistan's former President General Pervez Musharraf's four-point formula on Kashmir which calls for,
– Demilitarisation or phased withdrawal of troops,
– No change in borders of Kashmir, however, allowing people free ingress and egress across the Line of Control,
– Self-governance without independence,
– A joint supervision mechanism involving India, Pakistan and Kashmir.
Both India and Pakistan should adopt a flexible approach to solve this vexed problem left by their historical legacy. If they continue with their ostrich-like approach, there is a great danger of the IS successfully setting up base in Kashmir and furthering the already volatile situation in Kashmir, just as they did in Syria and Iraq, where millions of innocent lives were snuffed out by the terrorists.
It is in the interest of both countries to not allow Kashmir to go in the same route as Iraq and Syria, and not let terrorist organisations like the IS take over in lieu of finding a solution to the Kashmir issue.