Top 12 Bizarre petitions in Pakistani courts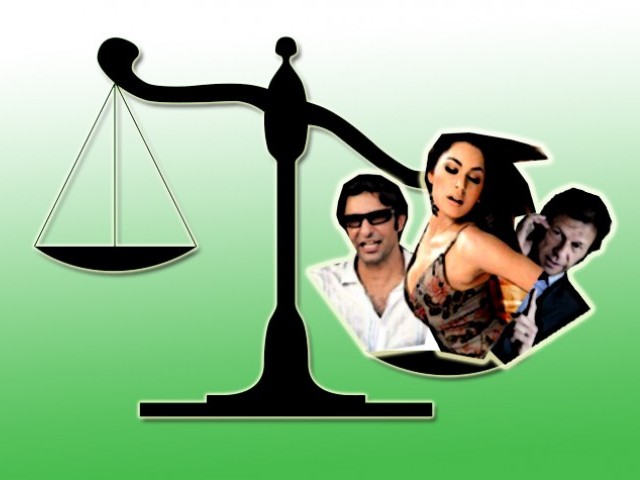 While thousands languish in prisons waiting for justice, the Pakistani legal system is otherwise occupied.
In between trials of murder, rape and kidnapping are some rather unusual petitions filed in our courts by passionate individuals. Petitioners have attacked everything from lusty pop songs, to forgetful politicians and just plain stupidity:
Addressing a press conference at a mosque, Jamiat Ulema-e-Islam Samiul Haq (JUI-S) leader Maulana Abdul Rauf Farooqi appealed to the Supreme Court (SC) to take suo motu notice of  "blasphemous" material – in the Bible. They even suggested banning the book.
Atiqur Rehman, who claimed to be Meera's husband, in an application sought to conduct a test to determine whether the star was a virgin or not. Instead of convincing the judiciary about his marriage, Rehman came up with the brilliant idea of testing Meera's virginity. However, the judge declined the plea, keeping in mind that such a test might open another Pandora's box for the already infamous actress.
(Also check out a petition filed against Meera for performing in 'immoral' scenes. A petition was filed against the star in the Sindh High Court (SHC) in Karachi, stating that she had performed in "immoral scenes" in Bollywood movies which did not match with Pakistan's religious and social values.)
3. Does Waseem Akram drink whisky?
A petition was filed by Mohammad Fayyaz, in the civil court of Lahore claiming that former Pakistani cricketer Wasim Akram had damaged the sentiments of Muslims by posing in a liquor advertisement.
Muslims have no problems in endorsing terrorists who kill people everyday but their fragile sentiments would get hurt when they see their Muslim brother have a glass of whiskey in a mere advertisement.
4. Parveen brings a dash of salt
The Supreme Court summoned singer Abrarul Haq because one his songs contained the following verse.
Ne Parveen tu bari namkeen
Uper sey tu miskeen
Andar sey tu bari shauqeen
The reference had been filed by the Muttahida Qaumi Movement (MQM) under Articles 62 and 63 of the Constitution and the Public Representation Act, 1978 against Imran Khan alleging him of having a daughter with Anna Luise alias Sita White, born out of wedlock.
Perhaps, it was the MQM's first attempt to screen parliamentarians to make sure only the pious ones could have admission rights in assembly.
6. How dare Justice Bhagwandas be 'Hindu'
The petition said no Non-Muslim judge is authorised to administer oath to the president of Pakistan nor does the constitution assign constitutional obligations to a non Muslim judge in place of a Muslim judge.
This is a no-brainer. Pakistan was made in the name of Islam. Can't Muslims differentiate between good and evil? How could someone named ''Bhagwan'-das be pious?
7. Petition to end the trial of assassin Malik Mumtaz Qadri
Mr Awan in his appeal had maintained that Mumtaz Qadri had killed Mr Taseer because no criminal case was registered against the governor for criticising the blasphemy laws in public. The petition further read that Pakistani law states that capital punishment will be handed to those who blaspheme. Apparently "Chief Justice Mumtaz Qadri" had just awarded Taseer his due death sentence.
8. Petition seeking to empower army chief
Tehreek-i-Inqilab Pakistan Chairman Advocate Rana Ilmuddin Ghazi filed the petition, contending that the army had been unable to take prompt action to stop the American operation in Abbottabad because the power to take such a decision rested with President Asif Ali Zardari and not Chief of Army Staff (COAS) General Ashfaq Parvez Kayani. Empowering COAS Kayani and assigning him the powers of the president and prime minister would definitely curb terrorism and the mess this nation is going through, but keep in mind, the petitioner was not supporting dictatorship.
A case filed by a PML-Q MPA sought for an order to stop media from airing news related to fake degrees of legislators. Apparently, such news had an adverse impact on the masses and in the international community. Why does the media have problems with someone's degree anyway? Are they unaware of the fact that "a degree is a degree whether fake or original?"
10. Rehman Malik sued over incorrect recitation of Quranic verses
A constitutional petition was filed in the Supreme Court seeking the disqualification of Interior Minister Senator Rehman Malik over incorrect recitation of Quranic verses. I wonder how this country will progress when we have ministers who can't recite verses from the Holy Quran. Surely, this is a skill required to stop suicide bombers.
11. An Ahmadi on TV
The petitioner held that on June 2, 2010, Express News aired  Point-Blank with Luqman, in which a spiritual leader of the Ahmadi group was also invited, "which hurt my and millions of fellow Muslims' religious sensibilities."
Pakistan belongs to the Muslims who form its majority.  Apparently, no other sect or religion should be allowed to appear on TV otherwise it would hurt the majority Muslims' sentiments.
12. Musharraf who?
Former President Rafiq Tarar filed a petition in the Lahore High Court (LHC) seeking to remove Pervez Musharraf's name from the official record of presidents. The case was that Musharraf was a dictator and assumed power unconstitutionally.
Everything he did was unacceptable (except, of course the oaths the assembly took from him and the infrastructure, development and technology he brought to this nation.)