Sorry George Clooney, but no one carries out a diamond heist better than women, and Ocean's 8 proves just that
Sixteen years ago, Steven Soderbergh's Ocean's 11 wowed audiences by offering a slick, stylish and entertaining new take on the crime-caper/heist genre.
The movie had a star-studded cast led by George Clooney as the smooth-talking Danny Ocean, while also featuring the likes of Brad Pitt, Matt Damon, Julia Roberts and Andy Garcia, among others. The film went on to spawn two sequels (Ocean's 12 and Ocean's 13) and received both critical and commercial acclaim with the trilogy itself grossing over a billion dollars worldwide.
Sixteen years later, Ocean's 8 attempts to do something similar but with a strictly feminine twist, with some of the biggest female actresses in the business replacing their male counterparts in what is both a follow-up and a reboot of the Ocean's series. Sandra Bullock stars as Debbie Ocean, the estranged sister of Clooney's character from the original series, who is fresh out jail and has already devised an intricate plan to steal millions of dollars of jewels from New York's annual Met Gala. To pull of this elaborate heist, however, she'll need a team, and that's where the likes of Cate Blanchett, Rihanna, Mindy Kaling, Sarah Paulson, Awkwafina and Helena Bonham Carter come in.
The first trailer gives us a glimpse of Bullock and Blanchett as they recruit their team of 'con women', so to speak. The trailer actually opens with a clever nod to Ocean's 11 with Bullock's character lying through her teeth about how she will spend her time outside prison, at her prison parole hearing, echoing the opening scene of Ocean's 11 where Clooney similarly lied about his future exploits.
The trailer also does a good job of introducing us to the rest of the team by giving us glimpses of what makes each character integral to the heist. For instance, Rihanna plays the role of a hacker, Carter is a fashion designer, Awkwafina is a cunning swindler, Kaling is a jewelry designer, Paulson is a suburban mom with supposedly some hidden talents, while Anne Hathaway plays Daphne Kluger, the celebrity wearing the very diamonds Bullock and her team are planning to steal at the Met Gala.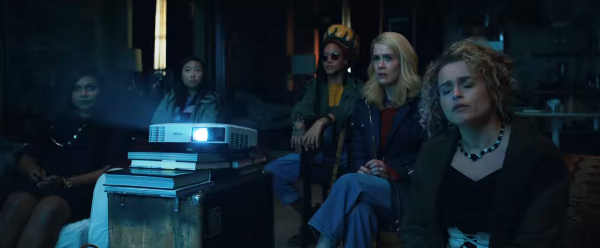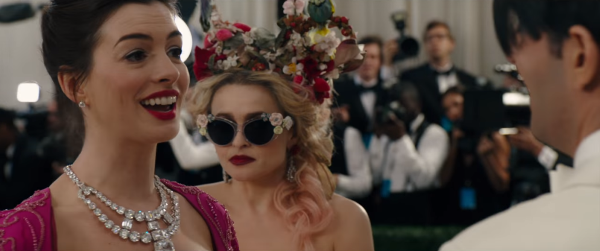 Judging by the trailer, Ocean's 8 seems like it's very much in the same spirit as the original series with the witty humor and the slick style quite clearly on-display in the two-and-a-half minute clip. And that isn't surprising considering director Soderbergh and Clooney are on-board as producers. It also helps that a director of Gary Ross's pedigree is behind the camera whose directing credits include Big, Pleasantville, Seabiscuit and The Hunger Games, among other films.
Ocean's 8 has the potential to take the Ocean's franchise in an exciting new direction and forge a path that sets it apart from its iconic predecessor. Let's hope it is successful in doing that.
The movie is set to release on June 8, 2018.
All photos: Screenshots