Menstruation should be discussed without any shame, and Akshay Kumar's heroic 'Padman' makes that possible
Filmmaker cum screenwriter R Balki has a reputation of covering atypical subjects in his movies, with all six of his movies, such as Cheeni Kum (2007), Paa (2009) and Shamitabh (2015), being regarded as breakthroughs that entertained both the masses as well as mature filmgoers with their peculiar themes. This year, Balki is back at it again, this time with a very unique idea in the form of Padman.
As revealed by the trailer, Padman is based on the life of Arunachalam Muruganantham, a social activist from Tamil Nadu, played by Akshay Kumar. Sonam Kapoor and Radhika Apte will also be seen playing central characters, along with Amitabh Bachchan, who will be making a cameo appearance.
Within a span of a week, the trailer for Padman garnered over 28 million views on YouTube, and from the average viewer to celebrities, everyone showered compliments and praised the director's effort in highlighting a topic that remains largely taboo till today.
Superhero hai aur super trailer bhi! Such a sweet and honest character! @akshaykumar & @sonamakapoor surprising us once again.. can't wait for this one 👏👏👏 #RBalki @mrsfunnybones https://t.co/yK4MbYHG9u

— Alia Bhatt (@aliaa08) December 15, 2017
Relevant! Humorous and beautifully crafted! @akshaykumar is in terrific form!! Congratulations to @mrsfunnybones on her Supreme debut outing! #balki and my dearest and loveliest @sonamakapoor @radhika_apte https://t.co/cJD7r3n2tG #padman

— Karan Johar (@karanjohar) December 15, 2017
"America ke paas Superman hai, Batman hai, Spiderman hai … lekin India ke paas Padman hai."

(America has Superman, Batman, Spiderman … but India has Padman)
This dialogue from the film may sound funny at first, but just imagine the significance of the work this (pad)man has done to relieve a huge population of Indian women with his distinctive invention – affordable pads. Muruganantham revolutionised menstrual hygiene in rural areas by designing a machine for producing low-cost sanitary pads. Hailing from a poor family, he noticed this plight and stood to help his country's women, as Kumar says in the movie,
"Women strong, mother strong, sister strong, then country strong."
The stigma attached to menstruation has turned this basic need into a life-altering problem, as women living in rural areas do not have the means to invest in hygienic ways to dispose of their menstrual blood. These women then usually end up using rags of cloth, or even leaves from trees. Such practices can lead to numerous serious infections and diseases, including cervical cancer or even early miscarriages, and may even end the lives of these poor women. And yet, despite the risks, due to numerous social and cultural restraints, women hesitate to talk about the issues related to menstruation and would prefer to suffer in silence, as Apte's character states,
"Hum aurton ke liye bemari se marna sharam ke saath jene se behtar hai."

(For us women, it is better to die due to a disease than to live with shame)
This is not limited to India, as Pakistan is facing a similar situation when it comes to fighting taboos. At the moment, Pakistan is the seventh worst country in the world that lacks basic sanitation facilities, and of course, it is women who are the direct victim of this limitation. In a male-dominated society, where policy-making is left to the hands of men who do not experience menstruation for themselves, talking about menstrual hygiene and the high cost of sanitary products for women are issues that aren't given prevalence at all.
The need of the hour is to come forward and talk about this issue, in order to create awareness and look for ways to make women deal with their monthlies in a more hygienic manner. There are many ways to discuss menstruation in a dignified way, without feeling a sense of shame, and Padman shows that this is indeed possible.
Kumar's recent movies have all had one thing in common – shedding light on serious social issues. His last movie, Toilet: Ek Prem Katha, even compelled Bill Gates to applaud the film and its subject for highlighting the sanitation crisis in India.
Padman looks to be another milestone for Kumar when it comes to creating similar awareness. Hopefully, this will encourage people to no longer consider menstruation a taboo subject, and instead, prioritise women's issues and their health in developing nations.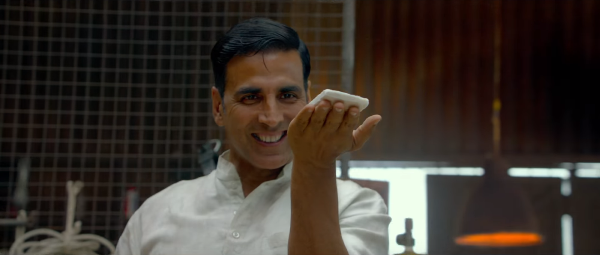 If you are a woman, or a fan of realistic films, then Twinkle Khanna's production venture Padman, releasing on January 26, 2018, is a must-watch for you!
All photos: Screenshots