Ashes 2017 is too dull and too easy, and England is to be blamed for it all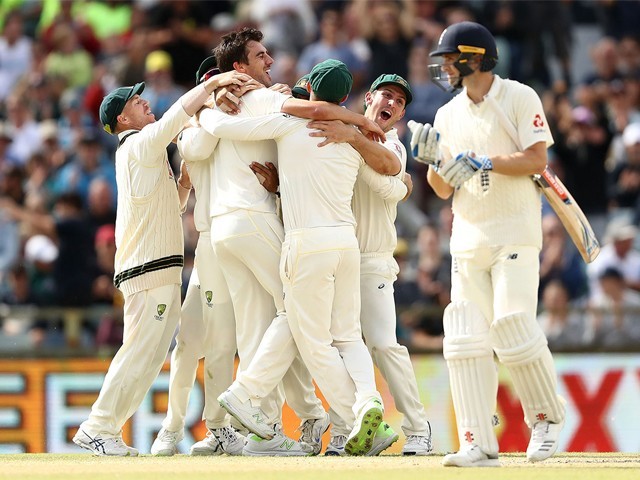 The England cricket team has travelled close to 4000 kilometres during their tour down under, so far with little change in fate. The first three Test matches have only brought to reality what was feared before the series, and consequently, the urn is back in the possession of the Aussies, with the visitors staring at yet another whitewash.
The only time Joe Root has had some sort of ascendency over his counterpart, Steven Smith, has been at successfully calling the toss, which means little as long as the end result does not correlate with it.
For a team which relies heavily on their skipper to do the bulk of the scoring, Root's form has been alarmingly poor. He has accumulated mere 176 runs in six innings during this tour, which is below par for a batsman of his calibre.
Root's captaincy has also been hot and cold so far. While one should appreciate his brave decision to bowl first at Adelaide, there were instances where he could have done better with his field placing. He opted for just one slip on the third morning at Perth, which gave Aussie batsmen more breathing space and allowed them to dictate the terms. Root could have afforded to be slightly more aggressive, with a 200-run lead in the bag.
England have not been helped by the lack of runs from Alastair Cook, which has put a lot of pressure on the already under performing and inexperienced middle order. The former English skipper has 83 runs against his name in the series and hasn't made a 50 in his last 10 knock, which is his worst run of form ever. He averages only 13.83 in a series where Pat Cummins is scoring around 46 runs per innings, which should be embarrassing!
Smith, on the other hand, has hardly put a foot wrong and has been incredible with both his bat and his leadership role. When he first burst onto the screen, Smith's batting technique attracted criticism from all corners, but he has churned out a way that works for him. Smith already has 426 runs in the series, which is more than the combined total of Cook and Root.
Smith's back lift is somewhat similar to that of Sir Donald Bradman, but now his numbers are also catching up to the greatest batsman of all time. His current average of 62.32 is the second best Test batting average of all time, behind Bradman. Although comparisons with Bradman are inconceivable, Smith is most definitely on the path to greatness.
Australia's batting has not just been about Smith, as the rest of the batsmen did contribute whenever they were called upon to deliver. Like a fine wine from the nearby Barossa valley, Shaun Marsh notched up a quality century at Adelaide while his brother, Mitchell Marsh, turned up with the goods in the next Test with a 181 run knock which, in a solitary innings, bettered the accumulated total of Joe Root in the first three tests. The Marsh family, including their father, Geoff Marsh, now have the rare feat of having Ashes Test tons to their credit.
Now that's something, isn't it?
Turning our knob towards the bowling credentials of both sides, it was safe to assume that Australia's bowling had the edge on paper before the series began, due to the extra venom in the pace department.
The raw pace from the Aussie quicks kept the English batsmen on the back-foot. The skippers, Root and Mark Stoneman, had a real taste of the feisty stuff, with one striking them hard on the helmet in the first and third Test respectively. When you combine that with an outrageous 90mph leg break from Mitchell Starc, it gives a fair indication of a ferocious and world class bowling attack!
Having a three-man pace attack, with a solitary spinner, necessitates the need of the slower bowler bowling the bulk of the overs in order to give adequate rest to the fast men. This role was carried out brilliantly by Nathan Lyon, who not only kept the English batsmen under check, but also picked up vital wickets whenever he was called upon to bowl.
On the other hand, the English bowling attack never really looked a menacing prospect throughout the matches. James Anderson has thus far performed better than his previous tours to Australia, but his partner, Stuart Broad, has looked totally off-colour, while Lyon has been leaps and bounds ahead of Moeen Ali in the spin department.
Australian bowlers have averaged 26.3 for all available English wickets, whereas England have only managed to pick up Australian wickets at an average of 46.24. The huge gulf between the numbers is startling, but goes to show how good the home side has been.
England has had several opportunities to capitalise and put Australia under pressure, yet unfortunately, they failed to pounce on them.
Australia were four down with 76 runs on the board in the first Test, but England let them get out of hand as Australia worked their way to a first innings lead. England lost six wickets for 35 runs in the first innings of the third Test, after all the hard work had been done by David Malan and Jonny Bairstow with a couple of well compiled centuries.
These were the sort of moments where England could have delivered the knockout punch instead of letting it all go.
England have faced similar issues whenever they have visited Australian shores, and unless they formulate a system back home to produce pure fast bowlers and quality spinners along with batsmen who can play the horizontal bat shots to good effect, their struggles against the Kangaroos will continue.
The use of Kookaburra ball in Test matches overseas has also had a bearing on the poor performance of the seamers, as the English bowlers are more accustomed to bowling with the Duke ball back home. Although problems exist, they are all solvable if a clear line of direction is chalked out by England, or else, come next Ashes, another humbling might await them.