In memory of Shashi Kapoor: When nostalgia meets fantasy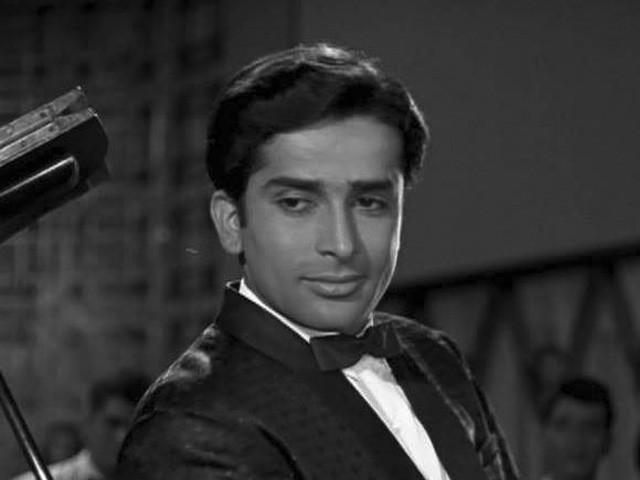 Carving Shashi Kapoor's career is not an easy task. Despite the burden of the surname Kapoor, Shashi made his own identity in the industry with his less-than-perfect but contagious smile.
Not many would know his real name, Balbir Raj Kapoor; can you imagine him with such a heavy and stentorian name? On the screen, he was a tender enchanter and the boy-next-door. In every single film he was in, he would just blushingly smile with his crooked teeth showing and announce,
"I am not Balbir Raj, I am just Shashi."
He lived under the shadow of Amitabh Bachchan, a persona he wholeheartedly accepted and thrived in and gave us, the 70s and 80s generation, many hits to remember.
Shashi is as much about his much-adorned character as a journalist in New Delhi Times (1986) as the con artist in Do aur do paanch (1980). He was as good at pursuing a petulant Sharmila Tagore through the snow singing Tera mujhse hai pehle sa naata koi, a ridiculous maroon scarf draped around his head as he was while rowing his boat singing Pardesion se na akhyan milana. And who can forget his famous dialogue which to date is the most iconic in the Indian film history,
"Mere paas maa hai" 
When he passed away and tributes came pouring in, I couldn't help but wonder what he would do if he were the mainstream actor in today's age? What would it be like if the same charming Shashi was guided by modern technology, contemporary filmmaking and western educated youthful directors? It was a fascinating nostalgia-meets-fantasy, which I later decided to pen down.
T 2731 – To Shashji from your 'babbua' .. !! https://t.co/MFYeeR1Sbb pic.twitter.com/rfzDdDtiBk

— Amitabh Bachchan (@SrBachchan) December 4, 2017
My dear friend & co star of many successful movies – Shashi Kapoor, is no more. He leaves behind many pleasant memories of the camaraderie we shared on the sets during our shooting schedules.
RIP dear friend. I will surely miss you!

— Hema Malini (@dreamgirlhema) December 4, 2017
Innumerable Bollywood dreams came to life watching your iconic dialogue, "Mere paas maa hai." Your tremendous contribution to cinema will always be remembered. RIP #ShashiKapoor ji

— Akshay Kumar (@akshaykumar) December 4, 2017
Shashi Kapoor's memorial held in Peshawar – outside his father's Prithviraj Kapoor's house where his elder brother Raj Kapoor was born. He visited the house in the late 90s.. pic.twitter.com/K4bvDOj7BM

— Ammara Ahmad (@ammarawrites) December 6, 2017
Here is my pick of Shashi playing five modern-day memorable characters that he would be a perfect fit for:
1) Aditya Kashyap – Jab We Met
Shashi was at his best when he was playing a supporting character that let another person take charge of the film while he concentrated on his own job and did it well. Jab We Met was custom-made for Shashi. He would let Geet, possibly played by Rekha, take charge while he would win the audience in his own charming way. Shahid Kapoor did a great job in Jab We Met, but Shashi would have acquired a diamond with his selflessness.
2) Rahul Kapoor – Kapoor & Sons
Shashi thrived on playing the brother in his movies, with a less on-screen persona in front of Bachchan. In Kapoor & sons, however, two things would go in his favour. Firstly, the role of Arjun, the younger brother, played by Sidharth Kapoor, was that of an angry young man, more suited to Bachchan. Secondly, both the brothers had equal screen time. Fawad Khan played Rahul with utmost ease, but imagine Shashi in his prime, charming the bubbly Tia while at the same time trying to keep the level of sanity with his parents and emotionally-charged brother, Arjun. With his shy demeanour and energy, he would have played that role quite easily unlike the subdued effort of Fawad and would have made the role his own.
3) Bittu Sharma – Band Baaja Baraat
A match made in heaven: Anushka Sharma and Shashi. Both full of energy, effervescent and full of self-assurance. Shashi can do everything Ranveer Singh did in Band Baaja Baraat and he would not even get some eyebrows raised like Ranveer did from some of the audience for his limited appeal back then. Because who can resist that million-dollar smile, dancing on Aiween Aiween and offering bread pakora to his girl?
4) Kabir Khan – Chak De India
Life would be too heart-breaking if our memories of cinema were defined only by award-worthiness. Shashi didn't win many awards but he still managed to win many hearts. This character would just be for him to fill his trophy cabinet with awards that he richly deserved. The mysterious and introverted hockey coach, Kabir is a no non-sense character of a man who only believes in hard work and complete focus. Throw in Shashi in the middle of a hockey pitch with 15 female hockey players, grab some popcorn and see how their motivation level to learn increases automatically. In no time, the Filmfare award will beckon.
5) Dr Jahangir – Dear Zindagi
Shashi's recessive screen persona, as opposed to Bachchan's dominant one, would have been a perfect fit for the empathetic shrink of Dear Zindagi. Admit it, you could listen to Shashi read a phone book, let alone give life-changing lessons to your protagonist girl in long anecdotes. While Shah Rukh Khan has his own charm, those cycling sequences, beach walks, mountain stories and furniture shopping metaphors would have felt a lot more endearing with the charm and persona of Shashi.
"Jaatay huay qadmon se, aatay huay qadmon se… bhari rahay gi rahguzar, jo hum gaye tou kuchh nahin." 
There is not a doubt in my mind that Shashi would play these roles with utmost ease and maybe even give the original actors the run for their money. He might have left this world but he will forever remain in our hearts. Rest in peace Shashi, the world didn't get enough of you!