Shoaib Akhtar was never just a name – he was a brutal phenomenon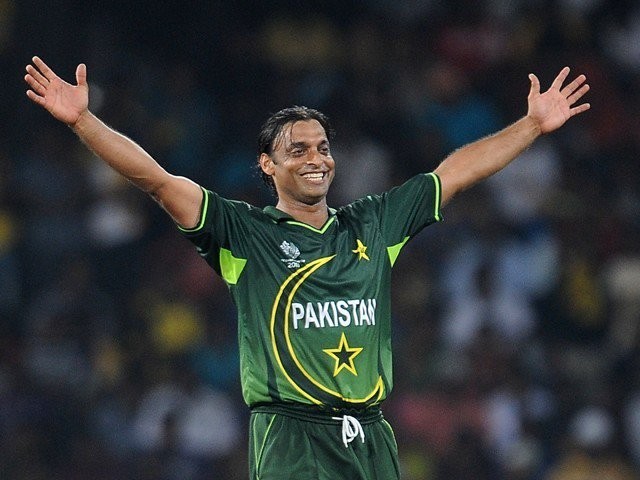 Grab your helmets, put the pads on, strap your guards, and if possible, cover yourself in bubble wrap, because I am about to discuss the fastest bowler the world has ever witnessed. And trust me, he is fast.
Okay wait, that's a lie. He is not just fast, but rather, brutally fast. How fast is 'brutally fast', you ask? Let me try to present some visuals that may help. Imagine cracking ribs, crushing toes and breaking wickets into two – this man, ladies and gentleman, has done it all.
Shoaib Akhtar is not just a name – it is a phenomenon. It includes breaking barriers, defying logic and utilising utmost supremacy in order to drive passion. Watching Akhtar was beyond nationalism alone. There are players that win you individual games and give you a moment to cherish. Then there are those players, like Akhtar, who not only win you games but also inspire an entire generation to play that very game.
Everything about Akhtar was odd, yet somehow in his oddness, we found fascination. A fascination so addicting that bowling as fast as possible became the new norm.
When Akhtar ran in to bowl, everyone felt a rush of blood. By the time he reached half way through his run-up, you could have completed your laundry, yet nobody would move an inch. Once he finally reached the crease, which would seem two oceans away from where he started, the crowd's chants of surprise would be at their climactic point. Then he jumped, and you gasped.
The moment he released the ball, you had witnessed history.
Watching the fastest bowler on earth was truly an honour. He may have left the game, but his name has refused to fade away. If fast bowlers are known to be aggressive, then this man was the wildest of them all. Warnings, red cards and all the little gimmicks umpires have these days wouldn't have restricted this man in any way. He was Akhtar, and he was bound to be free.
The freedom he exercised often got him in hot water with the Pakistan Cricket Board (PCB) as well, but he refused to be tamed. PCB has never been shy of committing blunders, but keeping Akhtar out of the game for five years was probably the biggest of them all. It still pains to think what could have been, had Akhtar played those five years. Nevertheless, even in his short, controversy-filled career, Akhtar gave this nation ever lasting memories.
How can we forget the deadliest bouncer to Brian Lara's head? Within seconds, one of the greatest batsmen of all time was on the ground, with legs tucked in and hands behind his head. It was painful to see Lara hurt, but the man who would toil bowlers all day long was on the ground in front of Akhtar. If dominance ever had a visual, this would be it.
Then there was Virender Sehwag, whose off-stump went for a walk after Akhtar bowled a 91.2 miles bullet at him. I'll be honest, the only reason I recalled this moment is because it involves Sehwag, the cricketer who looks best when silent. Sehwag is to social media what elaichi (cardamom) is to biryani – you can only wish it wasn't ever put there to begin with. I'm just glad Akhtar uprooted his off-stump.
Seeing Akhtar play against Australia was always a pleasure, as he gave Australians a taste of their own medicine. Bowling bouncers, glaring at the Australian batsmen like a predatory eagle, and then walking up to them to have a mouthful of words – who didn't love to see Aussies being intimidated?
Lastly, the Asian Test Championship against India at Kolkata in 1999, has to be the best memory of Akhtar for all the right reasons. He was young, unbelievably fast, and bowling in front of a packed Kolkata stadium. The crowd had waited an eternity to see the legendary Sachin Tendulkar. Once he came out to bat, the stadium was buzzing with cheers and claps. Akhtar had just broken through the "wall of defence" called Rahul Dravid, but nobody cared. All the limelight was supposed to be on Tendulkar, yet Akhtar was destined to steal the show with just one delivery.
A charged up Akhtar ran in and bowled a delivery that put the whole Kolkata stadium in pin-drop silence. It was a deadly in-swinging yorker that took out Tendulkar's middle stump. Everyone was stagnant; some in shock, others in sadness to see Tendulkar go. In this pure silence, there was only one man that let out a roar. He was no longer an unknown kid off the block; he was now Pakistan's one and only "Rawalpindi Express".
One of my regrets is that, despite being inspired by him to play cricket and fall in love with it, I have personally never gotten the chance to meet Akhtar. Nonetheless, I have not given up hope.
The child who couldn't walk till age of 6 & he became the fastest bowler in the history of cricket so don't stop dreaming ..my knees now.. pic.twitter.com/F7Ou5OGY5X

— Shoaib Akhtar (@shoaib100mph) July 21, 2017
The man who couldn't walk until the age of six went on to become the fastest bowler in the history of the game. If this doesn't motivate you to achieve higher success in life, then I don't know what will.