With its lingering scent of cinnamon and fresh sweet apples, this easy apple crumble is the perfect winter fix!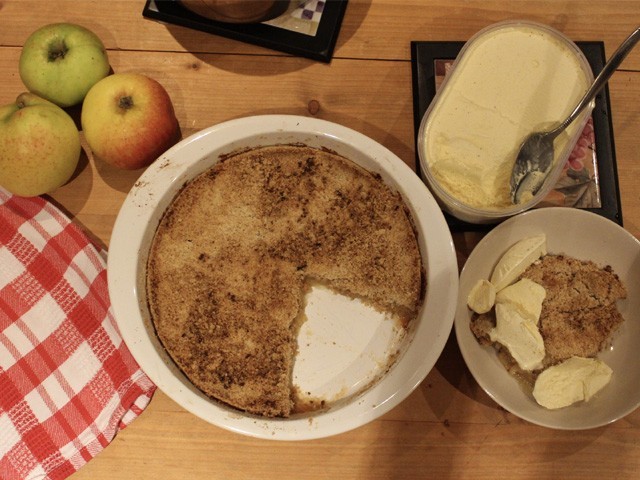 Winter is finally here! This weather provides the perfect setting for the perfect dessert: apple crumble.
A few weeks ago, life landed me in the picturesque town of Salisbury, home to the Salisbury Cathedral. At 404 feet (since 1549), the cathedral has had the tallest church spire in the United Kingdom – I can attest to that having climbed all 330 steps to the top!
It is here where my friend Alice grew up and where her family still lives. After the descent from the spire, her mother Lucy was kind enough to host us for a classic English tea, which I mentioned in my previous post.
Among other things I fell in love with was what I now envision to be my dream garden – one that is quintessentially English in design; that perfect combination of manicured lawns and over-flowing flower beds, trimmed topiary and box hedges. Where we have maalis (gardeners) to preserve lawns in Pakistan, I was surprised to learn that Lucy together with Rachel maintain the garden themselves – something we back home would do well to emulate.
A picket fence, an iron gate, bricks, stone pathway, and a traditional arched arbour instantly created the feeling of a quaint, old-time garden. Benches, flower urns, a swing under the apple tree all heightened the sense of style underpinning the plantings and showcased a sense of perfection.
Lucy was kind enough to provide us a huge bag of hand-picked apples and we returned to London with promises of making good use of them.
And we did indeed, but not in London, but a week later on a cold night in Edinburgh.
A classic apple crumble, courtesy a traditional recipe from masterchef Alice, was a delicious way to utilise all those apples.
This recipe comes together quickly, provides the perfect finish to a hearty meal and leaves the kitchen smelling like cinnamon and the fruitiness of fresh apples.
I believe, irresistible desserts don't need a mile-long ingredient list or an elaborate preparation, and this tempting crumble proves it. The balancing flavour and the rich texture from soft apples and a crunchy crumble topping create a delicious evening dessert.
Ingredients:
Base
Granny Smith (green) apples – 6 (peeled and chopped)
Brown sugar – 135 grams
Cinnamon – 1 tsp
Topping
Plain (all-purpose) flour – 1 cup (150 grams)
Caster (superfine) sugar – ½ cup (110 grams)
Butter – 50 grams (softened)
(Optional: You can add a bit of oats here too)
Method:
1) Preheat oven.
2) For the topping, place the flour, sugar and butter in the bowl or a food processor and mix until the mixture resembles fine breadcrumbs.
3) Place the apple, sugar and cinnamon in a bowl and mix to combine.
4) Layer the apple mixture into an ovenproof dish and sprinkle over the topping mixture. Pop the dish into the oven and bake for 20–25 minutes or until golden.
Serve it with vanilla ice cream or whipped cream to mesh together tangy and sweet. You can't go wrong with apple crumble!  And if you're lucky enough to have leftovers, warm them in the microwave and serve with yogurt, to make a warming breakfast.
Enjoy!
All photos: Arhama Siddiqa