Pakistan Tehreek-e-Comedy: Creating ripples by reviving improv comedy that Pakistan so desperately needed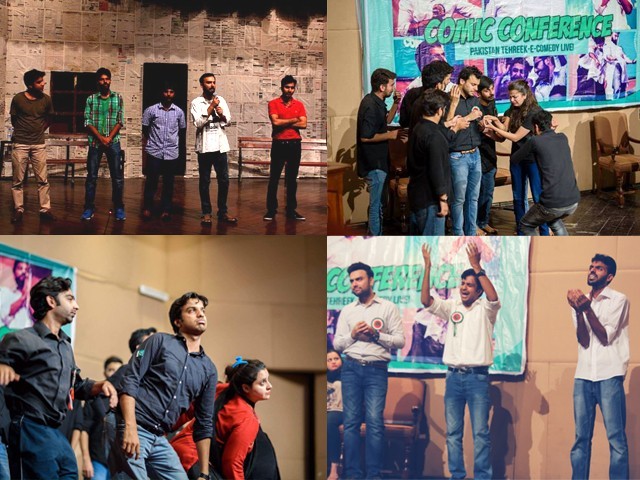 Jennifer Hunter, while giving a TED talk at the Lake Superior State University two years ago, claimed that "improv comedy will change the world". It is debatable whether the world has changed; nonetheless, improvised comedy has indeed altered the ambit of stage comedy.
By following their intuition and not their conscious reasoning, improv comedians perform without any preparation whatsoever. Instead, they intuitively respond to the stimulus of their immediate environment – they listen to their audience, make a connection and just improvise. This form of comedy, while certainly very difficult, is perhaps a truer version of the genre itself.
On the comic front, Pakistan has had the legendary Moin Akhtar, yet after him, no eminent comedian has evolved to his stature. It would be safe to say that post 9/11 and the war on terror, in the midst of tragedy after tragedy, it felt as if Pakistanis did not have much to smile or laugh about. This time was especially bad for the comedy circuit, with a surge of threats against artists leading to a decline in both theatre and comedy. The entire country was seemingly engaged in a constant political debate, which reduced the demand for entertainment and eroded the work of comedians.
However, only when it is dark can you see the stars. In times of despondency and despair, Umer Shareef strived to bring smiles and laughter to people's faces through his very famous "jugat bazi" (witticism) on stage and his TV programs as well. More recently, Saad Haroon added music to improv comedy and introduced a long structured stand-up routine for the first time in Pakistan. Haroon, who was voted the second funniest person in the world in the Laugh Factory competition, has created waves in different cities of Pakistan and has also become an eminent comedian internationally. He has successfully infused popular cultural and societal behaviour with political and social satire in his comedy.
As the political turbulence declined and Pakistan became safer, the upsurge in the entertainment industry was quite evident. Many comedy shows popped up, such as Hum Sab Umeed Say Hain, Four Man Show and the Banana News Network, but they all were political satire shows.
Then there were other comedians who chose the medium of social media to make people laugh and gained significant popularity in a small period of time. Zaid Ali T, Shafaat Ali, Junaid Akram and Faiza Saleem are few of the comedians who have gained a massive fan following on social media. They have not only performed political satire in their short videos, but also brought farce comedy that often goes viral.
Lol Waalay also started performing improv comedy in every nook of Karachi. This upsurge was hence congruent to the influx and rise of technology and social media, with technology redesigning the dynamics of entertainment. However, while this is true, a stage for all forms of comedy in front of a live audience was still missing.
Two years ago, a group of students from different universities of Lahore decided to refashion the dwindling trends of improvised comedy in Lahore. Calling themselves Pakistan Tehreek-e-Comedy (Movement for Comedy), an apt name given their genre, they commenced performing at the Alhamra Arts Council in Lahore. With their quality wit, improvised humour and energised performances, Pakistan Tehreek-e-Comedy bagged house full shows subsequent to their first performance. Their show, titled 'Comic Conference', is a form of live comedy theatre in which the characters, plot, scene, dialogue and story are all constructed in a fraction of a minute. The performers take suggestions from the audience or draw on other sources of inspiration, primarily their own imagination, to get started.
Kudos to Dramaducation and its team for providing such an entertaining and refreshing course of laughter! This should be held more often. #PakistanTehreekeComedy

Posted by Hassan Rasheed on Sunday, September 6, 2015
Pakistan Tehreek-e-Comedy has mesmerised audiences thus far with its distinctive flair for comedy. It has fully understood the changing dynamics of stage theatrics and jumped into the arena at the right time and with the right perspective. The obsolete designs of comedy shows, coupled with clichéd jests and the redundant performing styles were some of the reasons a certain type of people (read: intellectuals) had kept themselves a safe distance away from stage shows. However, with the ripples created by Pakistan Tehreek-e-Comedy, large groups of people who had earlier stayed away are now attending the Comic Conference – this alone is proof of the success of its novel approach.
KHAWAJA JEE at Comic Conference Live

KHAWAJA JEE talks about Mian Saheb's disappointment regarding his disqualification, and the satirical issue of overpopulation in the country, during the hilarious sketch "Mardam Beshumari" at #ComicConferenceLive – The Best #Comedy Show that #Lahore has to offer. #PTC #DRAMAED #Alhamra #Improv #Arts #Entertainment

Posted by Pakistan Tehreek-e-Comedy PTC on Tuesday, October 24, 2017
Comedy provides a mirror to society; people can relate, which is why they find things funny. If the content is clean and has a strong message, it imparts a far greater influence on human minds. Jerry Seinfeld, one of the best American comedians, tried something called observational comedy on stage. He never used vulgar connotations in his comedy, yet he was one of the most successful and renowned comedians.
Comic Conference is a similar fresh wave of improvised comedy in Lahore – it has validated that people are attracted to comedy that is clean yet innovative. Pakistan Tehreek-e-Comedy has thus far performed 13 episodes of Comic Conference in Lahore and are constantly pulling larger audiences towards the theatres through their family-friendly, yet hilarious content.
PAPA ZARDARI & BABY BILAWAL at Comic Conference Live

PAPA ZARDARI and BABY BILAWAL take turns in criticizing the Government's operation "Hath Hola" about the satirical issue of overpopulation in the country, during the hilarious sketch "Mardam Beshumari" at #ComicConferenceLive – The Best #Comedy Show that #Lahore has to offer. #PTC #DRAMAED #Alhamra #Improv #Arts #Entertainment

Posted by Pakistan Tehreek-e-Comedy PTC on Sunday, October 29, 2017
Pakistan's entertainment industry has been in a predicament, similar to that of other industries and institutions in the country. Lack of proper coaching, academies, counselling and funding, coupled with the heedlessness of the state, are few of the reasons why the entertainment industry is not thriving at the pace it should have been. Technology has paved the way for some of these artists to break through without the barrier of investment, however, improvised comedy, like art, will not evolve unless it is not performed in front of audiences. The revival of this art is now solely dependent on the creativity and talent of new comedians, and in this endeavour, the success of Pakistan Tehreek-e-Comedy is a good start.
If you want to watch black comedy, satire and farce on one ticket, Pakistan Tehreek-e-Comedy comes to Lahore every month.