Losing to a rookie after 27 years was not expected of a team like Real Madrid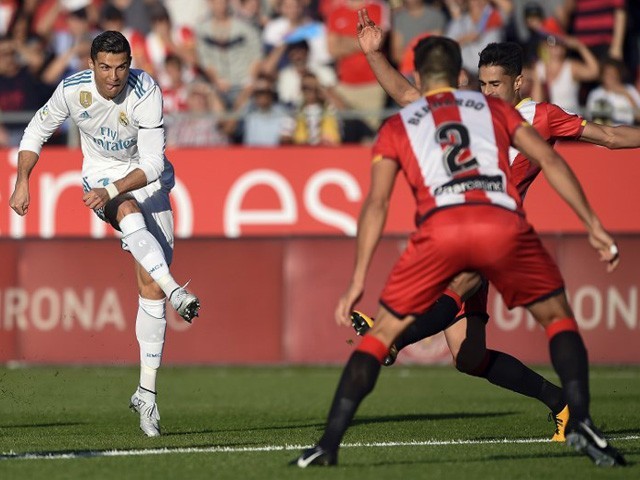 Watching the match this past Sunday, I had no doubt that Real Madrid would win this one and add points to their La Liga ranking. I was even more sure when Isco put the ball inside the net at the 12th minute. This game was supposed to be ours, this game we shouldn't have lost.
After half time though, everything changed. By the 58th minute, we were down by two. It still did not occur to me that we can lose this game since Girona was a La Liga debutante. The last game we lost to a debutante in the league was 27 years ago; funnily enough, it was exactly 27 years and a day ago. Real Madrid lost to Real Burgos on October 28, 1990, the last time they lost to a newbie. It is an achievement for any club to beat the best team in the world, but for a club like Girona to achieve it, is nothing less than a dream.
It isn't the loss that saddens me; it is the way that we lost that does. Girona played well, yes, but Real Madrid gave away those sloppy goals. The loss cost us those three crucial points in La Liga, making us fall eight points below Barcelona.
Girona seemed like the team to beat and gave Real Madrid a hard time from the get-go. In a span of 45 minutes, they had hit the goal post twice, leading Casilla to thank and kiss the goal post for saving it for him. Their luck, however, did not last long because in the second half, Girona scored twice in just four minutes. Pere Pons zoomed into the Real area and even though Nacho managed to deflect the ball, it landed in the path of Cristhian Stuani who did not fumble at the opportunity and swiped a perfect goal past Casilla, equalising the score to 1-1.
After four minutes, Stuani attempted a shot, which was blocked and fell right at the path of Maffeo who kicked it towards the goal, and thanks to Portu's alertness, was back heeled into a second goal. At this point, everyone was left dumbfounded and Zidane decided it was time to go all in. He subbed Marcelo with Lucas Vázquez and Achraf Hakimi with Marco Asensio, putting all his eggs in one basket, the attacking side. It did not help, Girona was on fire and Stuani attempted another goal shot albeit wide, but the pressure was on.
Their energy did not falter and every chance and shot taken by Real Madrid was blocked and deflected by Girona. It probably would not have mattered much if it weren't for the fact that Real Madrid had a weak start to the season. Watching the previous matches, it seemed like they may be able to catch up, but an eight-point difference is hard to recover from. Even if we win back-to-back matches, including both Clasicos, we might still lose if Barcelona keeps performing relentlessly. The only hope for us now is that Barcelona drops some points as well so that we have a chance to catch up and a shot at winning the league.
Real Madrid is off to a very disappointing season. The Meringues have managed to tie two games, Valencia and Levante, and lose two of the 10 games, Real Betis and Girona, played this season in La Liga.
Moreover, Cristiano Ronaldo has had a disappointing start with only one goal to his name. Yes, he was banned from the initial four games, but one goal in six matches is his lowest since he joined Real Madrid.
It seems that Real Madrid is facing the brunt of letting experienced players like James Rodriguez, Alvaro Morata and Pepe leave. All of them made the official team B and helped Madrid keep the score up against important teams last season in La Liga.
Furthermore, 20 points out of 30 is the worst score since Jose Mourinho's 2012-2013 season. And it does not help when you see that arch-rivals Barcelona are off to an amazing start, winning nine out of the 10 games played.
If someone looks at this team now, they would not believe that this team won three Champions League titles in four years. This team was deemed the best team in Europe and yet seem out of sorts this season.
On the contrary, Real Madrid is doing well in the UCL games. They won two games, against Dortmund and Apoel Nicosia, and tied their game with Tottenham. They have to win the game today with Tottenham to be in the lead in UCL Group H since both teams are tied at seven points in first place.
Real has not lost a group stage match since 2012, but considering they just did what they hadn't in 27 years, I am scared.
I haven't given up hope, probably because I have witnessed this team do the impossible. Whether it is Ramos's 93rd minute header that wins us the game or winning two Champions League titles consecutively, Los Blancos have never failed to surprise me. The time for sloppy games and mistakes is over, and if we don't get it together now, we'd be saying good bye to La Liga even before the first Clasico this season.